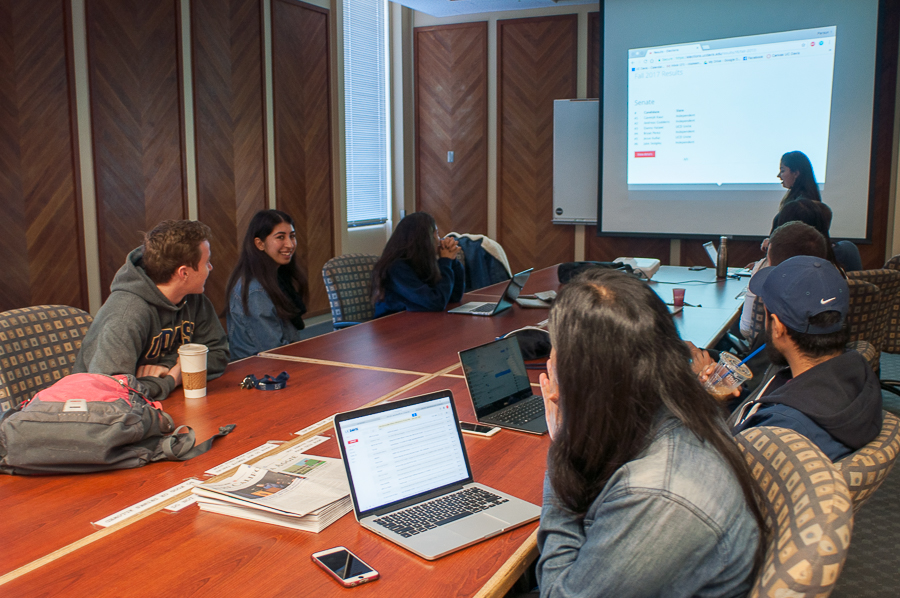 Unprecedented voter turnout at only 4.4 percent of student body
Votes counted on Friday, Nov. 17 confirmed all six uncontested candidates who ran for Senate in the Fall Election as ASUCD senators.
With a total undergraduate population of around 30,000, only 1,289 students voted this year — a 4.4 percent voter turnout. With the historically low average voter turnout ranging around 8 percent, this election's turnout was especially disappointing.
ASUCD President Josh Dalavai, a fourth-year political science major, was disappointed with the voter turnout.

"It was abysmal and I can't water that down," Dalavai said.

The newly-elected senators were able to attend the fall ASUCD Summit that usually conflicts with candidate campaigns.

"The only positive thing about the election being uncontested was that we had time for more in-depth training," Dalavai said. "I actually think they're going to be better equipped."
Dalavi also said that he did not necessarily believe that the uncontested state of the Fall Election will carry over into the Winter Election. Dalavai said that many students have already reached out with serious interest in running during the Winter Election, partially because of this uncontested election.

"It was somewhat of a rude awakening, with promise for the future," Dalavai said.

Gaven Kaur, a second-year psychology and communication double major, came first in the Fall Election, with 344 votes. Kaur is one of the only candidates who has previous experience working with ASUCD, working as a Senate staffer last year. Her platform focused on advocating for self-care, improving freshmen resources on campus and creating a streamlined letter of recommendation program for students.
Along with her experience with ASUCD, Kaur was also the only female candidate running.

"For me, I think getting the highest number of votes is an achievement for all the women on campus," Kaur said. "As the only woman running, I hope that I represented our female population well."

Kaur is already looking forward to her first few weeks in office.

"When my term begins, I'll be meeting with organization leaders on campus that are supportive of my platforms so that I can potentially collaborate with them to implement my ideas," Kaur said.

After Kaur, second-year economics major Andreas Godderis received 321 votes. Danny Halawi, a second-year applied mathematics major, received 225; Bryan Perez, a second-year managerial economics and political science double major, received 167; Jesse Kullar, a second-year chemical engineering major, received 133 and Jake Sedgley, a third-year economics and environmental policy analysis and planning double major, received 99 votes.
Kaur, Godderis, Perez and Sedgley ran as independent candidates while Halawi and Kullar ran on the UCD Unite slate.
Godderis, who came in second place in the election, campaigned on his desire to bridge the clear divide between ASUCD and UC Davis students.

"To be totally frank, most students don't know and don't care about ASUCD," Godderis said. "It's a senator's job reach out to student groups and organizations and encourage the best leaders from those places. I will personally be reaching out and I encourage other senators to look beyond ASUCD and do the same."

The newly-elected senators terms will begin in January, at the beginning of Winter Quarter.
Written By: Ally Russell — campus@theaggie.org