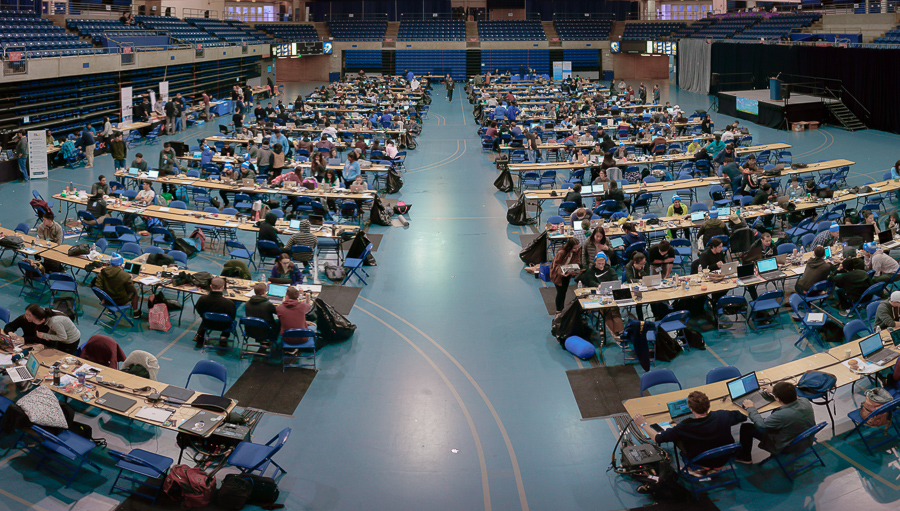 HackDavis spurs coding extravaganza to create apps for humanity
The third annual HackDavis was hosted at the UC Davis ARC Pavilion from Jan. 20 to 21. The 24-hour event gave students an opportunity to team up and create applications in three different tracks: health and wellness, environment and education.
Students and alumni from across California participated in the event.
Willy Enrique, a third-year computer engineering major from UC Davis, teamed up on the spot with Allan Huang, a second-year electrical engineering and computer science double major from UC Berkeley and formed project MatchBox.
On what he hoped to learn during HackDavis, Enrique said that he wanted "to have more experience, especially on coding and hardware and how to apply [them] for social good."
Huang offered his insights on the collaboration.
"I am more of a backend person," Huang said. "I don't really know how to make things pretty. I guess this time we are going to look at some data sets and think of analyses and maybe some predictions and processes and [see] how well that goes, […because] it is all fairly new to all of us."
Kyle O'Brien, a third-year computer science major from Santa Rosa Junior College, spoke about how creative project ideas come about during HackDavis.
"You come in with a vague idea," O'Brien said. "My partner and I on the drive up brainstormed on what we are going to do [so] it was a bit last second."
O'Brien's teammate Oran Collins, a second-year computer science major from Santa Rosa Junior College, offered his thoughts on the creative process.
"I am really excited to get to fudge together a working prototype of an idea from inception, to building, to actually demo and the time pressure really pushes me and my teammates to really get stuff into gear," Collins said. "The amount of work we do at the hackathon is enormous, and it is always a great opportunity for learning and pushing the boundaries of the developers. There is a management side [where] you have to keep the team communication to make a cohesive product at the end."
O'Brien and Collins were members of project PolySent.
Janice Liu, the director of marketing for HackDavis and a fourth-year computer science major, spoke about managing the event.
"As director of marketing, I help my team make sure we are doing our [social media] posts and outreach to the campus and make sure they hear about our workshops in the Fall Quarter," Liu said. "We also [find] sponsorships leading up to the event. Everyone focuses on something, because without the [sponsorship] money, we cannot afford to have the event."
Rohit Tigga, the co-founder of HackDavis and a UC Davis alumnus, returned from New York City to attend this year's event. Tigga explained the reasons he and his co-founder started HackDavis.
"We really wanted to bring the hackathon culture and community to our campus," Tigga said. "However, there was no major […] hackathon at the time and that is why we started. One other thing that is really important to us is social good and a lot of hackathons you go to […] you make some sort of website or app. But after the event, what is the purpose of that app or what is the purpose of that website? What good does that technology do [and] what problem does it solve?"
When asked about how he felt about HackDavis today, Tigga said he was "very proud, more than proud."
Mentors were on the floor during the event to help students with technical questions. Scott Kirkland, an application architect for the UC Davis College of Agricultural and Environmental Sciences and a UC Davis alumnus, volunteered as a mentor and spoke about the choices participants make during the event.
"People think they can get more done than they can," Kirkland said. "You [have] to focus hard on one thing and work on it. I have been really impressed so far, almost everyone […] I went to talk to were asking about some basic getting started [questions] — what frameworks they should pick, […] what libraries would solve their problems. Now, as we get later in the day, people are in two camps. They have been working on something for a while and they are running into more advanced technical problems."
On Sunday, Jan. 21, coding finished at 12 p.m. and the teams checked in their projects. Afterward, judging commenced and demonstration sessions began at 1 p.m. The closing ceremony was at 3 p.m., when the winners were announced.
In the end, 700 participants contributed over 100 applications. The following projects won the three main tracks: Discover.ai won the Best Health and Wellness Hack, GISt captured the Best Environment Hack and Classy was awarded Best Education Hack.
Huang described how he felt at the end of HackDavis.
"I am tired, really tired," Huang said. "You do not really sleep much. That is what a hackathon is, and I am really happy with the way our project turned out. I am looking forward to our next hackathon experience."
Written by: George Liao — campus@theaggie.org