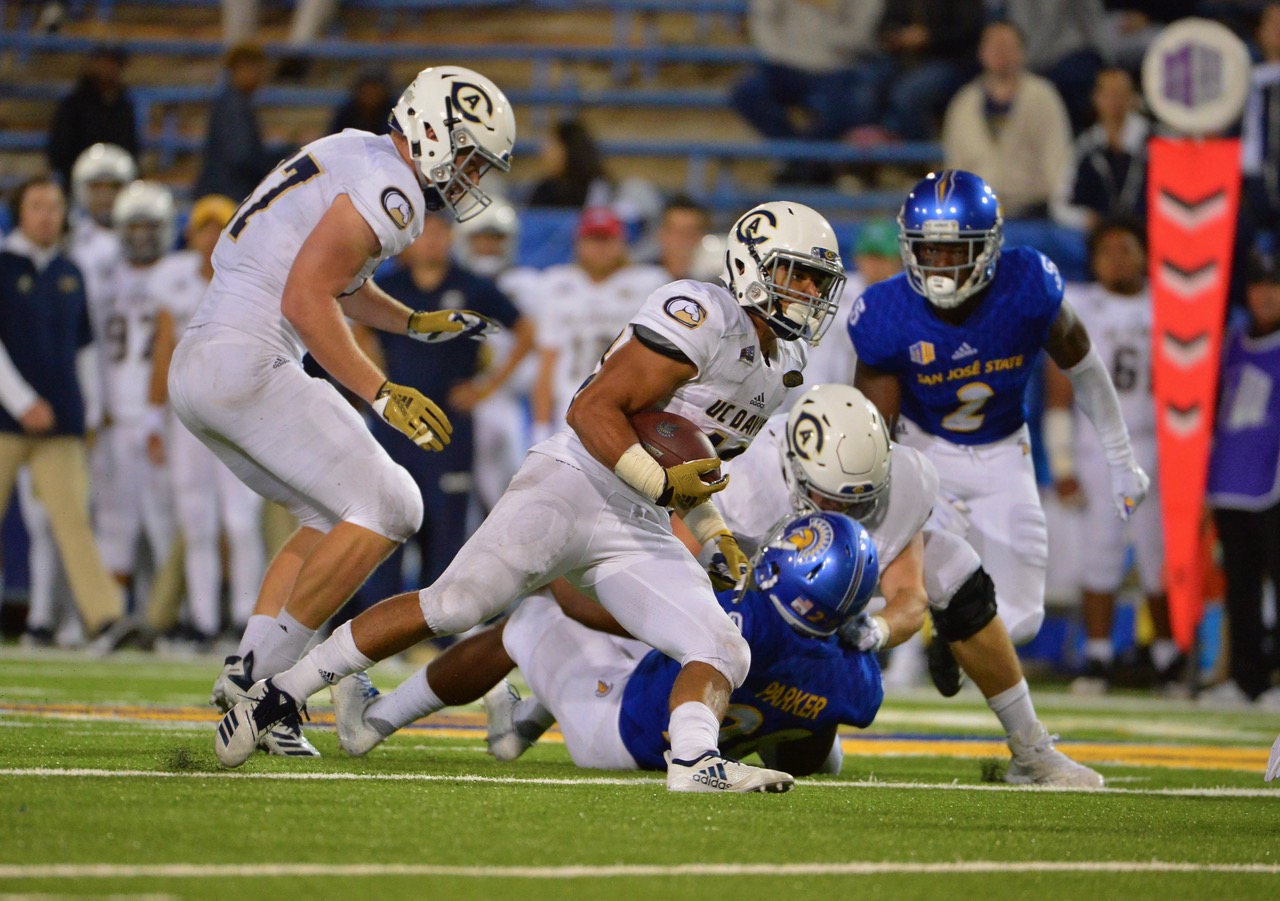 Aggies start new campaign off on right foot
As we approach the final stretch of summer break in Davis, college football programs across the country are wrapping up their respective training camps including the UC Davis Aggies.
Last season was the program's most productive offensive output since UC Davis entered the Big Sky Conference in 2012. The offense seemed to find a sweet spot with the Long Beach City College transfer Jake Maier, who led the Big Sky Conference in passing yards –– averaging 348 per game.  Maier complimented a new coaching staff that implemented an entirely new offense.
In  offensive coordinator Tim Plough's view, the team is chugging along, hitting the goals they had in mind at the outset of their training camp, which began in early August.
"Number one goal is to always stay healthy," Plough said as the team wrapped up their Tuesday practice a week before the Aggies' season opener. "I think we're doing a good job with that. Coach [Jeff] Bourque and his staff is taking care of our guys in the weight room."
"[The] second goal is to always try to increase our tempo, go as fast as we can. The third goal is try to develop more players, as many guys as possible. I feel like we have a larger number of guys that can make plays for us this year, and that's exciting."
With high expectations to perform at the same level, there is no doubt more pressure to continue the trend. But if you ask the coaches and players, they don't let the hype interfere with their training and performance.
"It was really great last year when we got recognized for all that," Plough said. "But we stress a lot here that the results don't matter."
"There has been more expectations obviously this year," Plough added. "But we're going to do our best to try to ignore the noise and just focus on ourselves and trying to get better every day."
However productive the Aggie offense was, it failed to put the program over .500, starting off Coach Dan Hawkins' first year at the helm with a losing season (5-6, Big Sky 3-5). The program was not terribly far off though, and if last season was any indication of the performance to come, the Aggies seem to have been invigorated. UC Davis couldn't scrape together more than three wins in each of the previous three seasons. The last time the program crept into .500 territory was 2010, when UC Davis football played in the Great West Conference, the Aggies came out with a 6-5 overall record.
Leading the Aggies' offensive charge last year, Maier is confident of the progress he and the team has made throughout the training camp.
"I'm proud of it, I think we're making strides everyday, that's the most important thing," Maier said. "But there's always so much to improve on, we're a long ways away, so we're going to try to clean up all the minor things are going to put us over the top."
Making sure the offensive unit is cohesive was a point of emphasis for Maier throughout the camp.
"We always talk about communication, making sure we're communicating and all on the same page," Maier said. "When we play fast and play with good tempo, we're communicating, then we can really limit our own mistakes with that. It's like the old saying: a lot of the mistakes were made before the ball is even snapped."
And it all goes back to the idea of a fast paced offense, a key element to the redesigned attack. Plough stressed that when the offense can play with an increased tempo, one that could outpace a defense, the offensive results will follow. He admitted that he wants the Aggies to be the "fastest team in the conference."
"Explosive pace: if we're getting runs of 10 yards or more, passes of 20 yards or more, we want to have more of those than the other team we're playing," Plough said. "We want to be great on third down in the red zone and converting."
Maier is obviously not the only factor on offense. The Aggies feature a deep receiving corps, where the majority of the student athletes are relatively young. Of the 15 wide receivers listed on the UC Davis football roster, two are seniors, three are juniors, four are sophomores and six are freshmen (of which two are redshirts). As for the four tight ends: two juniors, a sophomore and a freshman.
The air game found a major boost last season in senior wide receiver and NFL draft prospect Keelan Doss, who averaged 137 receiving yards per game and racked up 1,499 total yards. Doss spoke on how he felt about progress made in the training camp.
"I feel like we're night and day better than we were last year at this point," Doss said.  "Just the second year [with] new coaches, staff and having the players together, you can really see the leaps and bounds from this year to last."
Doss found that he had a decision to make at the beginning of 2018. His historic performance in the 2017 season boosted his potential to play at the professional level. Ultimately, Doss decided to stay at UC Davis and play out his senior season with the Aggies.
Doss believes it will help him develop parts of his game before pursuing a career in the NFL.
"There are things I could work on for my game that I feel like the improve on. Also I just wanted to come out here and help the Aggies for another year and really set this program off right. I'm glad I made the decision and I won't regret it no matter what happens."
Another pass-catcher that shined in 2017 for the Aggies was junior tight end Wesley Preece, who racked up 568 total yards and led the team with nine touchdowns.
Junior wide receiver Gabe Martinez played his freshman year and was redshirted for his sophomore year. The 6'7" pass-catcher could be another offensive weapon added to the Aggie air game.
"We've got a lot of ballers man," said Maier. "The wide receiver position, we're really deep and young and talented. For me, it's just really getting that trust on the field. Those everyday reps and team scrimmage reps are really important to me just because I can be able to see who I can trust in certain situations."
Maier will also have to trust his offensive line, which is on the younger side as well. With the exception of seniors Will Martin and Ramsey Hufford, there are no upperclassmen down in the trenches.
For Plough, it's all part of the development process.
"I think a positive for us is that we get Will Martin back at Center," Plough said. "That's always important to have a guy there that's played, it's a little more nervous when you have a younger guy there."
As for the tackle and guard spots, nothing is yet set in stone. Plough says that the competition for those positions will bring about "some new faces."
For Plough, this is all part of the process of development that comes along with taking over  a football program and moving it in a different direction
"I think whenever you come to a new program like last year with Coach Hawkins, you're going to be building a program up from the ground up," Plough said.
While the offensive line never gets the attention that wide receivers or running backs get, it is usually the foundation for a great offense. Coaches understand the importance of giving a quarterback time and solid protection, and the option to create space for the ground game.
"It's going to start from the [offensive] line, we're going to keep bringing in more guys there and try to build that process to be a more physical team," Plough offered. "There will be some youth, but the exciting thing is if we can build that youth, the years to come will be solid."
With only six seniors on the other side of the ball, the defense has a relatively young pool of players as well. Defensive coordinator Robert Tucker feels that a simplified practice regimen has helped the younger defense hone in on some important skills.
"We believe less is more," Tucker said. "So we've given them a little less to think about so they can play faster and play with more vision, and play with a little more confidence."
Tucker noted that the key position to watch on the defense this year will be outside linebacker, with a trio of seniors Mason Moe, Anthony Baumgart and Ryan Parenteau.
Parenteau, who played in the defensive backfield in previous seasons, will start his senior year as an outside linebacker, reported Tucker.
The lone senior on the defensive line, Terrell Cloud, recorded five sacks last year, and is another key position for the defense this year, Tucker says. Tucker reported that junior defensive lineman Jordan Franklin performed well throughout the training camp as well.
In the secondary, Tucker's players to watch for are senior defensive backs Vincent White –– who recorded 49 tackles, two interceptions and two forced fumbles last year –– and Isiah Olave (recorded 47 tackles last year).
"Defensively we were working on our situational football," Baumgart said. "We know that that first drive of a game and first drive coming out of half time is very important, as well as closing out right before half and closing out the game. So we're working on situational football to make sure we understand what's on the line during those times. And we want to be good on third down."
The Aggie defense allowed 249 passing yards per game, which was sixth in the Big Sky Conference; opponents rushed 209 yards per game on the Aggies, coming in at 11th in the Big Sky Conference. On third-downs, the Aggies allowed opponents to convert at 38 percent, eighth in the Big Sky Conference.
Baumgart believes the defense is ready, but knows a challenge is ahead.
"First three games we're feeling good. We feel that every game this season is going to be a challenge, let alone the first three. Teams out of our conference are great as well."
Baumgart added in some of his keys to winning on the defensive side of the ball.
"We have to force turnovers and be good on third down," Baumgart said. "And that'll just help us get the ball back to the offense, so that gives us the best chance to win."
Doss and the offense are also ready to go against San Jose State.
"I'm excited we're at right now, we have a game [at San Jose] so I think we're ready and we're looking forward to it."
*******************************
The UC Davis football team pulled off a thrilling upset of host San Jose State in Thursday night's season opener, dominating their opponent for much of the 44-38 slugfest at CEFCU Stadium.
          The victory marks the first time the Aggies have taken down an FBS opponent since their 14-13 win over San Jose State in 2010, an indication of how far the program has come in such a short period of time under second-year head coach Dan Hawkins.
          This marathon of a game began with an exhilarating first half in which the teams combined to score 56 points in the opening 21 minutes of play. Only two possessions during that time span eclipsed the two-minute mark, as each side raced up and down the field at a frantic pace. Hawkins referred to it as "basketball on grass".
"I think time of possession is the most overrated stat in football," Hawkins said.
Amidst the madness, UC Davis amassed 453 yards of total offense to build a 35-21 halftime lead. The Aggies utilized a lethal up-tempo, no-huddle attack that constantly left the San Jose State defense guessing and struggling to get set before each play.
"Our goal is to always play fast and keep our opponent off balance as best as we can.," said junior quarterback Jake Maier. "We want to run as many plays as we can. The faster we play, the better we are."
The offensive play calling, through a combination of quick completions to the outside and a bruising running game led by redshirt freshman running back Ulonzo Gilliam, was effective in getting the Aggies into a rhythm and keeping the Spartans off-balance. Just when San Jose State wasn't expecting it, Maier would punish them with deep completions over the middle of the field.
Maier was able to spread the ball around to nine different teammates, including 2017 All-American and Walter Payton Award finalist Keelan Doss who had 11 catches for 85 yards. Gilliam was also extremely active coming out of the backfield, with eight catches for 59 yards and a touchdown. Sophomore wide receivers Jared Harrell and Khris Vaughn and redshirt freshman Carson Crawford all made big plays down the field, combining to grab 11 balls for 208 yards and a touchdown. Junior tight end Wesley Preece also added three long receptions for 75 yards and a touchdown.
"That's one of the most talented groups on the team," Maier said. "They worked really hard in the offseason to get extra work and it really paid off tonight."
With the Aggies sitting on a lead for the entirety of the second half, Maier fell just 13 yards shy of setting a new career high in passing yards for a single game. He finished with 446 yards through the air on 37-of-55 passing.
Gilliam, playing in his first collegiate game, had a monster breakout game for UC Davis by running for 132 yards and two touchdowns on 23 carries. He was a physical runner between the tackles and elusive in the open field, shedding numerous defenders and extending runs with quick cutback moves.
"When he gets in open space, he's a problem and is tough to tackle by yourself," Maier said. "It's no secret why certain guys had awesome games today. It all goes back to the work they put in during the offseason."
Gilliam was a perfect complement to the Aggie passing game, providing a nice change of pace to keep San Jose State honest on defense.
"He's really a tough kid and can make people miss in space," Hawkins said. "I think good running backs get better as the game goes on and he did that."
Despite what the scoreboard may indicate, the UC Davis defense played quite well for a large portion of the night, especially in the first half. The front seven, particularly the defensive line, was relentless in its pursuit of San Jose State's three quarterbacks, flushing them out of the pocket and forcing tough throws. They applied lots of pressure on critical third down situations, forcing six punts.
"We have a lot of guys that we trust can play, so we were able to keep everyone fresh and roll guys in and out," Hawkins said. "Our coaches did a nice job mixing up the defenses and the stunts to keep them off balance."
The secondary also started hot, allowing just 109 yards through the air before halftime and breaking up numerous passes all over the field.
"I think at times we were consistent, but we definitely had some mistakes that just can't happen," said junior defensive back Tiger Garcia. "We could've made this a lot easier on ourselves and we just have to be more disciplined."
          With the exception of a safety committed by San Jose State on the first play from scrimmage, the action really slowed down in the third quarter. The UC Davis offense suddenly went silent, struggling to move the chains on third downs and hurting themselves with four penalties.
          "We have to be able to close the door on teams and tonight we kind of let them hang around," Maier said. "At the end of the day, you're on the road and playing a good opponent so we'll take a win by any means necessary."
Both teams traded punts back and forth until the Spartans converted on a 29-yard field goal with just over two minutes remaining in the quarter. After a quick three-and-out by the Aggies, San Jose State immediately found the end zone on a 79-yard touchdown reception to cut their deficit to six points at 37-31.
          UC Davis quickly countered with a six-play scoring drive to start the final quarter, capped off by an 18-yard touchdown reception from Gilliam.
          San Jose State responded by marching down to the red zone, but the Aggie defense came up with its biggest play of the night when redshirt freshman linebacker Montell Bland recovered a fumble on the 11-yard line. Unfortunately, Spartan sophomore running back Tyler Nevens was injured on the play and had to be carried off the field on a stretcher after a long delay. He was immediately taken to a local hospital for further care.
          With just over three minutes remaining in the contest, the Aggies handed the ball back to San Jose State with a 13-point lead, following a missed field goal from 33 yards out. The Spartans made it 44-38 with a 17-yard touchdown catch at the 1:24 mark, but were unable to recover the ensuing onside kick. The Aggies finished the game in victory formation for the final three plays.
Gilliam originally started the scoring with a five-yard touchdown run, finishing off a near-perfect 75-yard opening drive. On the next Aggie possession, San Jose State grabbed an interception out of the hands of Preece and returned the ball all the way down to the goal line, before scoring a touchdown on the next play. They took their first and only lead of the game on a two-yard touchdown run four minutes later.
The Aggies proceeded to rattle off the next three touchdowns, including two in the span of 90 seconds to start the second quarter. Preece hauled in a contested 22-yard catch over the middle and Harrell caught a 49-yard bomb to open up a 28-14 lead.
San Jose State instantly answered with a six-play scoring drive. Then, UC Davis responded when Crawford recorded his first career touchdown on a nine-yard run. Neither side put points on the board for the final nine minutes of the first half.
The Aggies will open their home slate on Saturday night against the University of San Diego. The game kicks off at 7 p.m. at Aggie Stadium. On September 15, UC Davis will travel to Palo Alto to take on the Stanford Cardinal in the final non-conference game on the schedule.
Written by: Bobby John and Brendan Ogburn — sports@theaggie.org