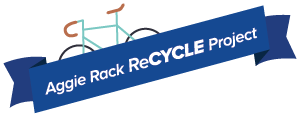 The Aggie Rack ReCYCLE Art Project Seeking Student Artists for Spring 2019
A creative challenge is issued to UCD students: Modify the Aggie's newspaper distribution racks with used bicycle parts!
Participating student artists receive $100 for a completed Aggie Rack ReCYCLE Project, plus the added bonus of having their artistic design be a part of the UC Davis campus landscape for years to come.
The Aggie Rack ReCYCLE Art Project began with the repair, repainting and rebranding of all the California Aggie news racks and newsstands in the summer of 2017 in a partnership with Unitrans. We then submitted a grant request that was awarded by ASUCD TGIF (The Green Initiative Fund) – which allowed students to submit an artful, yet functional design for Aggie newspaper racks – using old bicycle parts that would otherwise go into the landfill. We were awarded a TGIF grant for the second design phase of the project – which is being passed on to the participants.
---
Artist Submissions OPEN NOW:
CALL FOR STUDENT DESIGNERS
We are seeking student designers and artists to modify the Aggie's designated newspaper stands using recycled bicycle parts (donated by the Bike Barn and TAPs) to create whimsical, attractive and engaging art pieces – while maintaining the full functionality of the working newspaper distribution box/unit located on the UCD campus.
Each selected artist will receive a $100 stipend that will be provided upon completion of their project, in addition to provided materials and equipment.
Design mentor Jord Nelson will assist our artists with the installation tools and methods necessary for their projects.
This is a legacy project and the opportunity to contribute to the unique landscape of the UCD campus for generations to come.
---
Units to redesign for Phase II
(1) Square metal newsstand, outdoor/weatherproof, front door.
| | |
| --- | --- |
| Dimensions: | (2 types) |
| 19 x 36 x 16 in. | (W x H x D) |
| 19 x 33 x 16 in. | (W x H x D) |
(2) Large 2-shelf wooden box, indoor/not weatherproof.
| | |
| --- | --- |
| Dimensions: | 21.5 x 48 x 15.5 in (W x H x D) |
Current rack images:
| | |
| --- | --- |
| (1) | (2) |
Using your imagination and recycled bike parts, you can create incredible and functional arts pieces out of Aggie newspaper racks that will adorn the campus for years.
---
HOW TO APPLY AS AN ARTIST:
Applications for the Spring Quarter 2019 Aggie Rack ReCYCLE Art Project will be accepted beginning April 1st, 2019.
EXAMPLES OF PAST AGGIE RACK RECYCLE PROJECTS: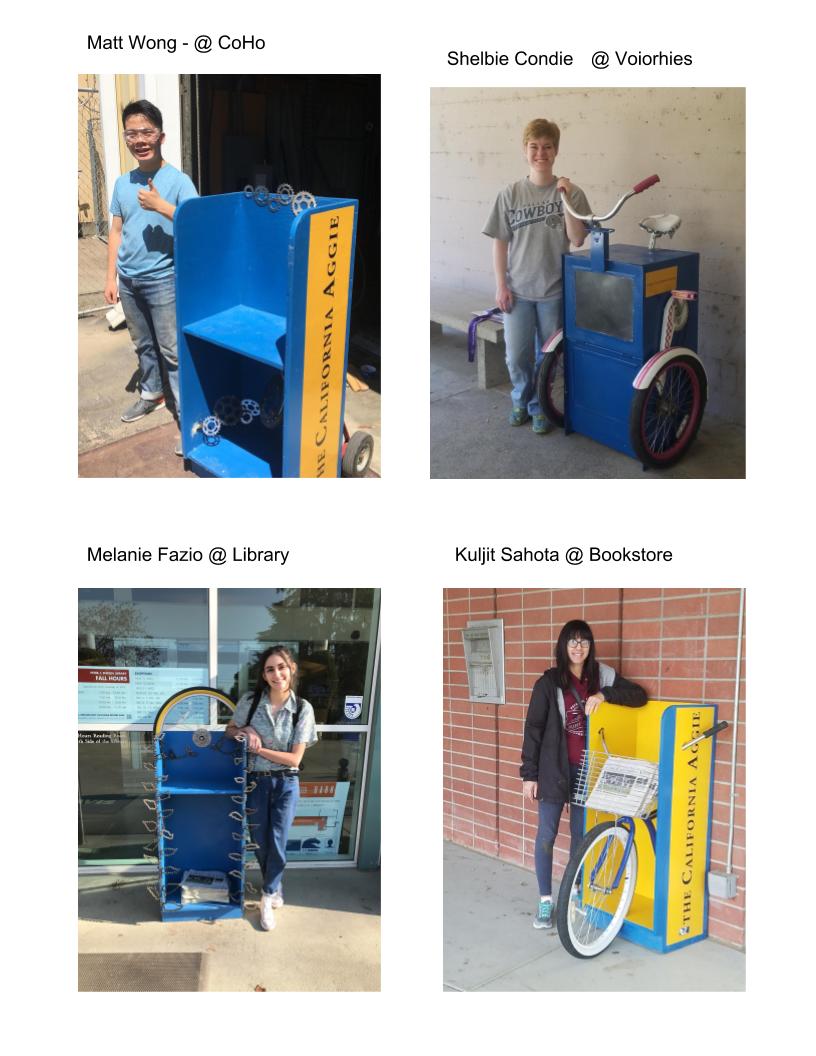 Email submissions to: admanager@theaggie.org
Please read the rules and include the following:
Your name and student status/major, graduation date.
Email address
Phone number
A rough draft of your design in any creative format or platform you prefer – using either (or both) of the dimensions of the indoor or outdoor newsstands being used in this project. Please note your preference.
Estimated time for the project to be completed.
List of equipment, materials or tools that you would require access to (as available).
Aggie management will notify applicants of project acceptance and assign a newsstand/location once approved. Projects must be completed by May 31st, 2019.
NOTE: By submitting your registration you are agreeing to comply with the stated rules, deadlines and project requirements. Applicant submissions will not be returned. Aggie newsstands are the property of the California Aggie.
Rules:
The submitting artist(s) is responsible for ensuring that the project can be completed in time, and the following rules will be met.
Design submissions can be based on one or both of the two different box types and dimensions for indoor (wood) and outdoor (metal) distribution boxes. (Specific preference on application)
All ideas must incorporate recycled bike parts in the design.
Top submissions will be selected based on original ideas and ability to complete the project in the time allotted.
No Aggie boxes or newsstands can be repainted unless approved. (Note: added parts CAN be painted)
The Aggie banners attached to the existing units cannot be removed or defaced.
Boxes must stay in current location unless authorized in advance by Aggie management. If boxes are moved, they must be back in place by Wed. at 5pm for the Thursday a.m. newspaper distribution.
Rack ReCYCLE projects must be completed BY May 31st, 2019.
Deadlines & Dates:
Artist design submission deadline: Extended
Notification of final artist selections: Upon approval
Completion of projects: May 31st, 2019
Contact Us:
The California Aggie
Laurie Pederson
Advertising / Business Manager
(530) 752-9877