Now that the Super Bowl is over, I can finally start thinking about midterms. All of mine are starting this week so, it's time to buckle down and study. During these times, studying takes priority over cooking every day.
Normally, in order to make it easier on myself I just eat Chipotle every night because it's quick and there are no dishes to do afterwards. However, on a college student's budget, eating out every night might not be the best idea.
So one of my "go-to" meals in the infamous midterm season is fried rice. It's fast to prepare and easy on the wallet.
Fried rice is often made with some combination of rice, peas, carrots, chicken, a scrambled egg and plenty of soy sauce. But it can easily be adapted to feature your favorite veggies or a different protein source.
However, since I've gone completely Paleo, rice — brown or white — is no longer in the food pyramid for me. Additionally, I don't eat soy products or legumes (which include peas). Therefore, I've created a scrumptious fried rice, using only Paleo approved vegetables, proteins and fats.
Pull out your chopsticks and enjoy a paleofied rendition of the ever so popular fried rice, made from cauliflower.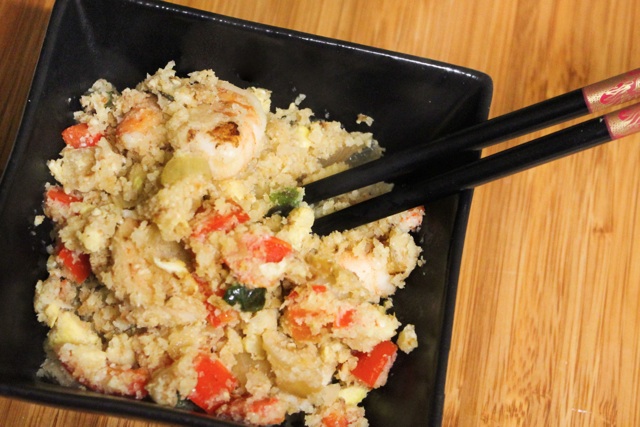 3 c. cauliflower florets (yields 1 ½ c. Cauli-Rice)
½ yellow onion
2 cloves garlic
1 red bell pepper
2 green onions
1 tbs. coconut oil
1 large egg
5 large deveined shrimp
1 tsp. sesame oil
Directions: First you need to create your "Cauli-Rice." In a food processor add in cauliflower florets and pulse until all florets are chopped up into little pieces (such as rice granules). If you don't have a food processor, a standard grater will work too. Once all the cauliflower has been riced, place in a separate bowl and begin chopping your veggies.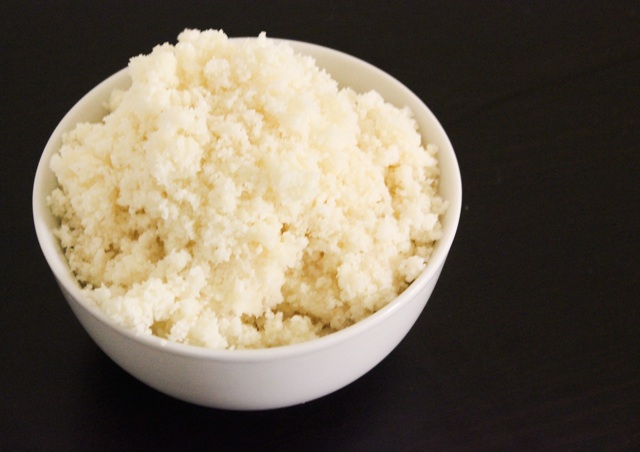 Cut your yellow onion, garlic, red pepper and green onions into small pieces.
In a sauté pan over medium-high heat melt coconut butter and add in garlic and yellow onion. Wait roughly 4-5 minutes until onions have browned.
Once browned, add in red peppers. You want the peppers to soften a little, roughly 2 minutes.
Then add in your cup and half of cauli-rice. Keep an eye on your pan, keep mixing it around like you normally would with fried rice. It has a tendency to stick, so make sure you're constantly stirring it around.
Once rice has browned, add in your egg. I like to make a small circle in the middle of my pan and add the egg there. This insures that the egg cooks through completely before being added into your rice.
Add in shrimp and cook until they become pink. Be careful not to cook shrimp too long as they become hard and very chewy. Just make sure both sides turn pink and you're good to go.
Finally, toss in green onions and drizzle the "rice" with sesame oil.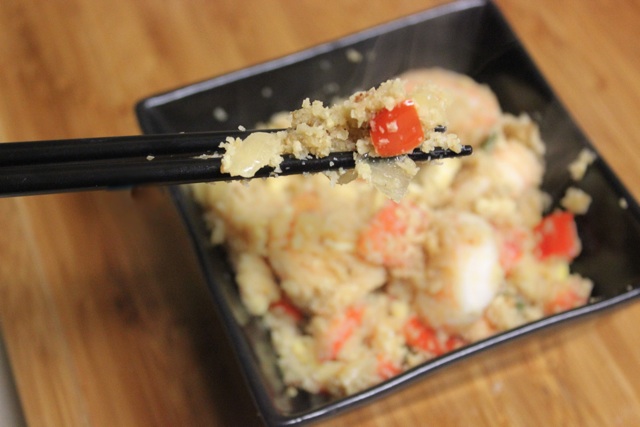 DEMSINA BABAZADEH invites you to send your favorite recipes to undergo the Paleo treatment to dbabazadeh@ucdavis.edu