With all the Thai restaurants in Davis, you are bound to hit a crossroads at least once when deciding which place to try out next. Sophia's Thai Kitchen or Thai Nakorn? Fast like Thai Canteen, or a more formal setting such as KetMoRee? There are eight Thai restaurants in downtown alone.
I can honestly say I've been to each and every one of them, and they are all unique in their own way. Each restaurant creates their own variation on popular dishes such as Pad Thai, Pad See Ew, Thai Fried Rice and various curries. Although I can't pick a favorite restaurant, I can pick a favorite dish — green curry with prawns.
The best part? Curry takes only 15 minutes to throw together — perfect for the college student who doesn't want to spend hours slaving away in the kitchen. Plus, by making it at home, you get the benefit of having your house smell like curry for the rest of the night. Yum!
Traditionally, curry is paired with steamed rice. But since rice is not in the Paleo food chain, I went for my cauli-fried rice recipe, which I've previously posted here.
Recipe
10 uncooked deveined shrimp
5 cloves garlic, minced
1 yellow onion
1 tbs. extra-virgin coconut oil
1 can (~14 oz.) full-fat coconut milk
1 chili pepper, sliced (optional)
2 tbs. Thai Kitchen Green Curry Paste
1 red bell pepper, sliced
1½ c. fresh baby spinach
1 c. prepared Cauli-Rice
Yields 2 servings
Directions
In a large stock pan, over medium-high heat, sautee shrimp with garlic and chopped onion in coconut oil. When shrimp turn a light pink, they are done. They will cook more inside the curry, so be careful not to overcook initially.
Add in coconut milk, chili pepper and curry paste. Mix in the curry paste well. I typically use a whisk, but a regular plastic spatula works as well. Get it all incorporated in — you'll know it's mixed in when the liquid goes from white (plain coconut milk) to a dark green.
Add sliced bell pepper to the curry and let simmer for 2-3 minutes.
Next, add in baby spinach. You don't want to add the spinach in too early, because it only takes 1-2 minutes to wilt down.
Finally, in a large bowl measure ½c. of cauli-rice and top with piping hot curry. The heat from the curry will "cook" the cauli-rice through.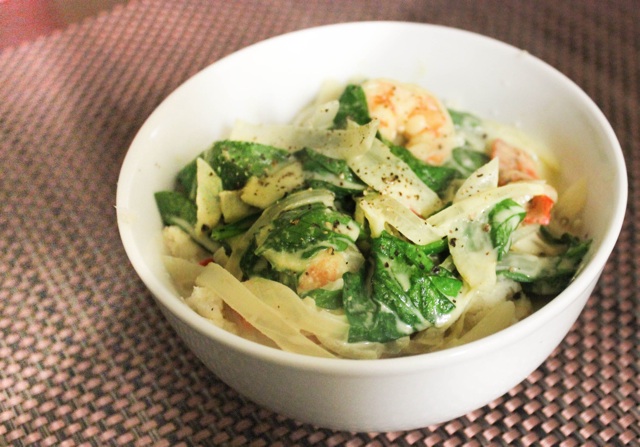 DEMSINA BABAZADEH invites you to send your favorite recipes to undergo the Paleo treatment to dbabazadeh@ucdavis.edu