Okay, I'll admit it: my favorite part of going out to Indian restaurants is the naan. Whether I choose to eat it alone brushed simply with butter or as a vehicle for curry and rice, naan is always what I look forward to the most.
So I decided I was going to make it by myself at home.
Since breads can be a bit tricky to make sometimes, I went to the most uninvolved recipe I could find – by The Novice Chef – as a guide. The texture of this naan ended up more thick and doughy, like a pita, than many thin, flaky naans you'll find at Davis restaurants.
In brainstorming various toppings, I attempted to mimic some of my favorite traditional Indian dishes; the mint and cilantro naan pulls from the flavors of mint chutney, and the paneer and spinach naan – which should just be eaten as a mini pizza – is reminiscent of saag paneer. The cinnamon-sugar variation is a fun alternative to cinnamon toast.
Recipe
Prep time: 20 minutes
Cooking time: 1.5-2 hours
Yields 8 naans; ingredients for each flavor make 2 of each.
½ cup warm water
2 tsp. active dry yeast
1 tsp. sugar
2 ½ cups flour
½ tsp. salt
¼ cup vegetable oil
1/3 cup plain Greek yogurt
1 large egg
olive oil
2 tbsp. butter
Paneer and spinach naan:
Handful of fresh spinach, chopped
2 oz. paneer cheese, sliced (Note: I bought mine at the International Food Market)
Mint and cilantro naan:
Handful of fresh mint leaves, chopped
Handful of fresh cilantro, chopped
Cinnamon-sugar naan:
½ tsp. cinnamon
½ tsp. sugar
Stir water, yeast and sugar together in a bowl until bubbles form on top.
Add and stir flour, salt, oil, yogurt and egg into the mixture until it becomes dough, and knead until soft.
Cover with a dishtowel and let rise for an hour to an hour and a half.
Once the dough has risen, divide it into 8 chunks and press into round, ¼ inch-thick pieces.
Heat up a skillet drizzled in a small amount of olive oil, and for each naan, cook on each side for about 15 seconds. Brush cooked naans with melted butter.
If you choose to go further than plain, buttered naan, adding toppings only takes a few more minutes. For the mint-cilantro and paneer-spinach varieties, top naans with ingredients and place in the oven at 350˚ for 5 and 12 minutes, respectively.
For the cinnamon-sugar type, mix the cinnamon and sugar together in a bowl and sprinkle over buttered naans.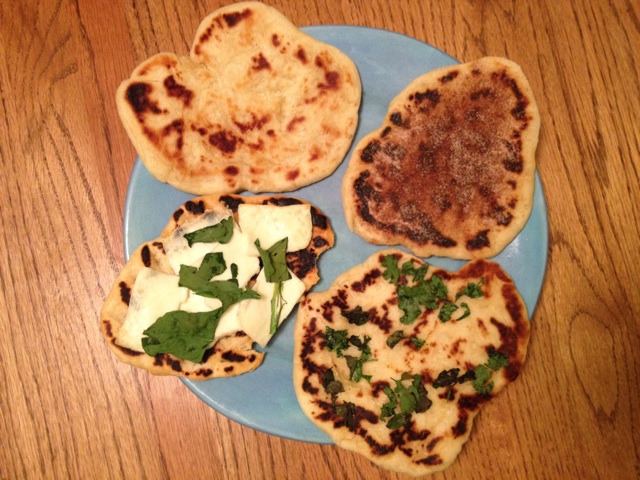 KATIE MORRIS looks forward to bringing you tasty, easy recipes every week that work with the typical college student's time and budget. Contact her at kemorris@ucdavis.edu.