Raise your hand if you're at that point in college where even pressing pause on Netflix, dragging your body into the kitchen and chopping up vegetables for dinner sounds like a treacherous endeavor. If you're raising your hand, you're exactly like me.
A lot of the time, cooking for yourself or roommates can be relaxing – it gives you something to do other than study, and it allows you to be creative while surrounded by aromatic ingredients, all the while anticipating the delicious meal you're about to consume.
But let's face it: Midterms, papers and labs drive our energy levels way down and make us not want to do anything. And to be completely truthful, most of the time, all I want to do is sit on the couch, watch a show I like and chow down on something that I didn't have to make myself.
For a while now, I have been known to partially live on frozen meals. Sure, they may not be quite as nutritious as homemade food, but I would argue that saving time and energy can be just as beneficial as a perfectly healthy meal, especially during those rough weeks as a college student.
And now, I share with you some of the discoveries I have made in Davis over the past four years that only require you to do half the work.
Starting simple: Safeway. Next time you consider grabbing a few of the Lean Cuisine frozen "meals," venture across the aisle to find Gorton's frozen grilled tilapia filets ($4.99) instead. Out of the box, they may look a bit unappetizing – they're literally just frozen squares of fish. But after they've been microwaved for 5 minutes, they taste comparable to any tilapia you might buy and sauté yourself. I like to buy the Signature Grilled flavor and serve them with rice and ­­­­Melissa's shelled edamame soybeans ($3.99), found in the produce section, and topped off with a touch of teriyaki sauce.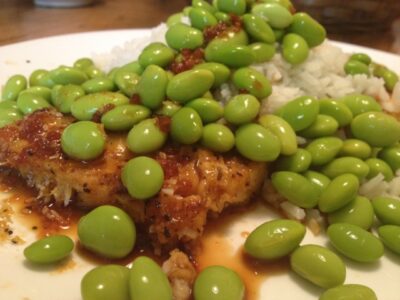 Moving on to a place a little better known for their frozen meals: Trader Joe's. I have tried a large assortment of TJ's packaged meals, and only a small number of them have really stood out to me. One is the frozen tamales ($2.29) – the beef one drizzled in a bit of Tapatío makes a quick but delectable lunch. If you prefer Indian flavors, the Aloo Chaat Kati Pouches ($2.29) are like if a typical Indian vegetarian curry dish and a Hot Pocket had a baby, making them another excellent quick meal option.
My favorite finding in the frozen section, however, is the cheese blintzes ($3.99). They can't really count as dinner, but these ricotta-filled crepes, lightly fried on the stove and topped with honey and blueberries is probably the best dessert I have ever whipped up for myself. They could also be breakfast – in fact, they're sold in the breakfast section – depending on how you dress them.
And finally, ending up at one of my favorite places in Davis: the Food Co-op. Though pricey, this establishment is like therapy for me – the mountains of colorful organic produce, wide variety of unique snacks and mouth-watering hot food bar automatically relax me. However, in order to not empty my entire wallet on products from this store, I need to go in knowing exactly what I want.
Next time you make your way into the Co-op, pick up one of their microwaveable burritos, found in baskets in front of the deli. You can choose from a breakfast burrito, bean and cheese wrap, and the Burrito Grande, which is filled with cilantro-infused brown rice, black beans, cheese and salsa (all are $6.99). They're a little expensive, but once you dig into one, you'll forget that you just spent $7 on a small burrito that doesn't even have meat in it.
KATIE MORRIS writes for the Aggie Eats food blog and can be reached at kemorris@ucdavis.edu