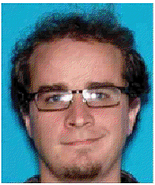 The Davis Police are searching for 26-year-old Davis resident Daniel Brian Thompson. He was last seen on April 12 and last heard from on April 13.
Thompson is a white male, about 5'9″ tall and weighs about 155 pounds. The police are still trying to locate Thompson. Anyone with information is urged to contact the Davis Police at 747-5400.
— Claire Tan
UPDATE: April 22, 12:04 a.m.
According to the Bring Daniel Brian Thompson Home Facebook page, Thompson called his parents Sunday evening and told them he had been in a car accident and was lost for seven days in the mountains.
The Davis Police said that Thompson used a Zipcar account to rent a car in Sacramento on April 13. The police were since searching in both Davis and Sacramento for Thompson.
— Claire Tan