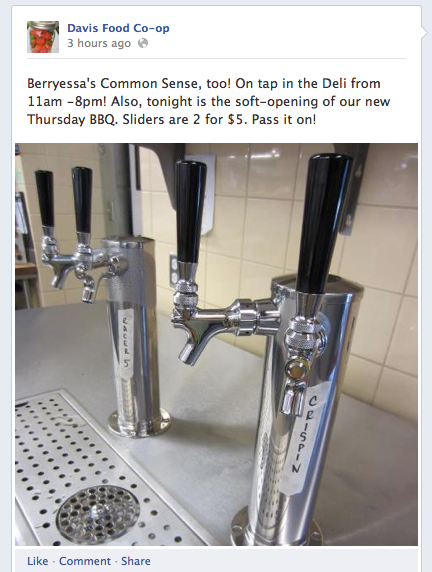 The Davis Food Co-op wants you to start your weekend early — every Thursday evening at the Co-op.
Tonight marks the first Thursday barbecue in what Jules Loke, of the Co-op's marketing and education team, hopes will be a fruitful and growing series. There will be sliders at two for $5, board games to rent, additional activities for the kids and, for the big kids, beer and wine on the patio.
Big news: the Co-op now has taps behind that deli. Currently you can buy pints of Crispin Cider, Racer 5 IPA and Berryessa Common Sense, but they plan on rotating often.
The Co-op installed the taps last week, and folks can enjoy beer on the patio any time from 11 a.m. to 8 p.m. — not just during these weekly Thursday night events.
Tonight is the soft opening, and Loke said that while there's no budget for these events yet, she sees lots of room to grow if they prove popular. Look out for food samples and maybe even live music next time you making a Thursday, 6 p.m. grocery shopping trip.