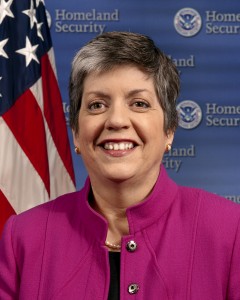 On July 18, Janet Napolitano was elected by UC Regents as the first woman president of the University of California (UC) system. Napolitano follows previous UC president Mark Yudof, who worked at the position for five years. Napolitano formerly worked as President Barack Obama's U.S. Secretary of Homeland Security.
In her statement addressing Napolitano's nomination for UC president, UC Davis Chancellor Linda P.B. Katehi showed support for the nomination.
"I am very pleased and excited with the nomination of Janet Napolitano as the next president of the University of California. Secretary Napolitano has a distinguished record of public service and leadership," Katehi said in a statement.
Provost and Executive Vice Chancellor Ralph Hexter shared similar thoughts to Katehi's on Napolitano becoming the UC president. Hexter said that he has not worked with Napolitano previously but is looking forward to meeting her.
"I am positive and optimistic about what she will bring to the University," Hexter said.
Napolitano will receive an annual salary of $570,000, a $21,000 decrease from her predecessor. This salary will fall in the bottom 25th percentile of presidents of similar academic institutions.
Napolitano will also receive a one-time relocation fee of $142,000 and $8,916 per year for car expenses.
In parts of California, there have been protests and anger focused toward Napolitano's experience in working as the Homeland Security secretary. Her work with the Secure Communities program, which enforces U.S. immigration laws, has been a concern for many UC students.
ASUCD Vice President Bradley Bottoms addressed Napolitano's previous experience.
"Although I am sure that President Napolitano's experiences will allow her to effectively manage the UC, I am concerned that her duties at the Department of Homeland Security will make students, especially AB 540 students, uncomfortable at the [U]niversity," Bottoms said in an email interview. "The UC is a place that is intended to educate all, and having a president that is responsible for massive deportations is certainly disheartening."
According to AB 540, undocumented students must have attended a California high school for at least three full academic years; graduated from a California high school or attained a G.E.D.; registered to attend a California accredited institution of public higher education; and file or plan to file for legal residency as soon as possible.
Chancellor Katehi said Napolitano's former position would bring positive light to immigration reform.
"These issues are important to us as a university and as a nation, as they enable us to attract the best and the brightest from around the world, and have them contribute to our society and economy," Katehi said. "She has been an advocate for the federal Dream Act and implemented policies to prevent deportations of young people who are pursuing a college education."
The Dream Act, which did not pass, would have allowed undocumented migrants who wished to pursue higher education able to do so and become legal residents of the country.
Academic Senate Chair Robert Powell doesn't believe her federal background will influence her treatment of Hispanic students in the UC.
"We have to remember that this is a policy of the President, not her policy," Powell said.
Napolitano focused on education from pre-kindergarten through higher public education during her time as governor of Arizona. She did not work with higher education during her time in President Obama's Cabinet.
"The selection of Napolitano as president came to me as a surprise, as most people would presume she would come from the education field," Hexter said.
It is currently unclear what to expect from the UC's new president at this point in time .
"I think she's going to be very interested in transfers and making sure we have a good pathway for transfer students … I think she'll be a big supporter of diversity in terms of faculty and in terms of the students," Powell said.
Many believe her political background will aid in her success as a highly public and influential leader.
"I think she's going to be much more in tune with the politics in Sacramento than past presidents have been," Powell said.
Napolitano's election may not deeply affect the UC Davis campus's current functions and protocol. Her decisions will affect the UC system as a whole, and her role will be to back every university together.
"Chancellors know how to run the university system itself," Hexter said. "We look to the Office of the President to advocate for the whole university as a state. We don't want campuses fighting over who gets what."
MELISSA DITTRICH can be reached at campus@theaggie.org.