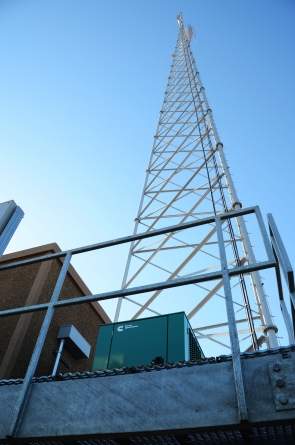 KDVS installs new transmitter
Davis' student-run radio station KDVS recently installed a new transmitter in the Yolo County landfill. The transmitter is the end product of 10 years of planning and fundraising by workers and volunteers of KDVS, UC Davis and UCOP.
The decision to replace the station's old tower came when other stations began to interfere with KDVS's signal on their independent airwave (otherwise known as "signal encroachment"). People in areas as far as Woodland, Dixon and West Sacramento were unable to tune into the station and large numbers of listeners were lost.
KDVS's General Manager and student Cameron Cairns began his work with the station during the planning years for the new transmitter. He saw the debilitating effects the loss of listeners had on the station. Fewer businesses purchased advertisement time, causing KDVS's running budget to decline.
"We were starting to see people encroaching on our station in the late 2000s," Cairns said. "We lost an audience and business support, but when we put up this new transmitter we got a lot of emails saying people could finally listen to us again."
KDVS saw a lot of support from the community in their pursuit to install the transmitter. Volunteers for the cause included dozens of UC Davis students and citizens of Davis. Many spoke at public hearings regarding the tower's installment, helped move equipment and performed engineering work.
Many UC Davis administrators and UCOP representatives also supported the setup of the new transmitter, hoping it would benefit the community at large.
Justin Kable, a former general manager of KDVS, was a volunteer of this project and worked closely with many student and community volunteers. He felt the project garnered much of its potential from ASUCD.
"We definitely felt supported, especially by Anne Reynolds Myler, who was the interim business manager at ASUCD," Kable said. "There are a lot of rules to follow when performing a project like this through a public agency, and Anne and others helped guide us through them."
The transmitter is better able to reach audiences with an alteration in the power of the signal and adjustment of the antenna. The signal has strengthened, increasing its power from nine kilowatts (kW) to 13 kW. With this upgrade, the antenna was raised an additional 100 feet on the tower, allowing it to broaden broadcast.
Tim Parish, who oversaw the installation of the transmitter, has seen a big improvement in the clarity of KDVS's signal.
"The new transmitter has a better audio processor which has made KDVS sound a lot better," Parish said. "The coverage in the downtown area and West Sacramento is greatly improved. I've received reports that Folsom and Roseville are also very good."
The tower has lifted financial and maintenance burdens from the station. Unlike the old transmitter, the new one needs little to no maintenance. The old tower, installed in 1996, cost about $3,000 a year to remain operational and was draining much of KDVS's funds.
The new tower can be monitored by Parish and Cairns through their smartphones and personal computers without having to be frequently checked onsite. The transmitter can even alert the station via email if there's a mechanical problem in need of repair.
These new adjustments not only cut costs and garner profit from business advertisements in new regions, but they help students communicate their talents and passions to an extended public.
"We're going to have a lot more community outreach to Sacramento. It will become a more powerful tool for students to use if they choose to join the radio station," Cairns said.
Many of the volunteers from this project hope students will use the improvements to their advantage.
"[The project] gives UC Davis students a great resource to volunteer in media and the arts where their contributions can be heard by a wide audience," Kable said.
You can tune into KDVS's live broadcast 24/7 on station 90.3 FM. If you'd like to volunteer at KDVS, you can inquire about any openings at kdvsoffice@kdvs.org.
AKIRA OLIVIA KUMAMOTO can be reached at arts@aggie.org