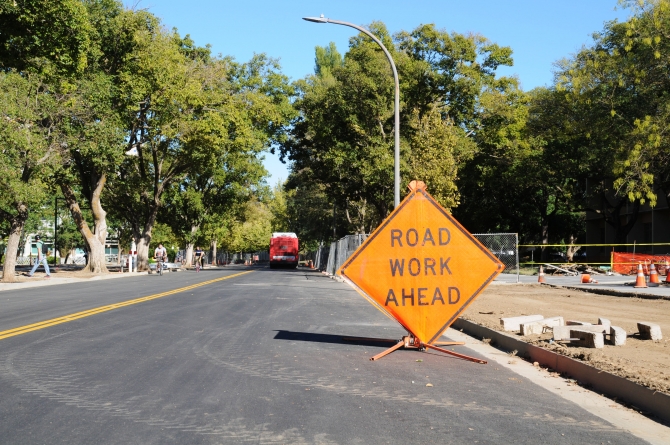 Summer construction on campus still in progress
After a summer of road detours and students biking beside bulldozers, the question of construction progress has been up in the air with the rubble and dirt.
Several core projects are still underway but many of the renovations have just been completed in time for Fall Quarter.
Building Maintenance Services were occupied these past few months as they were highly involved in building modifications of ten chemistry labs in the Sciences Laboratory Building, updating them to meet campus standards. Some of the renovations included fume hood and countertop rod replacement, drawers and hardware repair, and deep utility cleaning.
The major changes among lecture halls include necessary restroom renovations. Eight bathrooms in Young Hall, Everson Hall, Hutchison Hall and the Music Building had to be updated to meet the Americans with Disabilities Act Compliance regulations for accessibility.
Psychology and anthropology students will enjoy a greener change during the school year.
"We're trying an experiment in Young Hall in the restrooms. We're putting in hand dryers to see how that goes to save on paper towels," said Cynthia Kranc, director of Building Maintenance Services.
These projects, along with summer-long preparation for animal law inspections, cost nearly $700,000.
The Arboretum will also to see improvements, including a new garden on the east end, south of Aggie Village and the Davis Commons shopping center.
According to Dateline UC Davis, "The garden is part of the 'urban greening' of a key connection between the campus and the city — where the Arboretum connects with downtown Davis, and where the Arboretum and downtown connect with the Putah Creek Parkway."
Until this $1.3 million project is completed, students cannot bike to Davis Commons by means of the waterway lower paths. However, the tunnels underneath Interstate 80 and the railroad tracks are accessible.
The California Native Plant GATEway Garden is set to be completed by November.
UC Davis Design and Construction Management are also making ways with their three-year student housing project, Tercero Phase 3. Site preparation began in July 2011 and is scheduled to open in 2014 by Fall Quarter.
With exactly a year left until opening, Tercero Phase 3 is estimated to cost $71 million.
Seven new four-story buildings are being added to the Tercero residence hall area, housing 1,200 more students. A lecture hall and staff offices will be joining the dorms as well.
A village-style design will form two neighborhoods to encourage community.
The housing project's objective is to reduce greenhouse gas emissions and to be LEED Platinum certified, the highest rating from the U.S. Green Building Council.
"The goal of the university when we first started was to have a LEED goal and Sundt and EHDD Architecture came up with a plan to really maximize the mechanical systems and get it to LEED Platinum," said Angela Tombolini, employee owner of Sundt Construction, Inc.
The school's heritage trees remain uncut and new bicycle pathways weave throughout the landscape.
Students anticipate to see the environmentally pleasing project and upperclassmen are envious that they won't be able to experience the new dorms themselves.
"I've always biked by the construction and just thought they were updating the dorms, but I never knew the project would be this amazing. I think UC Davis will definitely uphold its 'Cool School' title and I'd like to come back after graduation to see the new changes," said fourth-year mechanical engineering major Kevin Fitzpatrick.
NICOLE YI can be reached at campus@theaggie.org.