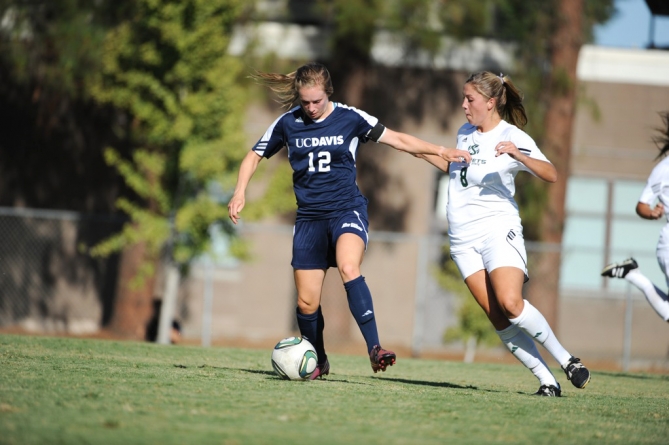 Inside the Game with Kendall Frisoli
In just her first year on the UC Davis women's volleyball team, Kendall Frisoli looks to have a promising future. Currently averaging 1.5 digs per set, Frisoli will have many more years to flourish and develop her game as an Aggie.
A Southern California native who was already known as a basketball standout at Thousand Oaks High School, Frisoli was recognized more for her volleyball talents. Posting 307 kills and averaging .335 kills per game in 2012, Frisoli helped her team to three consecutive 14-0 league records. As a result, Frisoli never lost a league match and earned three consecutive All-Marmonte League Championships.
Frisoli luckily had time to meet with Aggie Sports Writer Shaun Moncada to discuss UC Davis volleyball, the transition from high school to college and her musical talents.
Being a standout in both basketball and volleyball during high school, what made you pursue volleyball heading into college?
I have been a multiple-sport athlete for my entire life and choosing to play one sport was one of the hardest decisions for me. I had a separate passion for both basketball and volleyball, but both complimented each other — the aggressiveness in basketball and the jumping and agility of volleyball. But by the summer of my senior year in high school, I decided to start focusing on the one sport that I was taking seriously going into college —  volleyball.
As a follow up, what was the appeal of the UC Davis volleyball program?
Besides the school itself, I knew I wanted to go to the UC system. Coming up north from Southern California, the environment here was laid back, the people were nice and I am close to family. Volleyball-wise, while participating at Libero Camp the summer before my junior year, that is where I was offered a spot to come play at Davis. Being able to interact with the Aggie players and coaches drew me in. It felt like a family and felt like a home.
You received so many accolades and achieved great success in high school. How has the transition been from high school play to now playing at a collegiate level?
It is an entirely new level, and that is what pushes you to limits and levels that you never thought were possible. So few people are able to play collegiately and while you know it is going to be harder, until you get here and experience it for yourself, it is definitely different. The girls are bigger, serve better; everything is at a new level.
Currently in the midst of Big West Conference play, from your perspective, how would you describe the season thus far?
We have had our ups and downs, but we are becoming a consistent team, and that is our goal. We want to find out who we are and play with that mentality. Although tied for fifth place, we know there is a lot ahead of us. We must focus on every team individually. The Big West conference is so stacked and anyone can be beaten on any given day.
What many people may not know about you is that you play and compose for the guitar. How important has music been in your life?
Music is my expressive outlet. Being in college and balancing it with sports, even if I have no time for playing music, I force myself to do it because it is such a release for me. Writing music and expressing my feelings allows me to be me. I love performing for and with people. Music just brings people together.
Finally, with school now a couple weeks into the quarter, how does it feel to be a student-athlete at UC Davis?
I feel proud. It is a very special thing to call yourself a student-athlete. The work put in, going to class, practicing, even going to get food is a chore now. Then coming home to do homework and going to bed, it is literally eat, sleep, play. This experience, having this team, it is like a family, and it makes for an easier transition into college. I am proud to be a UC Davis student-athlete.
– Shaun Moncada