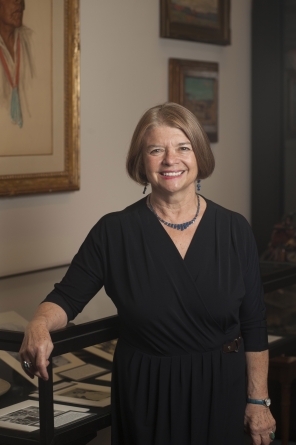 MLA elects Davis professor as president
UC Davis Department of English Professor Margaret Ferguson plans to bridge the gap between college and high school language education as the Modern Language Association's (MLA) new president.
The MLA is best known for its guidebook to citation style, which is used by almost everyone at UC Davis. When most students start college, they've already known about the style guide. It is the standard for citation in high school as well as college. Since not many manage to memorize it, it's a safe bet that few students know anything about the MLA beyond it.
"The rules are constantly updated. That takes a lot of thought and also feedback from people who are using them, including students. We get interesting feedback from students who say, 'this just isn't clear,'" Ferguson said.
Ferguson is best known to students for teaching a range of English courses at UC Davis, including English 3, the course that introduces many to higher education literature. This stage of college education is very important to Ferguson, as it offers the most variety in students. English 3 is generally a class taken by those who are not pursuing English as a major. It is also one of the first steps to transitioning from high school to college level courses, an area which Ferguson has shown a lot of interest in with her work in the MLA.
As president, Ferguson plans to look at and help with the implementation of new core standards for K-12 curriculum. What does a style guide for citation have to do with K-12 core curriculum? Overall, not much. However, this is much closer to the heart of what the MLA was created for.
"It started in 1883 as an organization for professors of modern languages, to help them gain a place in university and college curricula — different from the very big place that classical languages and literature then held," Ferguson said.
MLA stands for "Modern Language Association." Modern refers to the type of language it draws attention to, not how recent the association was formed.
"It is the biggest organization for language and literature teachers in the world," Ferguson said.
Language, she feels, plays a big role in what the MLA should be focused on. Although recent years have apparently seen a shift of the "L" from Language to Literature, literature is merely a branch of the larger language focus in the MLA.
MLA presidents are expected to write and act as a spokesperson for the organization. Ferguson has already decided one of the things she wants to talk about.
"I want to talk about the ways in which teachers of writing, teachers of foreign languages, teachers of literature, can pool their resources through the MLA to address some major issues in colleges which are losing funding for some of their language departments," Ferguson said.
MLA was organized around modern language, which goes beyond classical language. This includes English, but not necessarily only literature. The interests of the MLA stretch beyond college because they involve language education, which starts at the K-12 level. One of Ferguson's major focuses as president is to begin and continue education effectively.
"I'm hoping to bring some high school teachers in to talk to MLA members, who are mostly but not always employed as college teachers, about how we can better bridge the social and educational gaps between six to 18-year-olds and 18-year-olds through graduate students," Ferguson said.
Her colleague at UC Davis and the current English Department chair, Elizabeth Miller, recognizes the importance of Ferguson's focus and efforts.
"We, as professors, need a better sense of how our students are being prepared for college, and high school teachers likewise need a better sense of what is expected of students when they come to university," Miller said.
Ferguson's efforts in the MLA are not even isolated to merely educational problems in kindergarten through graduate school, but extend to aiding in the continued success of graduating students.
Another colleague from the English Department, Gina Bloom, expressed interest in Ferguson's current project with the MLA.
Ferguson has been working on a document to set standards for letters of recommendations done by professors. The hope is that it will help professors to more easily write adequate letters.
"I'm especially excited about the work she has already begun doing to address the problem of inflation in letters of recommendation. More than ever before, faculty are expected to write more and longer letters of recommendation that do not necessarily have any greater of an impact on students' success securing positions at graduate schools or in jobs," Bloom said.
In her one-year term as president, Ferguson hopes to continue the success of the MLA and aid in the improvements she feels are already happening in the organization. One of her roles as president is to inform people of what the MLA is and emphasize its advocacy of helpful educational policies and academic freedom.
"I hope that the MLA will continue to advocate on behalf of lecturers and other non-tenure-track faculty, to support graduate students facing a difficult academic job market and to be a national voice for academic freedom. I know that Margie shares all these goals," Miller said.
NICK FREDERICI can be reached at features@theaggie.org.