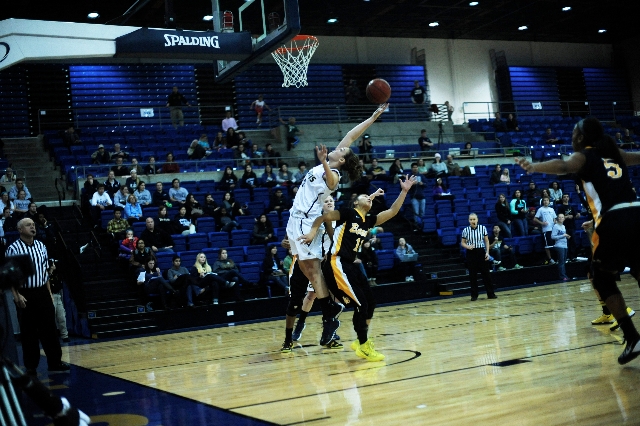 Aggies head south to spar with Matadors, Anteaters
Teams: UC Davis vs. Cal State Northridge; UC Davis vs. UC Irvine
Records: Aggies, 9-11 (4-3); Matadors, 10-12 (6-2); Anteaters, 10-11 (3-4)
Where: The Matadome — Northridge, Calif.; The Bren Center — Irvine, Calif.
When: Thursday, Feb. 6 at 7 p.m.; Saturday, Feb. 8 at 2 p.m.
Who to watch:
Watch out, Big West, Alyson Doherty has arrived. The sophomore forward has been unstoppable in conference play this far, scoring in double figures in eight straight games. Doherty has put up 20 points in each of her last two games, leading the Aggies in scoring in both, and is dominating the paint, scoring efficiently and giving the Aggies a formidable low-post scoring threat. Watch for the 6'3" Doherty to continue her success against Cal State Northridge and UC Irvine as the Aggies look to control the post and feed their talented forward, who can take defenders to the basket and finish with both hands.
Preview:
Following a narrow loss to first-place Cal Poly on Jan. 30 and a comeback win against UC Santa Barbara on Feb. 1, which included a major career milestone for star forward Sydnee Fipps, the UC Davis women's basketball team looks to break a three-way tie for third place in the Big West this week.
Against Cal Poly, both teams had their way in the paint. The Aggies (9-11, 4-3) were unable to contain Cal Poly's 6'5" center Molly Schlemer, who put up 26 points on 12 of 16 shooting and added nine rebounds. However, sophomore Alyson Doherty was undaunted on the offensive end, taking the taller Schlemer to the basket repeatedly and finishing over her with both hands. Doherty finished with 20 points and went 8-13 from the field.
Other than a 20-3 Cal Poly run that put the Mustangs (12-8, 6-1) ahead 30-19 in the first half, the Aggies went toe-to-toe with last year's Big West conference tournament champs and this year's conference leaders in the standings before falling 81-72.
"This is a team, [Cal Poly], that is 6-1 in conference, so it's promising to know that we're right there," head coach Jennifer Gross said. "It was a 10-point game, but I felt like it was closer. We can continue to improve, and that's the most exciting thing. We have so much room to get better and our players are committed to that."
The Aggies did improve two days later against UC Santa Barbara (6-14, 1-6), knocking off the Gauchos, 82-70. Doherty again was a dominant force for UC Davis, recording a team-high 23 points and eight rebounds.
"Aly is becoming someone we're relying upon and she's showing us that she can get it done for us inside," Gross said, following the Cal Poly game.
Against Santa Barbara, junior forward and team leader Sydnee Fipps became the 16th player in UC Davis women's basketball history to score 1,000 career points. She reached the milestone midway through the first half en route to her 21 points, her ninth 20-point game of the season.
The Aggies travel to Cal State Northridge (10-12, 6-2) on Feb. 6, and they will try to stop a Matador team that has won three straight on its way to grabbing second place in the Big West.
Cal State Northridge is led by junior guard Ashlee Guay, who also recently passed the 1000 point mark in a game against UC Riverside on Jan. 31 and comes into the game averaging 15.5 points per game.
In the two teams' most recent meeting on Jan. 9, Cal State Northridge just barely held off the Aggies 56-52.
Following Cal State Northridge, the Aggies will travel to the Bren Center to take on UC Irvine (10-11, 3-4), a team the coming off an 84-79 home loss to Cal Poly on Feb. 1.
The Anteaters are led by 6'1" senior forward Camille Buckley, who averages a stellar 16.3 points per game and 10.4 rebounds per game.
— Scott Dresser