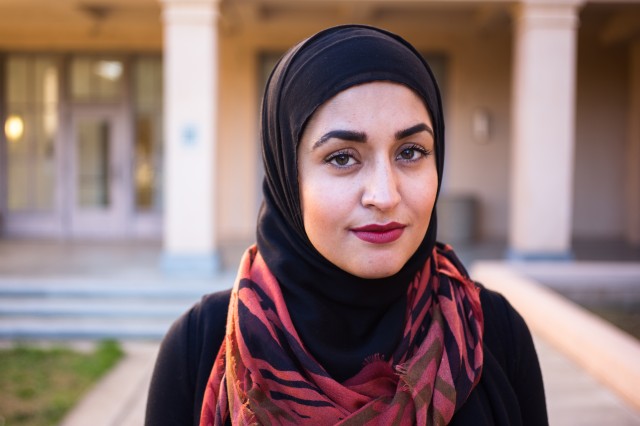 Have you found the perfect berry lip? In this first-ever beauty edition of Campus Chic, our muse of the week, fourth-year international relations major Humera Durrani tells MUSE how she rocks a classic, berry lip for the season.
First things first: identify what works best for your skin tone and eye color and the look you're trying to go for prior to purchasing an arbitrary shade of berry lipstick. Personally, I recommend a matte lipstick because it's chic and edgy, yet not over-the-top with all the gloss and the shimmer. Remember, what looks good on someone else may not look as flattering on you and, through this quick and simple guide, you'll be on your way in no time.
For every skin tone, there is a perfect berry lipstick. For accentuating lighter colored eyes, use one with pink undertones. Lipsticks with blue or brown undertones are great for highlighting both lighter and darker colored eyes.
If you have a darker skin tone, pretty much anything goes, including brighter shades of berry; but I suggest opting for a deeper shade for added sophistication and avoiding pastels or pinks that will overpower the natural complexion of your skin. A purple hue is fantastic on very dark skin tones for those looking for subtle sophistication with a pop of color.
If you are of a medium/olive skin tone, you can get away with both darker and lighter shades of berry, but I would suggest opting for a medium shade for a seamless day-to-night transition.
If you are lighter-skinned, make a statement with a brighter shade of berry with red undertones or a deeper shade with brown undertones for an ultra-chic and classic look. But don't feel limited by these suggestions! Experiment and discover what works best for you.
James' Notes: As college students, beauty products can get real expensive, real fast; so how do we go about spending our money wisely? Jennifer Goldstein, the executive beauty/health editor of Marie Claire, once told me that the ingredients found in high-end beauty products, like Chanel and La Mer, are actually very similar, and almost identical, to those found in over-the-counter products, like Olay and L'Oreal. I suggest splurging on essentials like make-up brushes or foundation, but save your money on items like lipstick and nail polish. The quality of drugstore lipsticks is improving by the day, as brands expand their collection of different shades and colors and better the staying power of their lipsticks. Without breaking the bank, you too can play with your makeup and test different approaches in expressing your individuality and personal style. Cheers!
1. Describe your personal style in three words.
I don't want to be a difficult subject for you, but James, you can't categorize my fashion in three words. There are multiple words, but that's the thing with fashion in that it's so unique to every individual. Even if I say "vintage," that can mean something different to you than to me.
2. Who or what is your style icon?
I love Elie Saab and Zuhair Murad! I just love their style. I'm also very observant of how people around me dress so I kind of take inspiration from my surroundings. There are certain patterns and textures that people are wearing and putting together and I sometimes think, "Maybe I can rock that?"
Did you see the Elie Saab spring/summer 2014 couture show?
Yes, it was magical! It's like, "Where did you think of that?" The fabrics and the textures were just to die for. He's just amazing and definitely gifted.
3. What are your three must-have items in your wardrobe?
A bold lipstick (a deep maroon or red and a hot pink), my headscarf and rings. My lipstick depends on the clothes I'm wearing. My headscarf has to be on point. It's really hard to match them with your outfits. Sometimes, you'll have the cutest outfit, and if you don't have a head scarf that kind of flows with your outfit, it could really kill or make your outfit, so my headscarf is very important. I love rings because they texturize your hands […] and they look GREAT with nail polish.
4. What is your all-time favorite accessory?
My headscarf. As a Muslim woman, this is like my hair. We call it a hijab, so a bad hijab day is like a bad hair day. Sometimes they move around and you start looking like a hot mess. And I love a bold lipstick! It just makes your face pop and you can be wearing very minimal makeup, but if you have the right lipstick on, it just makes you glow. So those are two things I love.
5. Tell us more!
Your face and your smile are usually the first two things people see when they meet you, so I think the right lipstick just makes you pop out and your smile brightens. Reds, maroons, berry lips look great with earth tones and neutrals. Be mindful of the colors you are wearing in your clothing and choose a lip color that will complement [your outfit]. Different lip shades also complement different skin tones, so choose a color that makes your face pop. But you can't go wrong with a bold lip while dressed in all black! I'm not wearing lipliner right now, but lipliner is a must so the color doesn't bleed.
6. Where do you love to shop and why?
From what I can afford, it's Forever 21, H&M and Target. When I want to splurge a little bit, it's ZARA. I really like ZARA because it's just classy and elegant. You look good without trying too hard. It's not flashy, it's minimal, but still gives you that impact. Like, "I'm here," but a sophisticated "I'm here."
7. How has your style changed since high school?
I used to think I had to match everything. If I was wearing black pants, I would think my headscarf would still have to be black. I wouldn't do prints. I was a lot safer and I thought matching colors was safe. It just wasn't that cute. Now, I think I'm a little bit riskier, especially compared to the rest of my peers. My roommates and friends don't necessarily dress up that much so I think my fashion is a little more risky. [Fashion] tries to take me out of my comfort zone. I used to wear a lot of black-on-black and neutrals, so I started embracing colors more. If I'm not wearing [color] on my clothes, I'm probably going to wear it on a bright lipstick.
8. What does fashion mean to you?
I'm not an artistic person at all, so, in a way, this is my artistic form of self-expression. I don't know how to draw, I'm not musically inclined, but every morning when I go to the closet I can be like, "Well, how do I want to express myself today?" I already stand out and it's very clear that I'm a Muslim woman because I wear a headscarf, so I want to make sure that I'm well put-together.
9. What final tips can you give to our fashion-forward readers?
Dress however you like, but exude confidence when you do it. Sometimes, I'll see an outfit [that someone's wearing] that I might not have necessarily worn myself; but because that person carries it with such confidence and grace, I'm like, "Wow! That person looks really nice!" It might not even necessarily be their outfit, you know? So, I really respect that. Whatever it may be, like if it's edgy, vintage or you're trying to bring some sort of fashion back, only you can do that because, if you're not going to do it, someone else is going to bring that fashion back and be the trendsetter. And that could be you, but you just have to have the confidence to go with it.