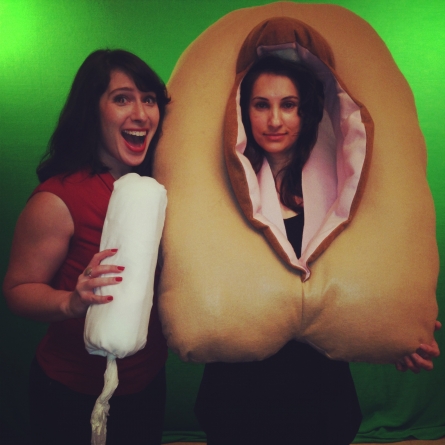 Davis alumna writes, directs film about periods
As part of the preparation for her upcoming film currently called "The Untitled Short Film About What It's Like to be On Your Period," UC Davis alumna Kristine Gerolaga will get to play the part of a menstruation cycle onstage.
Gerolaga, who graduated from UC Davis in 2009 with a degree in sociology, is a filmmaker and actress. Since then, she has contributed to and written her own short films, as well as acted in commercials and a web series.
The writing of the film came about as an assignment from Gerolaga's instructor at the Beverly Hills Playhouse, but the concept came from a trend she has seen in the film industry.
"Gender and race inequality in the industry is still a problem, plain and simple," Gerolaga said. "I want to make this short film to contribute to the movement of equality for women and people of color in front of and behind the camera. I hope to give opportunities to a truly diverse cast and crew to be a part of a really fun film with an important message."
In order to raise funds for her latest short film project, Gerolaga is holding a fundraiser show at the Beverly Hills Playhouse in San Francisco on March 16.
"The show is called 'Here She Comes: Periods Leak Their Personal Stories,' and will feature a diverse cast of Bay Area actors, musicians and comediennes that celebrates women and the period," Gerolaga said in an email interview. "Think Vagina Monologues but from the period's point of view."
The event will mark the beginning of Gerolaga's crowdfunding campaign for the film. Her friend and classmate at the Beverly Hills Playhouse in San Francisco, Jennifer Vo Le, suggested the event also be an extension of the film itself.
"I suggested we create a theatrical production of her concept in order to complement her short film so that it invites and gives the audience a chance to further experience her vision," Le said in an email interview.
On top of showcasing actors in the performance aspect of the event, the theatrical extension also features other writers and designers, including Gerolaga's cousin, Hannah Burgos. Burgos is a designer, illustrator and writer based in San Francisco and New York, and is contributing to the event as a graphic designer and helping create certain props.
"I made the huge stuffed vagina that appears in the film, which will also be at 'Here She Comes,'" Burgos said in an email interview.
However, Burgos said her primary contribution is as a writer, providing one of the five monologues that are set to be performed the night of the event.
"We were all assigned to write the voices of very particular 'period personalities' (as in, create a character out of a period), whose stories would correlate to the women they belonged [to]," Burgos said. "Our job was to creatively parallel the stereotypical external behavior, physical condition, emotional expression and introspection of a woman on her period with events concurring in her body."
Gerolaga said she wrote two of the monologues for the event herself, and will be performing in at least one of them.
"I will actually be playing the archenemy period of a menstruating superhero," Gerolaga said.
Gerolaga, like others involved in the event, stressed the humorous aspects of the project, but said she also hopes to address serious issues in the production of the film she plans to complete after the crowdfunding effort.
"It is a comedic short film about the rough relationship between a woman and her personified period, but it is ultimately about what it means to be a woman," Gerolaga said. "The short film also challenges the typical period stereotypes we see in films and on television by trying to cover a range of monthly experiences with various funny characters."
Gerolaga's ability to write and perform characters in a way that parallels her desire to support greater diversity in film comes from her time spent at UC Davis.
"People think I'm wasting my sociology degree, and I'm not. Acting is about understanding the human condition," Gerolaga said. "Sociology and social psychology have given me a wealth of knowledge on all kinds of people and backgrounds that I continue to use today when shaping the characters that I'm playing. Without those specifics, I could fall into stereotypes or caricatures instead of three-dimensional human beings and I would definitely not be doing my job very well at that point."
Gerolaga and her colleagues involved in the project have high expectations for the event and film.
"The show is going to be great," Burgos said. "So much sweat and blood has been put in this project. Pun intended."