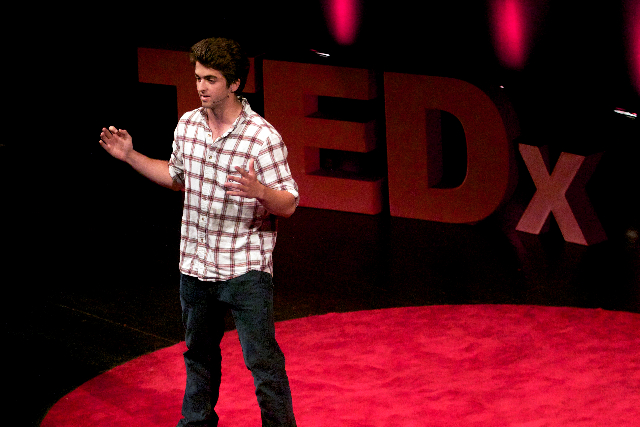 TEDxUCDavis features freshman student speaker
First-year Harley Litzelman, who is double majoring in American studies and sociology and minoring in education as well as working as a legislative aid for the ASUCD Lobby Corps, was chosen to be this year's student speaker at the annual TEDxUCDavis event.
TED, an online video nonprofit that aims to spread ideas, is not directly involved with managing TEDxUCDavis. Instead, a small group of students were responsible for setting up the event, only needing to get a stamp of approval from the TED company.
This year's event, themed "Pause or Press Play," was held on May 4 at the Mondavi Center featuring talks from 10 speakers, each lasting about 20 minutes.
"We feel sometimes you need to pause and have further consideration. Then there are times you just need to get it over with and just do it," said Cory Warshaw, who is a recent graduate from UC Davis with a degree in biology and the curator of the event. "We take our theme as a real question. We don't think that you need to press play or pause all the time."
Warshaw said that they decided to go with the Pause or Press Play theme because they felt it was a more earnest idea than more traditional conference themes like inspiration and innovation.
However, inspiration and innovation were not absent from the talks. Danny Nou, the ergonomics program administrator at UC Davis, talked about the design of user-friendly interfaces and products. Dr. Richard Pan, a pediatrician and educator who currently serves on the California State Assembly, advocated for a new health care system.
Perhaps one of the most well-received speakers at this year's event was student speaker Litzelman, who went into detail about his critiques of the current educational system.
"For 13 years of education, and then college, our first and longest exposure to a public institution is tyranny, fear and obedience," Litzelman said. "Then we come out of that and we are supposed to be democratic citizens and understand checks and balances."
His piece is titled "A Case for Student Citizenship," and the gist of his talk was that the core of a democratic society is the participation of all its members. He said that the first exposure that many children get to society is through the school system. He believes that while students are attending school, they are encouraged to curb their opinions and remain submissive. In the future, he hopes that schools will become places where students' voices are valued, better reflecting the values of democracy.
Apparently this topic of student citizenship is one that Litzelman has been chewing over for a while. While he was writing as a columnist and later as an editor of his high school's newspaper, it was an issue that he delved into frequently.
"Almost every editorial tangentially involved this idea that students aren't involved," Litzelman said.
Because of this, he said that the topic of student citizenship seemed like the natural option for his TED talk. However, various students have expressed surprise that a freshman landed the role.
According to Sonam Mahawar, who is the head of the Speaker Selection Committee and a third-year economics and sociology double major, the selection process is a long one.
"Our whole team was sort of involved in selecting Harley as our final speaker," Mahawar said.
First, students were asked to submit a one to two-minute video. According to Mahawar, they received about 15 submissions this year. Then the pool was narrowed down to four students. Those four then had an additional audition before the pool was narrowed down to two people. The final two students were asked to give five-minute versions of their talk and from there the committee made its final selection.
"We select the person who has the best idea and the best presentation," Warshaw said. "We weren't aware Harley was a freshman. He had the best idea, so we chose him."
According to Mahawar, the reason they include a student speaker in their event is because they want to represent the diverse variety of the Davis community. While the majority of the other speakers are already distinguished in their fields, he said that a student speaker allows for the audience, consisting of a great number of students, to see that they don't have to be accomplished in a field to have a great idea.
"Though Harley doesn't fit into that category," Mahawar said. "He's already a lobbyist. He's already really accomplished."
The primary trait that they look for in speakers, including in non-student speakers, is passion. Warshaw said since most of the audience members are being introduced to a topic for the first time, passionate presenters are a must. Infectious passion encourages the audience to pay attention and be just as interested in a topic.
"Yes, we are looking for ideas worth spreading and yes, we are looking for great innovations," Warshaw said. "We need people who can convey their passion for a project."
Though the next TEDxUCDavis event is still some ways away, they hope that more people will apply for the student speaker position.
"Not all the UCs have a TEDx organization," Mahawar said."It would be nice to have more people submit applications just because it is such a great opportunity."
LEYLA KAPLAN can be reached at features@theaggie.org.
Photo by Katie Lin