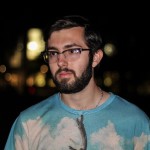 Hanni Newland
First-year neurobiology, physiology and behavior major
"I think a lot of times in tragedies like this, you get caught up in it and you don't think about how these people had friends, had families,had lives — you just hear a name and see a face.
I don't feel unsafe [being on a UC campus], but I think the biggest thing is balance. There needs to be a time for mourning and a time for thinking and reflection — a balance between the two is always good.
Not to get political, but when I see fingers pointed that it's a gun rights thing, it's a feminist thing, it's a mental health thing, I say why not all three, why not approach all issues? Just as the victims are multifaceted, so was the perpetrator, and I think that's something to keep in mind.  I don't feel like it's just one issue, there's a lot there."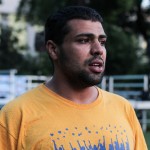 Ahmed Naguib
Conduct Coordinator in Student Housing
"I graduated from UCSB two years ago, so not too long ago. I was an RA there so I have residents who are still there — the thing about the UCSB community is that you might be four or five years removed but we still have deep roots there.
My immediate reaction was a huge amount of shock, like how does this happen in our community. The second part was what can we do, how can we show support. I almost drove down immediately that day but I had family stuff and it was one of those things where you're stuck between a rock and a hard place. I had friends who drove down that day, who flew across the country to be with people there and be part of that community.
As I was walking up [to the vigil], I was thinking wow there are a lot of people here, and I noticed more and more. Even seeing my students here — I don't think they know how much it impacts me and supports me to see them here but its amazing."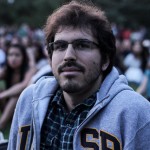 Matt Zajic
First-year Ph.D. student in education
"I'm from SB [Santa Barbara] and did my undergraduate there. My family lives in Santa Barbara, luckily not in Isla Vista but a lot of friends are still there. As it unfolded, I heard from an old boss of mine that an old coworker was one of the ones that ran for her life at the scene. [It felt] too close for comfort. And thinking about the location – every single picture thinking 'oh I lived a couple blocks from there!'"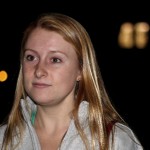 Casey Jereb
Second-year biological sciences major
"I came out [to the vigil] to support the whole UC Davis community along with Santa Barbara, and I'm also in Tri Delta and two of the girls who were shot were in Tri Delta, which is really scary. Honestly that could've happened anywhere, it could've happened on this campus.
It's scary knowing that nobody's really safe, especially living in a sorority house. I don't personally live in a sorority house, but I know many girls do and people come up to their door all the time and want to come in, and they don't know them.
All the speeches [at the vigil] were so touching and it made me feel like I knew the people in the incident. My roommate knew one of the people – she spoke [at the vigil], which was really courageous. And one of my sorority sisters was actually in Isla Vista, and also someone who went to my high school was actually injured. It's just strange how it's such a big state and it all comes down to this and everyone has some connection."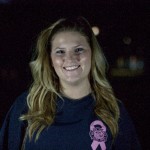 Mallory Bonnema
Third-year human development major
"I was in the shower and I had my radio on my phone and the news came on it said, 'Breaking news: shooting in Santa Barbara,' and I thought 'No, there's no way.' I got out of the shower as fast as I could and I called my friends immediately and no one was answering and I remember getting on Facebook and googling it thinking, 'This isn't real, this isn't happening.' I remember all my friends were freaking out like 'has anybody heard from so and so' – luckily all my friends were okay, but it definitely very surreal.
I think [the vigil] went really well. I think it says a lot about our community to come together for our sister school.
Hearing memories [from the speakers] kind of makes you think of loved ones that you went to school with. You just want to hug your friends. So to hear people that actually knew them personally, it's really sad to think about what they are going through emotionally."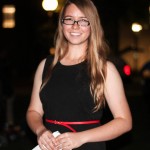 Sasha Kasper
Vigil coordinator, second-year English and neurobiology, physiology and behavior double major
"It felt really bizarre [hearing about the shooting] because I took a summer course at UCSB and I have a good amount of friends that go there, so my immediate reaction was 'Oh my god are they okay?' I didn't know the people who were victims, but I just felt so sad and it felt so close to home. It's just crazy to think that all these students were our age — it's a really eerie feeling.
When I heard about the event I thought it's just so tragic, how can we make it so we can maybe reflect more on the people who were injured besides the shooter. I saw that UCLA and UCSD were doing vigils and I thought it would be neat if we did it, so I took the initiative. Not in a million years did I imagine so many people would come."
ELLIE DIERKING can be reached at features@theaggie.org.
Photos by Katie Lin.