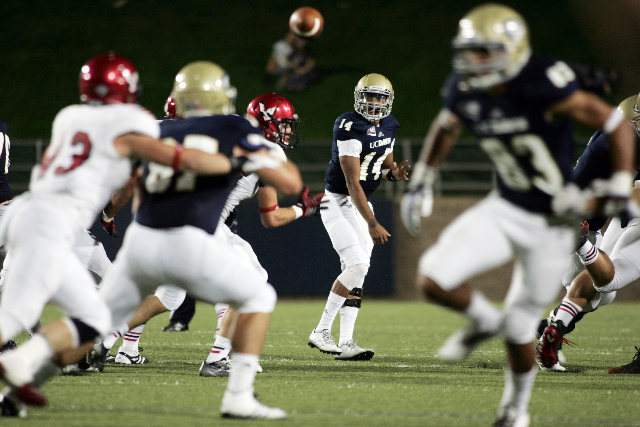 UC Davis (1-3, 0-1) was defeated for the first time at Aggie Stadium this year, as they faced the Eastern Washington Eagles (4-1, 1-0), by a score of 37-14. The Eagles are currently ranked No. 2 in the Football Championship Series as they opened Big Sky Conference (BSC) play.
The Aggies were led through the air by senior quarterback London Lacy with 172 yards and a touchdown and in the running game by senior running back Colton Silveria who gained 35 yards on 12 runs. Still, it was not enough to tame an Eastern Washington team led by highly touted quarterback Vernon Adams Jr., who leads the BSC in total yards and touchdowns.
The Aggies came out strong and held the Eagles to only nine points in the first half. The Eagles scored a touchdown in the first quarter, but failed to convert the PAT attempt. Sophomore running back Manusamoa Luuga responded with a two-yard touchdown, which lifted the Aggies to a slim lead. However, the Eagles converted a 27-yard field goal with three minutes left in the first half which put them ahead 9-7 by halftime.
Senior linebacker Steven Pitts led the Aggie defense with 11 solo tackles, which includes 2.5 TFLs. Redshirt freshman Darryl Graham and sophomore linebacker Brady Stibi also contributed eight solo tackles each and combined for a sack.
Eastern Washington scored three touchdowns in the third quarter to add to their two-point lead. The Aggie defense struggled to contain Vernon Adams, Jr., who had a total of 303 yards and completed 23-of-28 attempts.
The Eagles presented a balanced attack, as they scored touchdowns through the air and on the ground. Jabari Wilson, Adams, Jr. and Mario Brown rushed for touchdowns. Adams, Jr.  also threw two touchdowns, one to Cooper Kupp, a 61-yard reception, and another to Blair Bomber, a 40-yard reception.
After the game, UC Davis Head Coach Ron Gould expressed mixed feelings about the play of the Aggies.
"I'm very, very pleased with the energy and the effort that our kids played with for 60 minutes. We had some drives where we shot ourselves in the foot," said Coach Gould. "We converted some third downs that would extend some drives but they got called back for penalties. That's a little disconcerting. We're not a team that has a lot of penalties but tonight we had several at inopportune times. When you're playing a really good football team, it's paramount you don't have those penalties."
The Aggies travel north to Portland State to face the 1-3 Vikings in Portland, Oregon on Oct. 4 at 4:30 p.m.
Game notes: Total attendance was 6,954. Senior running Colton Silveira is now in the top 10 rushing leaders in UC Davis history with 1,432 yards.