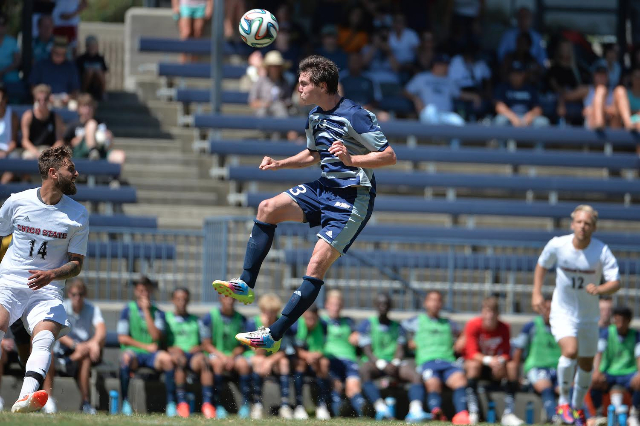 While the school year is just starting for most students, UC Davis sports teams have already been hard at work competing across the country for several weeks. For those of us who are unable to keep up with the 10 teams who have already been in action this season, here is a one-stop guide to how UC Davis men's teams have been playing during this summer break. UC Davis women's teams are covered in a separate article.
Men's Cross Country (1st, 4th, 6th place finishes):
The men's cross country squad opened up their 2014 season well, winning the Aggie Open over Sacramento State. Although nobody managed to place in the top two individually, junior Brandon Pugh took third place, and the fifth through 10th-place finishers were all Aggies.
In the second meet of the year, the WCC Preview race, the Aggies finished fourth out of eight teams and were led by a 15th-place finish by sophomore Austin Goins.
Most recently, UC Davis finished last in a very competitive six-team meet at Stanford. Once again, the Aggies were led by Pugh who finished 13th overall.
Men's Golf (5th, 10th, and 5th place finishes):
Through three tournaments, junior Luke Vivolo has proven himself to be a leader for this season's men's golf squad. Vivolo led the Aggies to a fifth-place finish in their first tournament by tying for sixth with a 2-over tournament.
Despite struggling on the last day of the second tournament of the season, the Saint Mary's Invitational, Vivolo once again finished the highest individually of any UC Davis player. As a team, the Aggies limped to a 10th-place finish out of 16 teams.
At the Kikkor Husky Invitational, senior Matt Seramin led the team by finishing 11th individually. The team finished only nine strokes out of first place, settling for a fifth-place finish.
The UC Davis men's golf team will conclude their fall season at the Alister MacKenzie Invitational on Oct. 12.
Men's Soccer (2-0-7):
Technically, the UC Davis men's soccer team remains undefeated this season. While this is certainly admirable, the record shows a less dominant performance that includes seven ties and only two victories. Still, they find themselves in third place in the Big West standings and should be very encouraged by their strong play thus far.
With the school year now beginning, the Aggies are opening up Big West play by taking on Cal State Fullerton and UC Riverside who have three and five losses, respectively.
The men's soccer team's first significant challenge should come when they visit the seven win UC Irvine on Oct. 9.
Men's Water Polo (7-7):
Over the summer, the UC Davis men's water polo team quickly climbed to a 10th-place rank nationally. The Aggies, who have not lost at home thus far, rebounded nicely from an early five-game losing streak by winning six out of seven including wins over No. 18 ranked Navy and No. 19 ranked Whittier.
With only five home games remaining in the season, the Aggies must begin to play better in away matches after losing their first three. If junior Sean Grab, who has scored 20 goals and assisted on 13 more, continues to play as effectively, UC Davis should have no trouble continuing to dominate the competition.
*All team records up to date as of 10/1