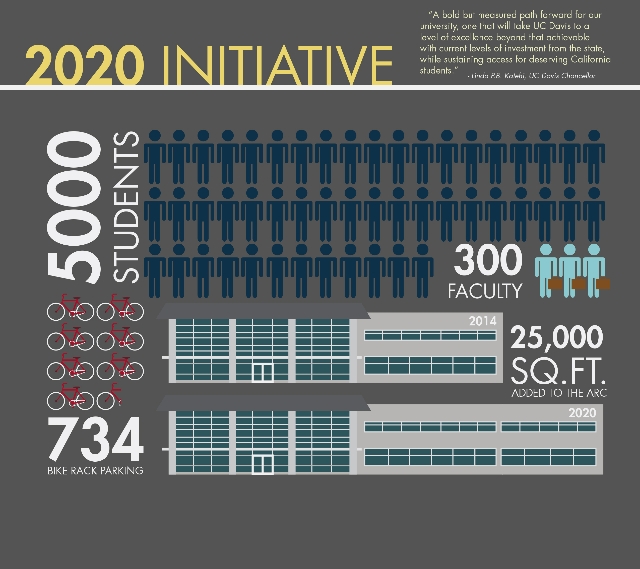 As outlined in the 2020 Initiative spearheaded by Chancellor Linda P.B. Katehi last year, there will be a 5,000-student increase in the undergraduate student body on-campus by the year 2020.
Many campus organizations, including the Student Housing Administration, must now find ways to accommodate a larger population and ensure that this growth does not put a strain on the campus' resources and facilities.
The 5,000-student figure includes new in-state, out-of-state and exchange students. According to the UC Davis News Service, the population increase will garner a total revenue of $38 million to $50 million a year.
"I believe the 2020 initiative and the increased number of California, national and international students living in the residence halls will continue to provide a rich and vibrant community of first-year students living on campus," Ramona Hernandez, Director of Business Services in the Student Housing Administration, said in an email interview.
According to Hernandez, in order to house incoming students, an additional 150 triple rooms were added to the Tercero North area, allowing for a total of 371 more students to live in the residence halls. The additional space in Tercero has allowed for Primero Grove apartments, which previously housed first-year students, to open up for new, incoming transfers who were also accepted as a part of the 2020 Initiative.
"Student Housing will continue to provide a high-quality residential living experience … while continuing to meet our first-year housing guarantee," Hernandez said.
Additional changes to the Tercero area include an 800-seat expansion in the dining commons and new mealtime choices, including barbecue and food truck options alternating Monday through Thursday.
First-year biomedical engineering student and Tercero resident Christian Guevara said that, so far, the additional students haven't been too much of an issue.
"The dorms aren't extremely crowded," Guevara said. "It feels really homey."
For another Tercero resident, first-year animal biology major Christine Cavarlez, it is sometimes harder to find seats during some mealtimes, although she sees a benefit to the inconvenience.
"Sometimes you have to sit with other people you don't really know, but then you get to socialize more," Cavarlez said.
In addition to the residence halls, the Activities and Recreation Center will also be undergoing expansion to accommodate the influx of people.
Laura Hall, Director of Recreation at Campus Recreation and Unions, said that the expansion was already planned, but the 2020 Initiative added more pressure for it to happen.
"We have existing pressures on the facility, especially within the Fitness Room," Hall said. "We are also preparing ourselves for the influx of new students as outlined in the 2020 Initiative."
Additionally, 734 new bike parking spots have also opened up near the ARC this year as well. David Takemoto-Weerts, the Bicycle Program Coordinator at Transportation & Parking Services (TAPS), said additional spaces were added to accommodate students who are taking courses in the ARC's Multi-Activity Center, which now houses all classes that were previously taught in Freeborn Hall. Takemoto-Weerts said that a new lecture hall, similar to Rock Hall, is also in the works. He said that the biggest issue for TAPS involves finding space for the additional bike racks. New space that is created for racks usually has to be created by thinning out the campus lawns.
Whether TAPS will be installing additional bike parking is undecided.
As 2020 approaches and more campus departments begin to prepare for changes, Hernandez said that the priority is that new students should feel comfortable on campus.
"Students who live on campus have been shown to be more successful academically and we are happy that additional students will enjoy this success," he said.
Photos by The Aggie