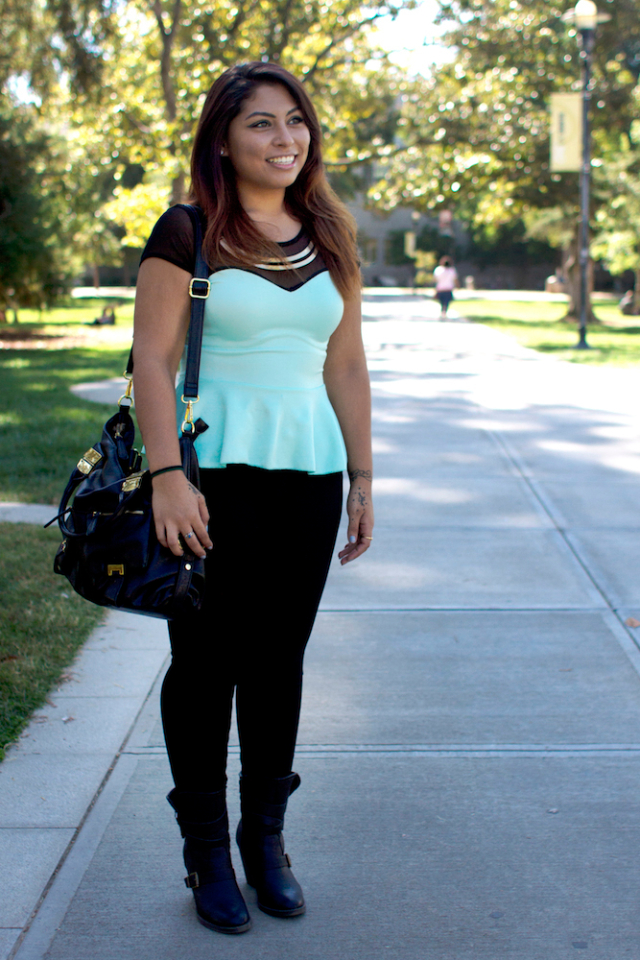 We often think that fashion interferes with being comfortable and that
a choice has to be made between relaxation and style. This is not the case
for religious studies and history double major senior Diana Self. In her
years at UC Davis, Self developed a style identity that juxtaposes edgy
tattoos and piercings with au courant, romantic clothing.
She manages to juggle fashion trends by shopping at inexpensive
retailers. By choosing vogue pieces she knows will be comfortable and
work well on her body, she can maintain a balance between personal
identity, trends and comfort. Aggie Style Watch (ASW) spoke with Self to
find out how she incorporates fashion into her everyday life.
ASW: What did you choose to wear today, knowing you would be
photographed for The California Aggie?
Self: I love these boots, and I chose the peplum top. I just got into peplum
tops. I thought they wouldn't look good on me because of my hips, but I
think they look good on everyone; they really flow with the curve of the
ASW: How would you describe your personal style?
Self: I try to dress for the seasons. I like a lot of things, but they have to
look good on me.
ASW: How has your personal style changed over the years?
Self: In high school I had to wear a uniform, so all my other clothes were
lazying-around-the-house clothes. It wasn't until college that I picked up a
sense of style.
ASW: What do you feel your tattoos and piercings say about you and
your personal style identity?
Self: [I feel like they make me] more unique [than some other people with
tattoos because] there are some girly elements [to them]. The tattoos add
edge and sassiness [to my overall style].
ASW: What is your favorite item in your wardrobe?
Self: An off-white wool cardigan with a layered front.
ASW: Do you have a favorite trend in the last year?
Self: Oxblood color. I bought boots, sweaters and sunglasses [in the color].
I love [it].
ASW: How do you compare your personal style to the fashion choices
of other UC Davis students?
Self: [I would say I am] a lot more dressy than many other people that
come to class. Students tell me, "Oh, you're so dressed up!" and I
say, "You haven't seen anything yet." I'm just not one to walk around
unless I feel comfortable in my clothes. Being comfortable is [not only]
about not being restricted, but also about feeling that you look good and not
having to constantly worrying about how you look.
ASW: How has the heatwave in Davis been affecting your style
choices?
Self: [Sadly] I can't dress for fall yet, so I've been wearing [a lot of] dresses
for this summer weather.
ASW: How big of a role does fashion and clothing play in your life?
Self: Fashion plays a huge role in my life. It's just something I really enjoy.
Photos by Shazib Haq