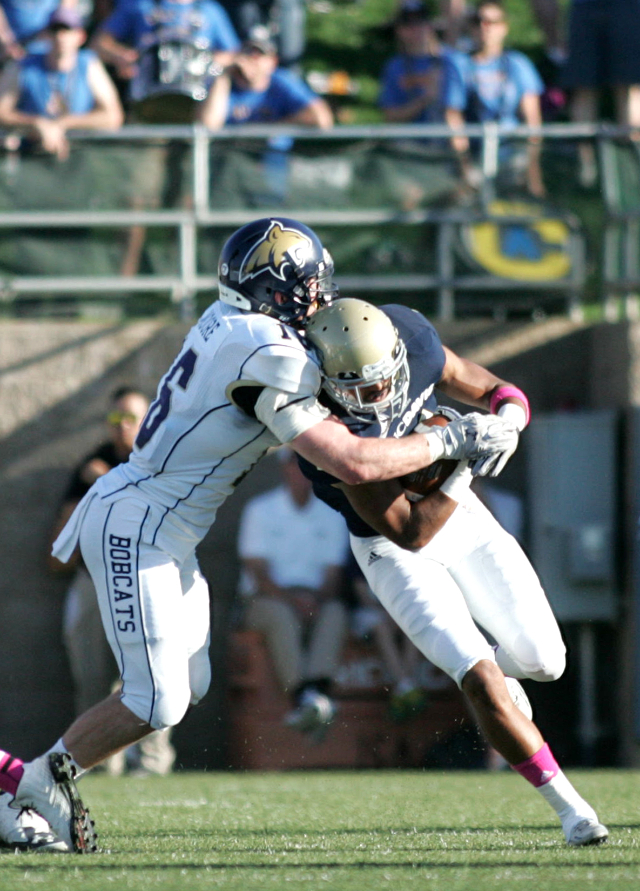 UC Davis (1-5, 0-3) fell to the Montana State Bobcats (5-2, 3-0) 77-37 during the UC
Davis Homecoming Weekend on Oct. 11 as they continue Big West Conference play.
Instead of the senior quarterback London Lacy, sophomore quarterback Ben Scott
made his debut. Scott completed 27 of 46 passes for 379 yards and four touchdowns, including
eight passes to junior wide receiver Ramon Vargas, a team high. Vargas led all receivers with
141 yards and a touchdown.
Senior running back Gabe Manzanares, who has been limited due to injury, rushed for
142 yards.
UC Davis earned a total of 610 yards on offense, but it was not enough to subdue a
Montana State team that is currently ranked No. 14 in the Football Championship Subdivision.
The Bobcats started the game aggressively, scoring 35 points in the first half. The
Aggies tried to keep up with Montana State, but failed to convert at the same high rate as their
opponent.
Montana State's quarterback, Dakota Prukop, led the Bobcats with 361 yards and four
touchdowns, while also leading all rushers with 148 yards.
"It's tough when you're playing a team like Montana State. Their team is pretty
phenomenal. Overall we're just disappointed we didn't play well," said Aggie head coach Ron
Despite the loss, UC Davis demonstrated a lot of potential. Halfway through the third
quarter, the Aggies ran a flea flicker. Scott handed the ball to senior running back Colton
Silvera, who flicked back to Scott. Scott then sent the ball to freshman wide receiver Jermale
Jefferson for a 44-yard touchdown.
Scott also ran the ball for a 31-yard dash in the first quarter that led to a 12-yard
touchdown pass to senior wide receiver Corey Galindo on the following play.
"I just wanted to go out there and command the troops, and put points on the board. I felt
really comfortable out there," Scott said. "The offensive line did a good job. I didn't get sacked
all the day; there were a lot of great plays by receivers going up and making plays."
The Aggies have now lost four consecutive games, including losses to two ranked
teams. UC Davis travels to face the Montana Grizzlies on Oct. 18 (4-2, 2-0) as they try to turn
their season around.
Photos by Ciera Pasturel