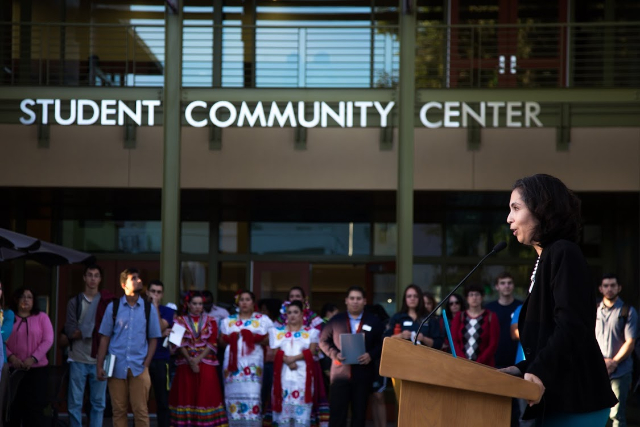 The AB540 and Undocumented Student Center celebrated its grand opening and ribbon-cutting event Oct. 21 at its on-campus location in the Student Community Center.
In addition to guest speakers, including Vice Chancellor of Student Affairs Adela de la Torre and UC Davis Law School
Dean Kevin Johnson, the event featured cultural dance performances from Danzantes del Alma and a tour of the new center for guests.
"I am really proud that this campus has a very strong visual [and] political statement of what it means to be inclusive. This [center] is a great form of accountability," said ASUCD President Armando Figueroa. "We talk about diversity every day [on this campus], and we finally put our money where our mouth is."
In 2001, the state of California passed Assembly Bill 540 as an addition to the existing California Education Code. According to the AB540 website, the legislation created an exemption for certain non-resident students from paying non-resident college tuition. Specifically, students who have received a high school diploma in California qualify for this exemption.
Out of 240,000 students in the UC system, 2,000 are undocumented. At UC Davis alone the number of undocumented students has tripled from 70 enrolled in January 2012, to over 200 enrolled in fall of 2013.
"Seeing such a large group of people makes me realize how much this center is needed. It's exciting to see the support and the interest," said Andrea Gaytan, AB540 and Undocumented Student Center director. "I think the [number of AB540 and Undocumented student applicants] will definitely increase because of the variability in funding."
The event not only celebrated the center's presence as a new resource for AB540 and undocumented students on campus, but also the hard work and collaborative effort of students, staff and faculty to reach this point.
Ana Maciel, academic coordinator for the AB540 and Undocumented Student Center and a third-year Chicana/Chicano studies major, was one of the lead proponents of the center.
According to Maciel, the proposal for the center was in the works since December 2013. By June 2014, plans were already in motion to open by the beginning of the new academic year. The center officially opened its doors Oct. 6.
"It speaks dear to my heart about student voice and student power and how it's crucial to a movement to getting something done and to getting a center fully established," Maciel said. "A few of us actually wrote the proposal…it's something we've been working for for a really long time, not only with us, but students before us started the conversation."
The grand opening was met with much enthusiasm from the audience of students and faculty alike.
"I think it's historic. This is a project that the entire UC system is undertaking. I'm glad UC Davis could be at the forefront of that," said ASUCD Senator and third-year political science and history double major Gareth Smythe. "I think obviously from the testimonials we heard today, it is going to benefit a lot of Aggies that until now have been afraid of their identity, and if I've learned anything here in my position, it's that you shouldn't be afraid of your identity."
The center's outreach intern, Jesus Flores Rodriguez, a second-year political science and psychology double major, adds that the center is not only a resource for college students, but also for AB540 or undocumented high school students.
"My struggles in high school were so impactful and so challenging that I felt like I needed to inform other high school students and make a change. I want to be that change," Flores Rodriguez said. "As an undocumented student, my first year when the center was not established, I gathered a lot of resources and support groups. I plan to utilize that to my advantage and provide students with that information. I don't only want to be a speaker, I want to be that person that students can relate to. Personally or academically, I want to be that support."
Likewise, Maciel sees the center as a "radical change for the better" from when she began college with no readily available resources and countless barriers. She says it has gotten much easier relative to her first year and that the center's staff hope to utilize the center to provide resources to students and their families.
"[AB540 and undocumented students] do have different barriers. If we want to pursue a masters or a Ph.D, we don't have all the resources that the traditional college student has, so [we're] really bringing awareness to that," Maciel said. "We want to make sure that families are also included in the center because families play a crucial role in the academics of their sons and daughters. We will be tying in both of those relationships and creating workshops that make the center a safe space and make UC Davis a safe space."
Smythe says he looks forward to working with the center and that its establishment is important to creating a supportive environment on campus.
"I think undocumented students until now have been afraid. Afraid of their status, afraid of coming out and saying 'this is who I am, this is the type of student that I am,'" Smythe said. "I think just having the center exist and having it have a place in the SCC says, 'UC Davis is committed to supporting you.'"
The center is an educational resource for all students. Maciel encourages everyone to learn about  the stories of the undocumented students at UC Davis and to visit the center.
"If you can relate to someone on a more personal level, I think it makes it all so much more real, so much more personal — because for a lot of people it's not a topic they think about or it's taboo. But just being open to the topic and just listening to undocumented students and what they have to say is crucial," Maciel said. "Everyone is welcome at the center. It is for everyone. Just walk in, ask questions if you need to. The resources are there for everybody."
Photo by Brian Nguyen