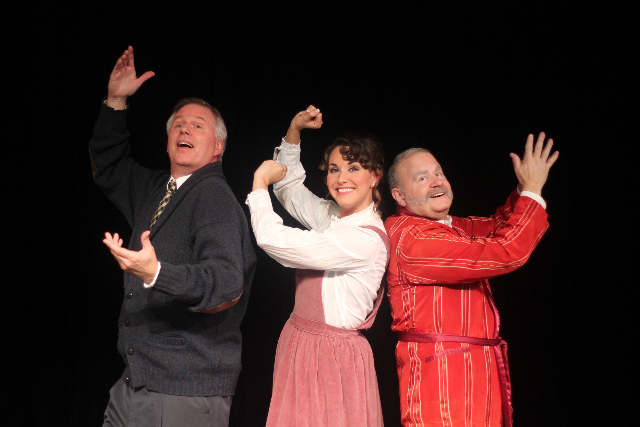 The Davis Musical Theatre Company (DMTC) will be putting on a production of My Fair Lady, which will premiere this Friday and will run until Nov. 30.
Set in London during the era of King Edward VII's rule, My Fair Lady follows the story of Eliza Doolittle, a flower vendor from the Cockney district. After a linguist comments on her accent, proclaiming it an indicator of low social class, Doolittle embarks on her quest to learn proper speech and become more cultured.
The cast and crew have been preparing for the musical's run for about two months. Steve Isaacson, founder of DMTC and director of the musical, said that he and the company are devoted to making a top-notch production.
"As the director, I'll switch things up along the way until we've fulfilled every goal we have for the musical," Isaacson said. "Even if it is on one of the last dress rehearsals, I'll still change small details to make sure the production is the best it can be."
Isaacson described the musical as a timeless classic. When asked about his directing style with the production, Isaacson said that My Fair Lady deserves to stay true to its origins.
"You can't really change My Fair Lady [even if you wanted to put your own spin on it]," Isaacson said. "When it comes to traditional shows like My Fair Lady, Anything Goes and even Sweeney Todd, it's really a must to stick to the original traditions."
My Fair Lady will be performed on DMTC's Main Stage. Every year, the company presents six Main Stage musicals, which feature the talents of local students and adults. Jan Isaacson, co-founder of DMTC and co-director of the musical, said that My Fair Lady fits DMTC's environment perfectly.
"My Fair Lady is a very beloved, classic musical," Isaacson said. "It has great music, wonderful dance numbers and it is G-rated. It really has something for everybody."
The musical features classic tunes, such as "On the Street Where You Live" and "I've Grown Accustomed to Her Face," which have been covered by artists like Nat King Cole and Quincy Jones. The show also showcases traditional, yet diverse forms of dance — from waltz numbers to old-fashioned hoedowns.
Choreographer Ron Cisneros said that My Fair Lady is quintessential to dance's significance in musical productions. DMTC's production of My Fair Lady will showcase Cisneros' original choreography.
"Most of the choreography comes from my own feelings about the show," Cisneros said. "I've staged the show many times for the Sacramento Music Circus; I've also performed in it. My mind kind of goes back to those memories for inspiration."
According to Cisneros, everyone involved is as talented as they are devoted to the musical. He expressed that with all the passion combined, My Fair Lady will be a fun experience for everyone on stage and off.
"It's been really great working with DMTC for the show," Cisneros said. "Everyone really enjoys what they do. The cast is wonderful and Jan and Steve have done a great job. I look forward to seeing everything come together."
Tickets range from $16 and $18. For more information, visit dmtc.org.
Photos by Steve Isaacson