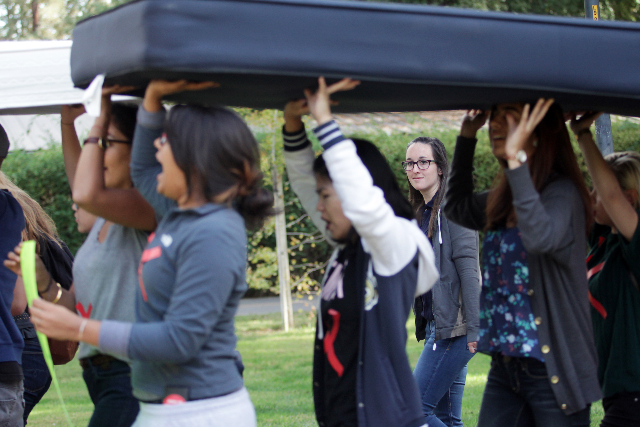 According to The Washington Post's ranking system, UC Davis has the fifth-highest number reported of sexual assaults of all college campuses nationwide. UC Davis students did not take this news sitting down, as students gathered outside Women's Resources And Research Center the morning of Oct. 29 to participate in the Carry That Weight Day of Action.
Carry That Weight is a campaign movement started by Columbia University student Emma Sulkowicz. Sulkowicz was sexually assaulted in her own dorm room during her sophomore year at Columbia and decided to report the rape after two more girls came forward claiming they were assaulted by the same student. All three cases, however, were dismissed. Now in her senior year, Sulkowicz decided to showcase her protest of sexual assault in a moving performance piece: Carry That Weight. For the piece, Sulkowicz pledged that she would carry a mattress with her, whenever on campus, until her alleged rapist is expelled.
The performance piece became a national movement when, on Oct. 29, student activists at Columbia called for a day of nationwide solidarity with sexual assault victims on college campuses. The movement called for students to bring their mattresses to their school campus in solidarity with Sulkowicz. UC Davis was one of the many campuses to lend its voice to the cause, when ASUCD Office of Student Advocacy and Representation as well as the Women's Resources Center (WRC) organized the UC Davis Carry That Weight event.
Miriam Dombrowski, a 2nd year double majoring in History and Comparative Literature is involved in many spaces on campus related to the issue of sexual assault, including a Work Group of the UC Presidents Task Force on Preventing and Responding to Sexual Assault as well as the Chancellor's Advisory Committee For Sexual Assault. She was one of the students who helped organize Carry That Weight Day of Action at UC Davis.
"Facets of this issue are on the public consciousness right now," Dombrowski said, "but ultimately this is an attempt to demonstrate that many students take this issue, its foundational causes, and its intersections seriously, and to urge administration of the UC to do the same."
At 11:50a.m, the group of around fifty students divided up the mattresses, about five to a mattress, and began their march. Chanting phrases like "Rape culture has got to go," the crowd marched from the Memorial Union to Mrak Hall, blocking the bike path and eliciting cheers from nearby students. At Mrak Hall, several students stood up to voice support for the event and to give personal accounts of experiences with sexual assault at UC Davis.
Anabiah Syed, a third year political science major who also attended the event was appalled at the sexual assault statistics regarding UC Davis.
"We're the number one school in California and number five school in the nation in terms of sexual assault cases" Syed said. "I don't want UC Davis students to be complacent. Today we will be marching around the quad and I want people to join us; I want people to speak out about what's going on."
Thus far the Columbia administration has yet to acknowledge Sulkowicz's protest let alone reopen her case, however, Dombrowski remains optimistic that the Carry That Weight movement can create a dialogue for change.
"I hope administration of the University of California are listening to our voices, because ultimately this is about holding institutions accountable," Dombrowski said. "We, students, are telling them that this needs to be a sincere financial priority—technically our Violence and Prevention Program doesn't even have its own budget."
Ashley Hanson, a fourth-year clinical nutrition major, felt an especially strong personal connection to the cause and attended the event.
"This is particularly important to me. I was raped visiting another university as a freshman and I was asked 'if I liked it'," Hanson said, "For the longest time, I did not think that I was allowed to call what happened 'rape' because I was drunk. I was made to believe I deserved it, and that's ugly; it shouldn't be the case and it's taken years to come to terms with how wrong that is."
Like Sulkowicz, Hanson felt that the burden of responsibility falls on institutions to respond appropriately to sexual assault cases, and all too often, that the response is noticeably absent.
"So many people are silenced by their own shame, and then once they find their voice they're silenced by an oppressive system that is not built to help them," Hanson said. "We go through so much inner turmoil deciding to speak out; we don't need the system trying to shut us up too."
Photos by Ciera Pasturel