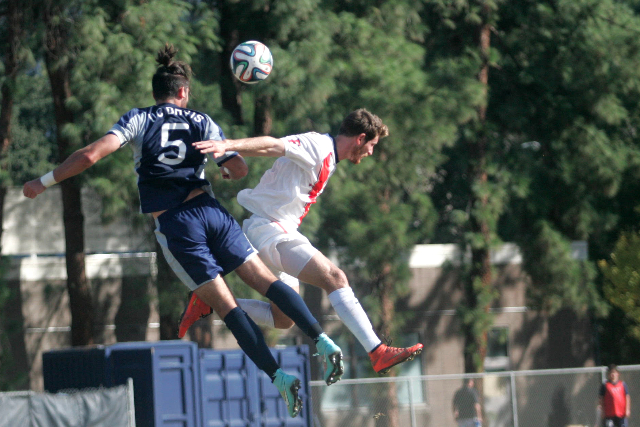 The UC Davis men's soccer team ended their season with tears, losing 1-2 against CSU Fullerton in the biggest upset of the season on Saturday. In an intense playoff fight complete with over 30 fouls, 5 yellow cards and one ejection, CSUF snatched the win in the last 10 seconds with a tap into the right post.
After a scoreless first half and expulsion of senior defender Ramon Martin Del Campo in the 67th minute, the Aggies secured a promising lead in the 71st minute with a goal by junior forward Dashiell MacNamara.
7 shots, high momentum and an enthusiastic crowd at the Aggie Soccer Field proved insufficient for UC Davis to hold the lead. CSUF found the back of the net in the 85th minute with a power shot from 30 yards out.
"We scored first. We should have been able to close out the game a little bit better than that," said head coach Dwayne Shaffer.
The game took a final turn for the worse with 10 seconds on the clock, as CSUF slipped the crushing winner into the net.
"I made a big mistake at the end," expressed junior goalkeeper of the match, Armando Quezada.  "I had to throw my whole body to try to get something on it and unluckily, they got the tip." Quezada had 5 big saves in the match. He is one of eight players to have received Big West Honors for this season's performance.
This is the second time UC Davis faced the CSUF Titans this season. The Aggies beat the southern California team 3-1 last month at the Aggie Stadium.
"I felt like my team played really well all season long," said coach Shaffer. "Today it seemed as if our intensity and our energy levels were down a little bit, but that's got to be expected. We've played 14 overtime games – not only that, all of our other games have been extremely close."
The UC Davis Aggies end the season after their loss in the first round of the playoffs with 7 wins, 3 ties and 9 losses.
Photos by Ciera Pasturel