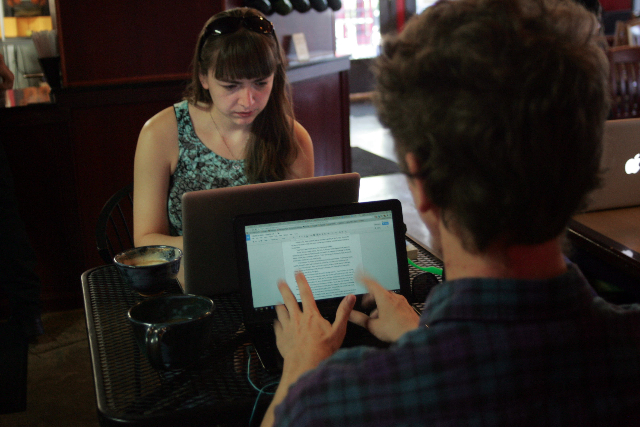 Every year, on the evening of Oct. 31, aspiring and seasoned writers from all over the world eagerly wait for the clock to strike midnight to start work on their 50,000-word novel.
November is National Novel Writing Month, also known as NaNoWriMo for short.
"I feel like a lot of people have 'write a novel' on their bucket list, so why not get it done today?" said Davis resident and NaNoWriMo participant Judy Hanna.
Hanna also participates in the weekly November write-ins that happen at Cloud Forest Café on Sundays between midnight and 3 p.m. The write-ins are designed to connect all Davis participants of NaNoWriMo who may feel they need companionship during their novel writing process.
Second-year English major at UC Davis and NaNoWriMo participant Alicia Josey said writing with other people encourages her to work harder on the project, and also allows her to see how others are doing with their stories. On the first day of the event, Josey wrote by herself at another cafe and she felt that time dragged on.
"I was just writing for 45 minutes. I felt like I was writing for a very long time, but I looked at my word count and it was 600 words," Josey said. "'I was like, 'Oh my gosh, this is going to be terrible.'"
According to the official NaNoWriMo website, 310,095 people participated in 2013 worldwide, and over 250 novels have been traditionally published over the years as a result. Some notable examples include Water for Elephants by Sara Gruen, The Night Circus by Erin Morgenstern and Fangirl by Rainbow Rowell.
Although Josey's plan is to write 50,000 words, she may diverge from the event's rule of writing just one piece. Instead, she'll dedicate at least 300 words to her main story, a science fiction novel about a girl who teleports into another world and joins a private agency that studies different species of aliens.
Josey hopes that by limiting her write count for her main project, she will remain passionate about it all the way through the writing and editing process.
"The thing with NaNoWriMo is that you just write and write and write," Josey said. "Then you run out of an idea but you still keep writing."
Preparation for novels began in October, also referred to as National Novel Preparation Month, or NaNoPrepMo. Though Josey's outline isn't planned out chapter by chapter, like she usually are, she does have a general sense of where things are going.
The write-in attendees each varied in their style of novel planning. Genetics graduate student Sam Westreich said he had his story outlined chapter-by-chapter, and in total had written out a nine-page outline. On the other hand, Davis resident Sandra Proudman said she hadn't planned anything out at all.
"Every idea sounds stupid after you think about it too much," Westreich said. "Try to think of an idea, but try not to think of it too much."
As one can imagine, balancing novel writing with other responsibilities can be hard. UC Davis English professor and NaNoWriMo alumna Kristen Aldebol said it was all about setting aside a small portion of time just for writing, and believes NaNoWriMo made her a more productive professional writer.
"I would sit down to write my dissertation and I would feel so overwhelmed with the pressure of producing something smart, well-researched and interesting," Aldebol said. "I also felt like I didn't have a good creative outlet in my life at that moment. I thought that writing fiction would help me overcome my fear of the page."
Josey, who has finished NaNoWriMo once before and has partaken in another spin-off version in April called Camp NaNoWriMo, admitted that things may be more difficult this year, since she will have to balance work and school as well.
Josey said that if participation comes at the expense of school grades, then it would be best to postpone participation.
Although there are reasons why some cannot or choose not to participate, Aldebol believes the experience is mostly positive.
"I think it can teach very valuable time management skills, goal setting and breaking down tasks into smaller pieces," Aldebol said. "Looking back … 30 days, I'm like, 'Oh my God, I just wrote a novel! That's crazy."
Photos by Ciera Pasturel