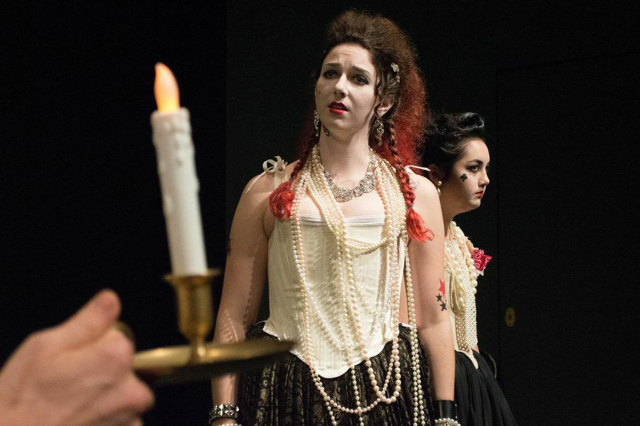 Beginning Thursday, The UC Davis Theatre and Dance Department will be presenting its fall production of The Gambling Lady (The Basset Table). The play is being directed by the Granada Artist-In-Residence Fidelis Morgan.
The Gambling Lady follows the life of Lady Reveller, a young woman who runs a gambling table and whose addiction to gambling drives her family mad. The play was written by English playwright Susannah Centlivre in 1705. The show is termed as a restoration comedy due to its prominence during England's Restoration period.
The comedy is one of the many plays Morgan rediscovered in her book, The Female Wit, which sought to bring neglected women playwrights back into the public's attention.
Lisa Quoresimo, a graduate student in the Theatre and Dance Department who will be playing Lady Lucy, praised the play for including a female scientist and passing the Bechdel test, which tests if women have good vocal representation in a play and which Quoresimo noted was a progressive move for the time period.
"For a play [that] old to stand up to [the Bechdel test] — you don't get to see that again for hundreds of years on the stage," Quoresimo said.
Morgan echoes Quoresimo's thoughts and commends the play for featuring a cast resembling the actual gender makeup of the world.
"Why are so many plays written that have 10 men in it and two women when there are not 10 men for every two women in this world?" Morgan said. "And when you do have a cast of five men and five women, people say, 'Isn't it extraordinary? Fancy that.' But that's what the makeup of the world is."
While the play includes the use of heightened language, Chris Wolfe, a graduate student who will be playing Sir Richard Plainman, assures that Morgan's directing will allow for a clear understanding of the lyrical speech style.
"You see a lot of Shakespeare in the states where people don't have a clue what they're saying or they know what they're saying, but they don't know how to communicate it to the audience," Wolfe said. "[Morgan] is very attuned to what's going to land with the audience."
Wendy Wyatt-Mair, who will be playing the lead Lady Reveller, agrees with Wolfe and says the heightened language allows for a funner experience and an overall funnier play.
"I think some of the stuff that happens in the play wouldn't be funny if it was written nowadays," Wyatt-Mair said, "but somehow if you put it in a period piece and everything's heightened and everything's ridiculous it kind of works because it's not necessarily natural."
Although Morgan remained tight-lipped on the unique spin she's taken on the classic play, Wolfe hinted that the play will have a rock n' roll vibe where the men will have spiked hair and tattoos.
Morgan is an English actress, writer and director who has an impressive history with theater — particularly for her work at the Glasgow Citizens, where she received a Best Actress nomination from The Observer. She was chosen as UC Davis' Granada Artist-In-Residence two years ago before beginning her term this fall.
Having experience working with both university and professional theaters, Morgan said what's different between the two is that university theaters allow for larger scale production due to the more flexible budget.
With her extensive history with classical theater, Morgan said she appreciates classic plays for their large ensembles and exciting storylines.
"I always do the classics. I'm not a mad keen friend of minimal theater," Morgan said. "I don't like plays where two people sit on stage and talk for four hours. It's not interesting to me at all."
Although the play is aged, Morgan said her production will feature colorful and rousing performances that will shatter the misconception that classical theater is boring.
"It's not like a stuffy old classical play; it's not museum theater, which is something I detest," Morgan said. "Don't come along thinking it's going to be some dry old fuddy duddy show, because it's not."
The Gambling Lady will have its debut performance on Thursday at 8 p.m. The show will run through Nov. 23 on select dates. Tickets can be purchased at tickets.mondaviarts.org for $18/22 general, $16/20 students, children and seniors.
Photo by Jay Gelvezon.