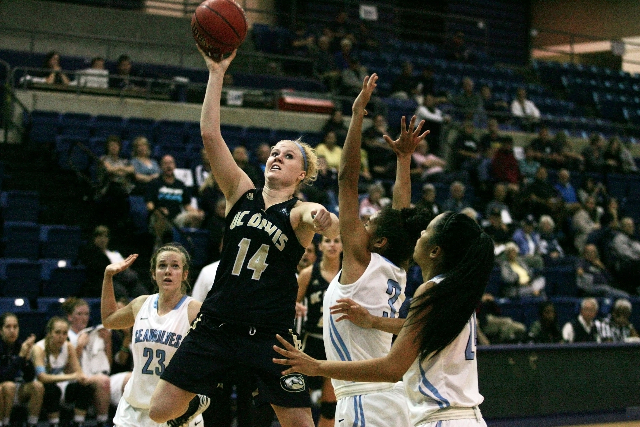 With 5:11 left in an exhibition game against Sonoma State — Aggies were winning by 19 points — freshman forward Morgan Bertsch scored on a layup. Despite being about as inconsequential of points scored as possible in a collegiate game, the UC Davis bench erupted with cheers and shouts. Bertsch had just scored her first points as an Aggie.
This exchange seems to define a UC Davis team that will return all five of its starters, and ten players total, from a year ago. The team undoubtedly practices and plays hard, and every player will hit the deck searching for a loose ball. Still, they are clearly out there to have fun and play basketball. As senior forward Sydnee Fipps said, "Ultimately I just want to have fun. This is my last year of competitive basketball, so I want to go out with a bang and have a really fun year with my fellow seniors and teammates."
Don't, however, let this happy sentiment make you think that the Aggies aren't here to play, because this team will be extremely competitive in the Big West. The Aggies are returning all five starters and 10 out of 11 players overall from a team that won four out of their last five regular season games. This is simply a team full of good chemistry, that secret ingredient that evades most squads.
Head coach Jennifer Gross played up the importance of having so many players returning to the team. "I think it gives us a lot of confidence. We are finally starting to get that feeling of what it is like to have played together for a couple of years. You know each other's strengths and tendencies, and I think that is really comforting, going into the season."
The success of the Aggies largely hinges on the play of Fipps, who has been named to the All-Big West first team the past two seasons. The senior scored a team high 17.7 points per game last season while adding 5.7 rebounds per game. Fipps also shot 158 free throws last season, leading the team by 48.
While Fipps was quick to note that she had not even considered the possibility, she is on a short list for winning Big West Player of the Year this season.
Junior forward Alyson Doherty is another key member of the Aggies returning starters. Doherty averaged 13.1 points and 6.3 rebounds per game last season and continued to see her offensive role increase as the year progressed.
"[Doherty] has been tremendous with her work ethic in the offseason, and she has put herself in a position where as soon as she is cleared health-wise, we are going to be going to her," Gross said. "She has added another dimension to her game with counters, and her weak hand is no longer her weak hand anymore."
The rest of the Aggies lineup represents a series of important roles being filled. Senior Kelsey Harris, who broke the UC Davis single season record for threes made last year, will be seen darting around screens and hitting big shots for the Aggies. Junior Molly Greubel – when she comes back from a lingering lower leg injury – offers quintessential point guard skills, controlling the ball and playing stiff defense. Meanwhile, senior Brianna Salvatore will space the floor and play her special brand of rangy defense on the perimeter.
There will also be five freshman players to add to the mix, and each already showcased skills that they will add to the team in their game against Sonoma State. Guard Rachel Nagel scored a quick eight points in 15 minutes while forward Morgan Bertsch had five rebounds and a big block. Sophomore Brianne Yasukochi, who played just five minutes per game last season, also showcased her potential against Sonoma State, pushing the pace and adding three steals.
This Aggies squad has the potential to make a serious impact in the Big West Conference this season. They have great individual players, depth and a level of continuity rivaled by few. As starters Greubel and Doherty come back from their respective injuries, watch out for this fun-loving yet competitive team to make major noise in the Big West.
Photo by Johnny Ma