On the UC Davis campus, public art is more than just a part of the scenery. Art unifies the campus, inspires myth among the student body and is the result of some very rich history.
The majority of the campus' sculptures are a result of an art-in-public-places campaign by the Nelson Gallery Price Amerson and the UC Davis Fine Arts Collection.
"In Davis, students and community are connected to our arts, which is unique for a college campus," said Rachel Teagle, director of the Jan Shrem and Maria Manetti Shrem Museum of Art.
The pieces are the result of the many talented artists who have passed through our university over the years, and their diverse styles match Davis's quirky atmosphere.
"In selecting pieces, we consider what is appropriate to our audience. We pick pieces that reflect our history." said Teagle.
In addition to staying true to the campus' history, the art is also selected to spark conversation and sometimes, debate.
"If nobody is talking about it, it's probably a [poor] work of art," Teagle said.
Here is an overview of some of the campus' most interesting sculptures: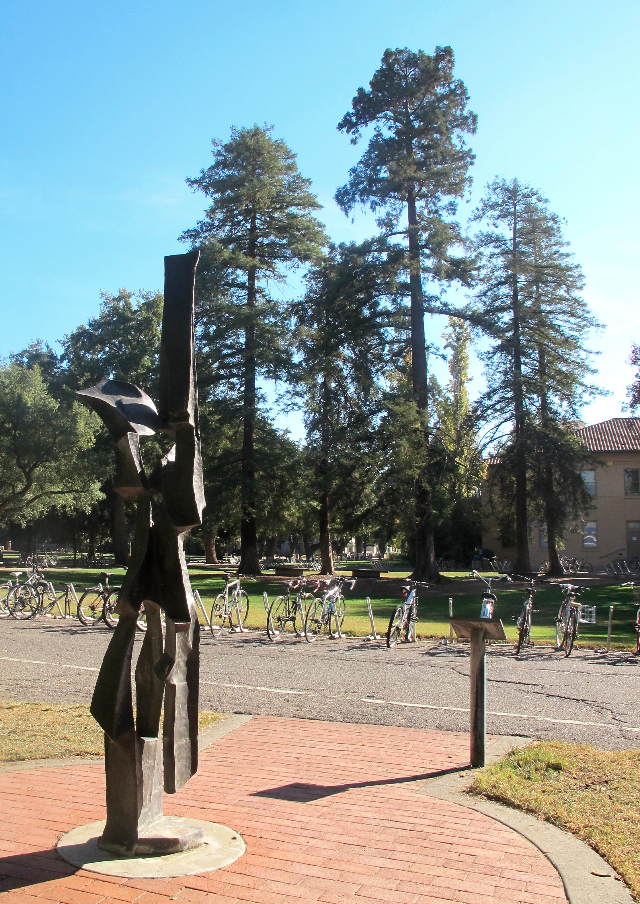 "Apollo" by Ralph Johnson (1987)
Wedged between Wellman and Kerr halls stands "Apollo," a tall bronze figure. While not immediately resembling the Greek and Roman deity, a squint and a tilt of the head results in a slightly humanoid resemblance, and its jagged angles give it a godlike appeal. Due to the hustle and bustle of the area and natural patina covering, it doesn't stand out much to passersby.
"Wait, there's a statue over there? I never noticed that," said Jason Kao, a fourth-year biological sciences major.
While a cursory glance at its accompanying plaque will reveal that at one time "Apollo" was subject to metal rot and repairs, the process of keeping up Apollo's appearance is tricky for its caretakers.
"[Apollo] came out of the campus forge, which was experimental; people were pushing the envelope and trying different metallurgy techniques. Some of the work is inherently unstable," Teagle said.
When considering repairing works of art, it comes down to identifying original vision for the piece. In Apollo's case, repairs were cast only after considering the artist's intent.
"There was an entire generation where entropy was simply part of the art and the artists didn't want their work preserved. The general public doesn't always understand that what we are doing is what the artist wanted," Teagle said.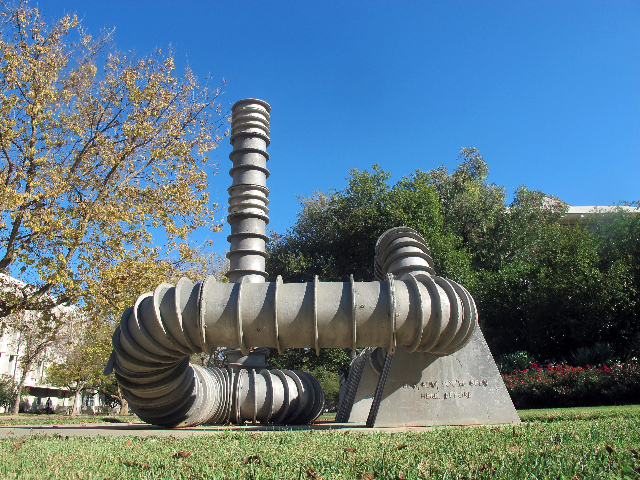 "Bum, Bum, You've Been Here Before" by Tio Giambruni (created in 1967, moved to campus in 1987)
Cast out of bronze and aluminum, south of Shields library sits the massive, tubular, coiled sculpture. The title is inscribed 10 times on the piece, adding a whimsical flair to the otherwise industrial first impression.
With the administration's blessings, creator Giambruni founded UC Davis' TB-9 foundry and built a number of complex pieces, including "Bum, Bum."
"Our university has a history of giving faculty members amazing tools. Giambruni built the foundry from scratch; administration said, 'If that's what you need to advance your project, it's allowed,'" Teagle said.
Bravehearted second-year art studio major Danielle Bronson climbed up the tallest part of the sculpture to look inside of the hollow top.
"It's a very utilitarian, minimalist structure… It looks like part of a sewage system," Bronson said. "It's way cooler from up here."
"Bum, Bum" in particular has had a history of dividing its audience.
"Before the sculpture was installed on campus, it was placed in the city of Davis, and apparently it caused a huge uproar. People loved it, hated it, it became this point of civic debate," Teagle said. "[Giambruni] loved that it was divisive, because he thought that's the point of art, to cause conversation … It caused people to be engaged and talking about art."
'The Egghead Series' by Robert Arneson (installed from 1992-94)
Strategically scattered across campus, Arneson's seven commissioned Eggheads have become nothing short of landmarks. Made from bronze and a special cementitious paint, these heads are at once fragile and sturdy, smooth to the touch and well loved by the student body.
"Our Eggheads are a source of community pride. On graduation day, there is a line of families and students all waiting to take their photo with ['Eye on Mrak.'] That's something that you don't see on other campuses," Teagle said. "The eggheads are at once friendly and serious, and I think that riding that edge provokes conversation."
Designed as a spoof of the intellectual pretensions of the university, the series has garnered the admiration and respect of the student body.
"They're happy and silly. They bring a lot of humor into the campus," said Angely Castro, a first-year transfer student and psychology major.
"Bookhead" sits in front of Shields Library, eyes open, face down in an open book. This Egghead is immediately relatable to students — we've all desperately placed our faces into textbooks in hopes of learning through osmosis, right?
"People rub [Bookhead] for good luck before midterms. I walked out of Shields one night after studying to see a group of people all rubbing [the sculpture]," said fourth-year political science and psychology double major Elizabeth Tran.
Others see the most recognizable Egghead as a photo and pranking site.
"I planked on it," Kao said. "It was part of a summer bucket list."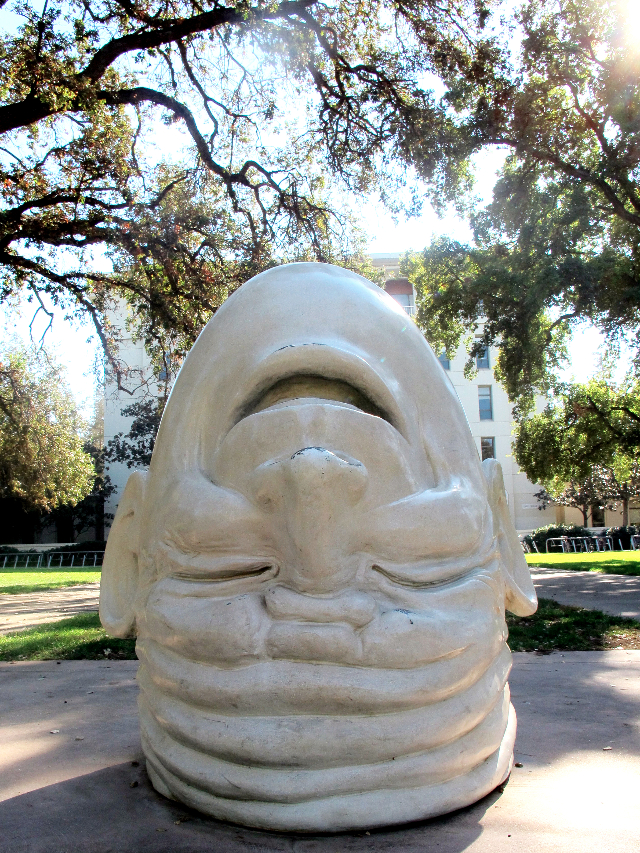 "Eye on Mrak (Fatal Laff)," grins upside-down at those approaching Mrak Hall, and on the back, one eye intently stares up at the building. "The eye on the back represents that the students are watching their administrators," said third-year psychology major Rukhsar Akhtar.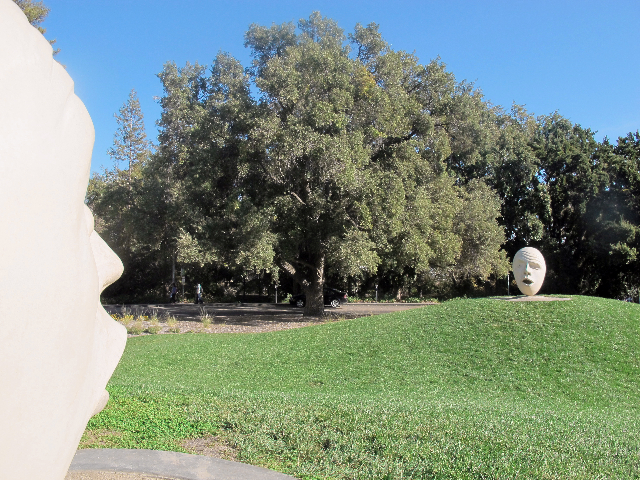 "See No Evil Hear No Evil," located east of King Hall, depicts two Eggheads conversing. They each have their left eye closed and lack ears, so that when placed across from one another, are unable to see eye-to-eye or hear one another's arguments. Their placement suggests a subtle jab at the future lawyers studying next door.
"Stargazer" faces the heavens behind North Hall with a relaxed smile and swirly eyes.
"I feel like Stargazer is showing what it's like to be lost in life here at Davis. Gazing up in class like, 'Oh man, what's happening here?'" said Graciela Del Rio, a first-year transfer and political science major.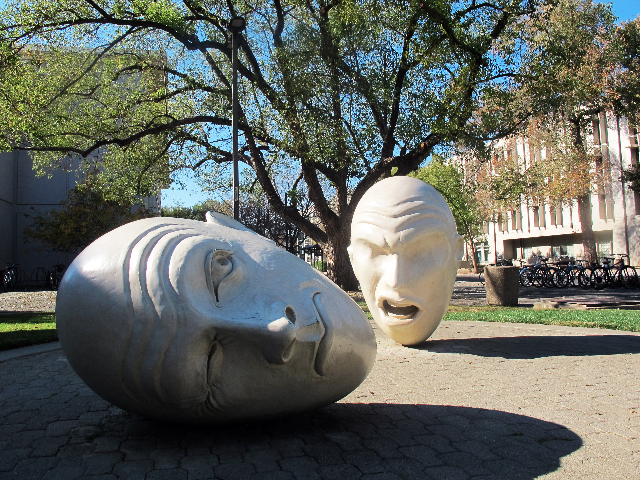 The "Yin & Yang" duo are located in front of Wright Hall. One is upright, yelling and with eyes closed at the other, who is lying on its side with one eye open, visibly annoyed at the other.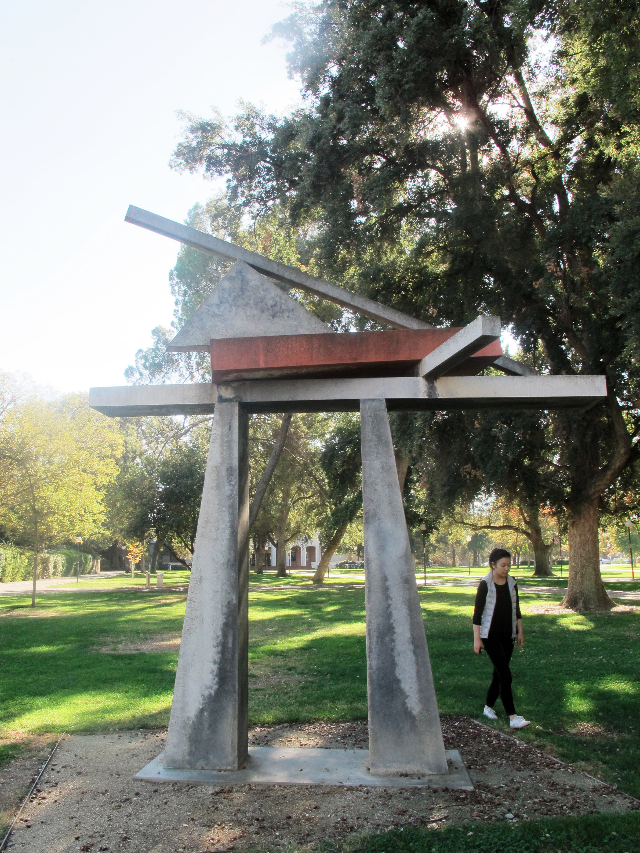 "Shamash" by Guy Dill (created in 1982, installed in 1996)
This tall red and gray concrete structure can be found on the lawn north of Mrak Hall.
"It looks like the symbol pi, with a book on top and a seesaw. And it's about halfway between the library and engineering [buildings], so I guess it's appealing to different fields [of study]," Akhtar said.
Shamash's conspicuous 14-year hiatus is not uncommon, as many large works of art reside with their artists until they find a home.
"Outdoor pieces of art have very particular buyers, the room and space needed for it mean that sometimes they don't immediately sell. Artists have studios [where they store their pieces], and sometimes it's as straightforward as keeping them in their homes or yards," Teagle said.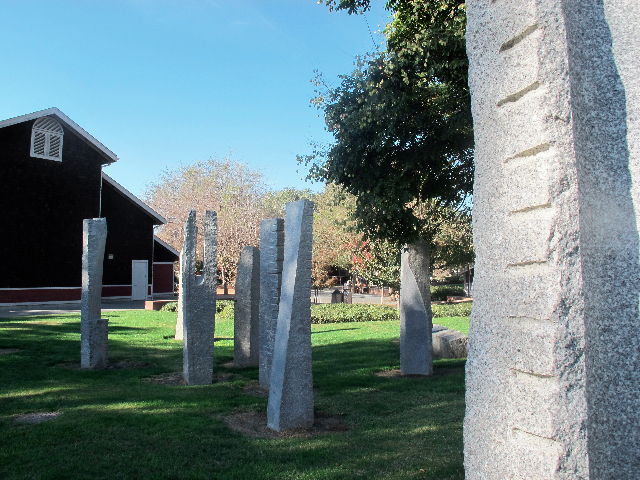 "Stone Poem" by Steve Gillman (originally exhibited in Davis' Nelson Gallery in 1986)
Located south of the Bike Barn, these 13 Stonehenge-reminiscent granite blocks are loosely huddled together. While a number of them are conveniently sunk into the ground and used as benches, this was not the original intent. Between exhibition in the Nelson Gallery and placement on campus, the sculptures were in Gillman's studio during the 1989 Loma Prieta earthquake. Several blocks were knocked over and broken, and later repurposed to lie on their sides to act as a seating area.
"['Stone Poem'] highlights how important the site and installation are. You can plop down a sculpture anywhere, but you'd be amazed at the impact it has on how you frame the experience," Teagle said. "One small thing that they did a few years ago was to install the native grasses around it. When they were originally trimming around it, weed-whackers were hitting and damaging it. The team at the Nelson Gallery went back and did research on the artist's original vision for how the work would be installed."
What they found was that "Stone Poem" was never intended to be on a perfectly trimmed golf course, and that instead, it was envisioned as one with the earth beneath it.
"It's integrated into the landscape. It's what the artist wanted, the stones look like they are emerging from the earth …  Its rough edges are enhanced by the current grass around it. Its previous installation was a little to straightlaced for it," Teagle said.
"Redwood Tree" by Ted Hirsch (1992)
Obscured by shade and made of completely organic matter, this sculpture is easy to miss despite being just feet off the path when approaching Wellman Hall from the Coffee House (CoHo). Carved from a tree stump, the whittled sculpture features images of upside-down axes and stands of tree trunks.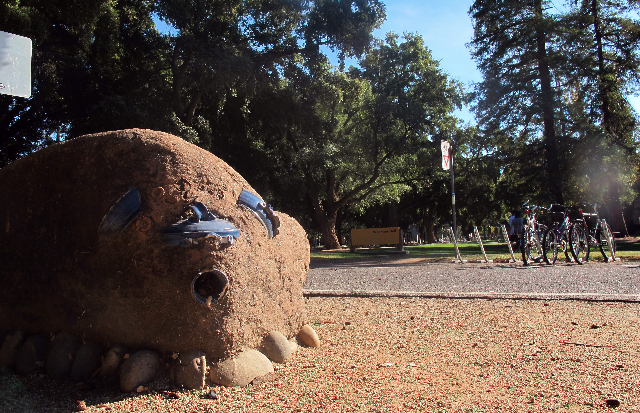 Whole Earth Bench by Whole Earth participants (2004)
Between Wellman Hall and the CoHo is an earthen, dusty brown bench constructed during the 2004 Whole Earth Festival. Handmade from cob (comprised of clay, sand and straw), stones and at least one blue ceramic pot, this seating spot in the sun is like no other on campus. The bench is located in the perfect place for an extremely conspicuous mid-day nap, although considering the hard-packed materials, a pillow is recommended.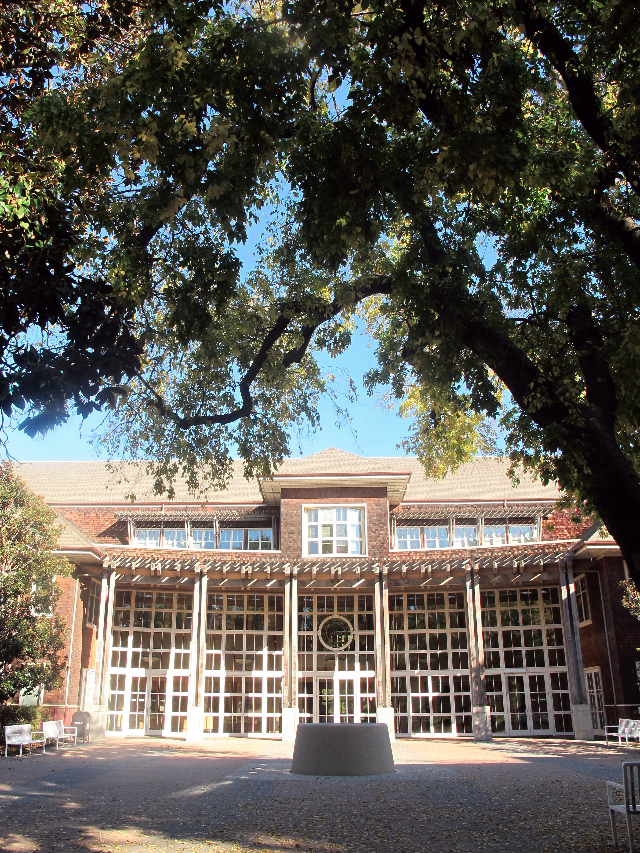 Dutton Fountain (1999)
In front of Dutton Hall's entrance sits a massive flan-shaped fountain. The basin on top fills and spills over the side ever so slightly to slick the sides and give passerby something to run their hands along.
However, when the fountain is off, students' opinions of the installation are less positive.
"Well, it's just a big block," Castro said. "I'm sure it's pretty when the water is on, but right now, it's kind of ugly."
Photos by Angela Willis