Members from the non-profit FARM Davis gathered Saturday on Valdora Street in South Davis to plant vegetables. FARM Davis is a non-profit organization dedicated to growing and donating fresh, local food in order to help homeless or low-income individuals obtain healthy produce.
Robyn Waxman founded the organization and wrote her master's thesis about it at California College of the Arts (CCA). Waxman saw the project as a way to engage the millennial generation by converting a strip of toxic soil into a space capable of producing food for the homeless on Hooper Street, San Francisco — its first official location.
"The FARM project is a way of creating a new way of thinking about protest that appeals to the social and cultural nuances of [the millennial] generation, and that's why it was formed. It was trying to solve a problem, which was that [the millennials] wanted to do something but felt totally overwhelmed," Waxman said.
After completing her graduate work at CCA, Waxman moved to Davis to teach graphic design at Sacramento City College. FARM Davis began in Waxman's front yard on K Street. Nineteen people came for the first work day five years ago, and since that day, FARM's presence in Davis has grown to include two more sites and the participation of about 600 people.
FARM relies on volunteer power, but received a grant from the city of Davis to hire a part-time farm manager, the organization's only paid employee. Volunteers can commit as much time to the organization as they are able. All of the space FARM uses is either donated or volunteered to be converted into a farm. The Valdora Street FARM is the front yard of a retired UC Davis linguistics professor, Orhan Orgun. Orgun began volunteering with FARM three years ago, and after a year of volunteering his time and energy, Orgun decided to convert his front yard to become the third FARM location.
"One significant aspect about FARM Davis is that it's volunteer based. The Valdora and K Street yard locations are given up voluntarily for urban farming. The people who work on these farms, aside from the farm manager, are also volunteers. As a result, the people involved are invested on a personal level. They just like farming, giving and being around those who are similar," said Ged Mendoza, a third-year political science major who volunteers for FARM.
FARM donates about 1,200 pounds of produce annually to another Davis non-profit, Davis Community Meals. Every Tuesday, Thursday and Saturday Davis Community Meals prepares and serves a free meal at St. Martin's Episcopal Church. FARM delivers produce such as broccoli, garlic, onions and spinach every Tuesday, and during the highly productive summer months, they are able to deliver produce for all three meals.
"Getting a healthy, nutritious meal— being on the streets, that is difficult to do. FARM helps with that," said Bill Pride, executive director of Davis Community Meals.
According to Pride, the homeless population in Davis varies between 110 and 120 individuals. Of these, about 60 percent are in some kind of shelter or transitional housing, such as Cesar Chavez Plaza, a housing project on Olive Drive that provides a permanent housing solution to low-income individuals. Davis Community Meals oversees Cesar Chavez Plaza, which receives weekly deliveries of food from FARM.
"That program [houses] a lot of folks with special needs and the food comes to help supplement their fixed income….We do get folks there who go out and help on the FARM. It's a good way to get them to socialize, get out of their environment, do something a little bit different," Pride said.
The largest FARM site in Davis is called FARM 2.6, a 2.6-acre plot of land on County Road 95. Waxman and her husband bought the property two years after FARM began in Davis. Initially FARM 2.6 only had a house, barn and small orchard. Waxman and many other volunteers have converted this site over the last three years. FARM 2.6 now includes another small orchard, a natural dye and fiber garden, a vineyard, multiple vegetable gardens, a chicken coop, a horse pasture and more open space to be farmed in the future.
"The idea with FARM Davis is that nobody dictates it, really, so that if people come with ideas then we do their ideas, if it's within what we're all kind of thinking," Waxman said.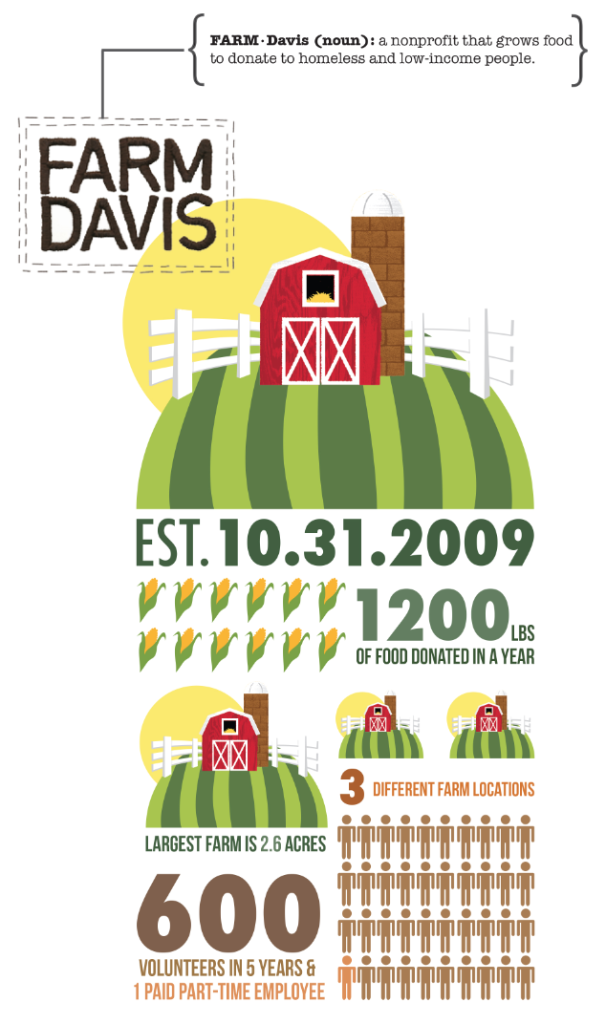 FARM is open to new ideas and experimentation. If someone wants to start a project, the group will find a plot for them on one of the FARMs. The natural fiber and dye garden is an example of this kind of experimentation. FARM partnered with the Davis Spinners Guild to make yarn.
"We had a big dye workshop where we…had these outdoor fires and we cooked the dyes and we dyed yarn, a lot of it that we spun ourselves. We're trying to make scarves and mittens and hats for the Davis Community Meals cold-weather shelter," Waxman said.
In addition to the Davis Spinners Guild and Davis Community Meals, FARM is also involved with elementary schools in the community. They give tours of the FARM 2.6 site and work directly with a fifth grade classroom on a project called Grow and Give.
This is the second year of the Grow and Give program, in which a fifth-grade classroom learns about FARM, then comes to FARM 2.6 and plants its own garden. The class grows the food in order to cook a meal for residents of Eleanor Roosevelt Circle, which is a senior middle-income housing community on 5th Street.
This year's garden includes bok choy, celery, kale, broccoli and peas. The students will return to FARM 2.6 in December to harvest their garden. The Davis Food Co-op will then meet the class at Eleanor Roosevelt Circle and teach the students how to cook the food they grew and harvested. Finally, the fifth-graders will serve their handmade meal to the seniors and eat it with them.
FARM Davis describes itself as a new type of protest. The gift economy on which FARM operates is unusual, but it allows the organization to form strong bonds within the community.
"We call it slow protest— it's the slowest protest in the world. It's the act of undoing and making the world the way you want it to be. Of publicly and productively voicing yourself," Waxman said.
Waxman's thesis is a 55-page newsprint publication describing and depicting the process of establishing the first FARM at CCA. While Waxman spearheaded the project, throughout her thesis, as well as in FARM Davis, she emphasizes the importance of the community to FARM.
"FARM is about creating a means for quality engagement between FARMers and the land beneath the farm, between FARMers and outside agencies who will receive half the harvests, and between FARMers and the local communities in any site specific area," Waxman wrote in her thesis.
Their regular work days are every other Saturday, alternating between its three sites in Davis.
Courtesy Robyn Waxman
Graphic by Jennifer Wu