For this week's edition of Aggie Style Watch I spoke with Nnedy Obiwuru, a fourth-year international relations major from Los Angeles. Her style incorporates a mix of classic and versatile neutrals with colorful thrift store finds. It was clear to me that Obiwuru takes exceptional care in selecting pieces for an outfit, so I asked her a few questions about her fashion aspirations.
Can you tell me about what you have chosen to wear today?
This is a patterned top I bought from some thrift store when I was in middle school. It's an old piece, one I like to wear once every two months. These pants I found for about $5 at the TJ Maxx in Davis. They were a steal! I love TJ Maxx. The shoes are from justfab.com — they were my pick of the month, and something about them told me I just [had] to have them; and then [I have on this] hat because otherwise my hair would [have] been a disaster.
What about your jewelry?
These rings I wear everyday: this is my Pi Phi ring, and this one was a gift for my 21st birthday. I like to keep my jewelry simple. I always wear studs. [I believe that] if you keep your jewelry constant, it makes your outfit variations a lot more noticeable — same jewlery, different clothes.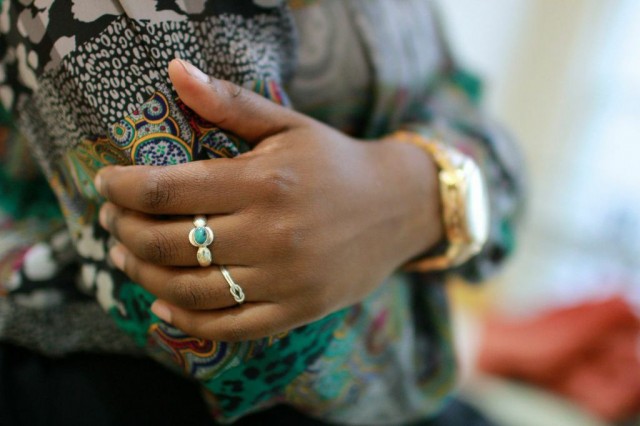 Describe your style in three words.
Black, white and rainbow. I love minimal clothing with a lot of black and white. I'll wear black pants and a neutral jacket, but then I like to incorporate random pops of color with tops like this one.
Who are your style muses and why?
Aimee Song, I follow her on Instagram. She's a blogger and an interior designer. Everything she wears I would wear. [I admire] how she puts the pieces together. Also, I'm Nigerian and my mom is very stylish. I like to incorporate a lot of tribal, cultural patterns into my everyday wear.
What is your favorite item in your wardrobe and why?
I have this button-up dalmation-print top that I bought at a thrift store prior to coming to Davis. I used to wear it a lot my freshman year. Being from L.A., coming to Davis [was a big transition]. The style is very different here, so I was very nervous [I was] dressing too loudly. In Davis everyone wears North Face jackets. I feel like the top is the epitome of my style; it's black and white and yet it still has a lot of personality to it because of the way it's cut.
What are your plans for after Davis?
After Davis, I am going to FIDM, the Fashion Institute of Design and Merchandising in L.A. I hope to study merchandising and become a buyer or an allocator. I want to travel and live in the community for a few weeks and observe what people are wearing in order to report back to my merchandising team with a trend forecast. I love the business side of fashion, and I also want to do more hands-on work.
How do you articulate your personality and sense of self through the clothing and accessories you wear?
I am weird and I dress for my mood; I can't plan out outfits ahead of time. Because I do keep my pieces for a long time and circulate them throughout my wardrobe, I am very good at knowing which piece fits a certain mood. It gives me a better sense of confidence. You'll never catch me in sweatpants. My clothes are an extension of my personality.

Aggie Style Watch would like to wish Obiwuru best of luck in all her fashion career endeavors, and extend a special thanks for offering up her insights into her unique personal style.
Photos by Jennifer Wu