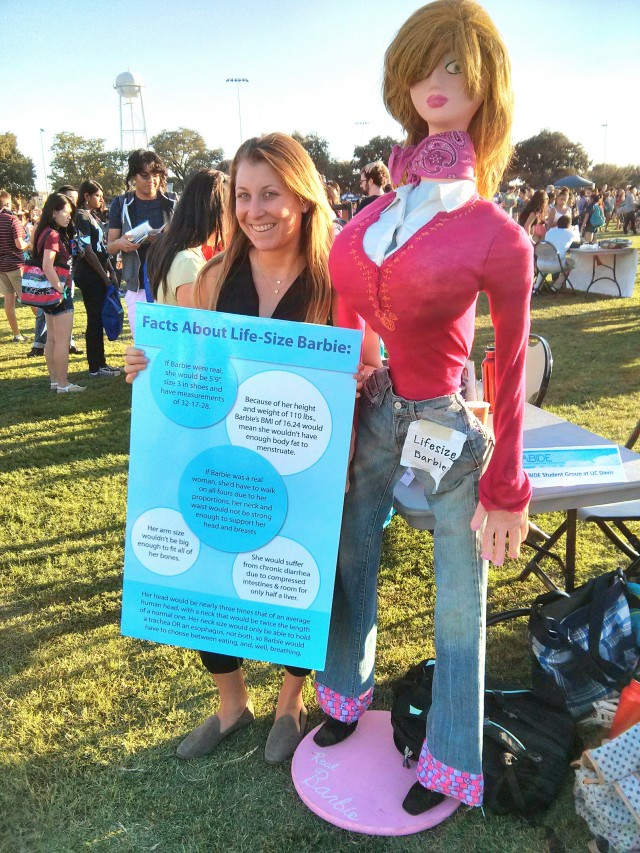 For years, the Association of Body Image and Disordered Eating (ABIDE) has rallied to bring awareness of body image and eating disorders to UC Davis. This fall, the campus departments involved in ABIDE created the official student branch of the organization, allowing students to get involved with the club's cause.
With 15 members so far, ABIDE's student club is part of a larger campus-wide committee responsible for awareness events, including Celebrate Your Body week in February.
The primary committee is comprised of different representatives from a number of departments like the UC Davis Dining Services, Cross Cultural Center, Women's Resources and Research Center and Student Health and Counseling Services. Off-campus organizations, like the Sierra Treatment Center in Sacramento, are also involved.
"It's amazing how much people have opened up to me when I mention that I'm involved in such a body-positive movement," said Enya Meng, president of the student ABIDE, in an email interview. "I always knew that body-negativity was an issue but I didn't know how prevalent the societal pressure to be physically 'perfect' was among my peers."
Before registering as a club, ABIDE had unofficially been underway since 2011. Once Meng learned more about the club's aim to raise awareness of the influence society has on people's relationship with food and their bodies, she decided to join.
"I think everyone has been subjected to some degree of societal pressure regarding standards of beauty and perfection, be it they're too 'skinny,' they're too 'fat' – if they only did this to themselves then they'd be 'hot,'" Meng said.
Meng also said that the issue didn't just pertain to girls but to boys as well, since they usually aren't given an emotional space to cope with negative body image. She believes that the most important thing the club promotes is being healthy and feeling content with how you look.
Assistant Director at the Fitness & Wellness Center at Campus Recreation and Unions and ABIDE committee member Brian Luu said he joined the group since it was something important to him, specifically citing his background with eating disorders.
"I dealt with it when I was younger, and just being in the fitness realm here, I think we have a duty as a department to sit on a committee that helps promote this," Luu said. "You can influence people in several ways and it can be in a positive way or negative way."
Luu thinks that the sitting on the committee has been a positive influence. While also having members who sit on the committee, Campus Recreations and Union holds two free yoga classes during Love Your Body Week, hosted by ABIDE.
Fourth-year clinical nutrition major and special events coordinator for ABIDE's club Jamie Bratman said the student group holds a big event every quarter. On Feb. 25, in the middle of Celebrate Your Body Week, the club will be running a photo booth and tabling at the Memorial Union.
Just last quarter, ABIDE's student club participated in The Myth of Freshman 15, a campaign aimed at educating first-year students that there is no scientific connection between freshman year and gaining 15 pounds. According to Luu, the average freshman only gains about two to three pounds.
In Spring Quarter, the student ABIDE will help with the Great Jeans Giveaway, an event promoting the tagline "loving our genes and jeans (that fit us)." Members will collect ill-fitting jeans to rid people of any negative body thoughts and donate them to a Sacramento-based organization, Women Escaping A Violent Environment (WEAVE).
"We still aren't big, but we are thinking of little things that will attract people," Bratman said.
Bratman, who wants to work as a dietician specifically in regards to eating disorders and who has recovered from one herself, sees that there can be a real opportunity for change if more people fostered healthier relationships with their bodies.
"Most of what we are seeing is not real life and it's not a real depiction of what people look like," Bratman said, citing the many Youtube videos that show people undergoing dramatic physical transformations through makeup and digital editing. "It's realizing that what we see is not real and everyone has their own body."
Although the group has many ideas for the future, like coordinating with other clubs including the Student Nutrition Organization, they are currently focusing on gaining more members.
"Guys and girls alike confided to me and the most amazing thing about becoming involved in ABIDE is connecting with all kinds of people," Meng said. "Uniting under one goal: to love oneself."
Photos Courtesy by Enya Meng