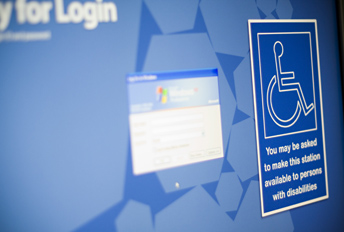 Improvement in accessibility in workplaces and classrooms is the product of both necessity and foresight as much as it is a product of technological innovation. While technology continues to improve, it is the role of the Center for Accessible Technology (CAT) at UC Davis to utilize what already exists as well as integrate new innovations to connect accessibility to necessity.
"What sci-fi movie do you see where people are still using a mouse and keyboard?" asks Josh Hori, an assistive technology analyst at UC Davis.
Hori works in the Student Disability Center (SDC) where he outfits students with learning and physical disabilities with technology that makes the classroom more accessible and easier to engage with.
"Students go see a specialist, get documentation, then they get recommendations for accommodations that they have entitled to them," Hori said.
These accommodations vary from assistance in note taking and converting text to speech for the visually impaired, to converting textbooks to electronic format so [there is] more accessibility. In his office at the SDC, Hori also helps with test accommodations.
"We usually limit it to those who need technology because we have very limited space," Hori said. "We'll help out those who maybe need audio feedback on tests where we can use text-to-speech software to read it out loud to them."
One piece of technology that Hori has found useful for administering tests and helpful to students in the classroom is the combination of the Livescribe Echo SmartPen and Livescribe Paper. In conjunction with the paper, the pen records what the user writes so that it can be transferred to a computer. It is also able to record audio which can be synced to the writing so the user can essentially revisit their class lectures.
Hori said that he has used the technology for tests – he can print out questions and answers on the paper, then record audio for both. Then, with a tap of the pen on the paper, the questions and answer choices can be read out loud to the student as many times as they need.
When the pen is connected to the user's computer, it is charged and the notes can be backed up. Hori's office even offers to help with archiving notes at the end of each quarter so the pen is able to be used for the next.
"We do demos here, we also do installation and configuration so that…our students don't have to worry about the technology – they're just using it," Hori said.
Hori's office is home to numerous technologies to improve accessibility, including scanners for converting textbooks to a digital format, an embosser for converting text to braille and a BrailleNote computer for the visually impaired. Other technologies include Pictures in a Flash, a device which can create raised line drawings which are printed on thermal paper, and the Leap Motion device, an alternative input device which enables people to use hand gestures to control their computer.
Assistive software is also available, including Dragon, a speech recognition software that allows people to write by dictating, and ClaroRead, a multi-sensory software which can read text on a computer out loud to the user as well as alter the screen to make reading easier.
The CAT lab opened in 2010 as a location intended to consolidate accessible technology that was previously spread out among different departments.
"There were all these bits and pieces, but it wasn't coordinated," said Tim Leamy, Manager of Computer Lab Management at Academic Technology Services. "We figured if we could bring everybody that had bits together, we could put it all together and end up with something much grander."
The SDC works in conjunction with the CAT lab to make UC Davis more accessible for everyone, students, staff and faculty alike.
"Some of us got together and said 'we want to make this spot where everybody could go, student, faculty or staff,'" said David Ritz, a vocational rehabilitation counselor at UC Davis. "It was one of the first places where it didn't matter if you were student or…staff, you would all sit in the same chair, you would all use the same keyboard."
The CAT lab continues to operate today in Shields 163 at the southeast corner of the library.
"The reason that I think it was successful, is that you had a bunch of people who were not administrators or all that high up putting this together under the radar," Ritz said. "We just kind of went forward until we figured someone would tell us to stop, and they didn't tell us to stop."
Ritz works primarily with employees at UC Davis. In the CAT lab he can conduct ergonomic evaluations, where various parts of the work station are adjusted to find what works best for each individual. This could include adjusting desk or monitor height and the use of alternative mice and keyboard combinations (vertical mice, alternative keyboards, etc). Ritz can also demonstrate the use of hardware and software easily, as most of the options are readily available in the lab.
Although the central location of the lab was a step in the right direction of improving accessibility, Leamy pointed out that it was in fact only a step.
"Every once in a while, somebody would request a different keyboard or a station that was more wheelchair accessible, but we were doing it after the fact rather than being more proactive and trying to make stuff more accessible from the get-go, mostly because we just didn't know what to do to some degree," Leamy said.
Leamy mentioned that although the CAT lab has been useful in demonstrating the accessibility options available, the ultimate goal is to make the campus as accessible as possible, and therefore eliminate the necessity of a lab setting at all.
"The services beforehand were sort of scattered and not very accessible," Leamy said. "We brought them here and that made them more accessible, but it would be most accessible if they were just available everywhere."
Photo courtesy of www.cat.ucdavis.edu.