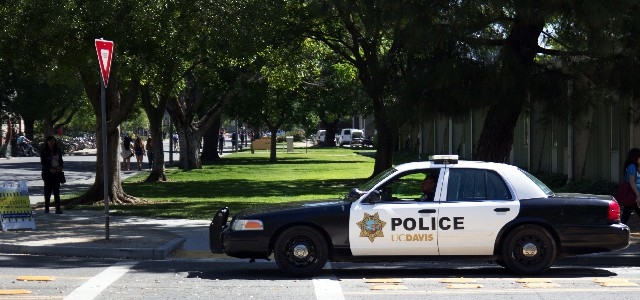 On Jan. 7, the Community Forum Series held its first meeting in the ARC Ballroom, initiated by a group of UC Davis students from a variety of on-campus organizations. The aim of the meeting was to provide a space where the local community and university police department could communicate about recent national police brutality demonstrations.
Approximately 150 people attended the forum, mainly consisting of staff members, student leaders and police officers. Groups of about 10 attendees sat around several round tables, each with one police officer available to answer questions that arose and could partake in the discussions themselves. The forum lasted about two hours, partially going over its scheduled end time of 8 p.m.
"The goal of it was to create a space where people can come back. We know everything can't be solved in one time in a matter of two hours," said second-year human development major, Tia Williams, who was also one of the people responsible for running the event. "We wanted this [event] to be…continuous…so we can have long-term action items come out of it."
The forum is an offshoot of another monthly meeting that the UC Davis Police Department holds on Wednesdays in its conference room called the Student Advisory Council. Along with the forum and Student Advisory Council meetings, the police department also conducts ride-alongs, where students can join police officers as they conduct their daily work duties. All of these programs are a part of the department's attempt to rebrand itself and increase communication with the surrounding community.
Fourth-year community and regional development major, Star Bacon, was also one of the people who helped organize the event. Last year, Bacon started working with UC Davis Police Chief Matthew Carmichael and began discussions with him about police misconduct on a national level, specifically with Black victims.
According to Bacon, Carmichael understood that the issue was problematic, knowing that many people in the community felt the same way as they did and that there was even a chance of a similar situation happening in Davis.
"The issues of racism and discrimination both within and outside of law enforcement still exists," Carmichael said in an e-mail interview. "Only through proactive means will we ever be able to address these issues head on and truly make a difference. I am always amazed at the engagement from our student body and the interest to help create a model law enforcement agency."
Bacon, who represents the UC Davis African Black Coalition, collaborated with Williams and other students to create the forum, with the aim of creating an inclusive environment.
"[Carmichael] understands that there is a need for the students to be involved and the community to be involved in what the [police department's] goals are," Bacon said. "The forum is just one step in trying to do that."
Third-year international relations and philosophy double major and former ASUCD Senator Mariah Kala Watson was asked to assist with the forum because of her background in facilitating talks on "hot topics" while working with the PEACE program in the Cross Cultural Center and Sustained Dialogue in the Office of Dialogue and Deliberation.
According to Watson, many students on-campus fear the police because of their previous bad experiences. Watson also said that many students would avoid calling the cops even when they're in trouble.
"They don't even want to take the risk that they might be treated like the aggressor instead of the victim," Watson said in an e-mail interview.
Watson has also had negative experiences with the police while growing in her hometown and living in Davis now, some of them leaving her traumatized.
"I grew up in Los Angeles, where my peers were always told to fear the police because guilt is already assumed based on my race," said Watson, an African-American student. "The males in my family have had already had so many negative experiences with the police, while I was growing up, that I had already grew to distrust the police and maintain my distance."
Watson hopes that the forums prove to be an eye-opening experience, where people are given the opportunity to ask questions that they have always wanted to ask and have their comments hold equal weight to the police officers.
The group of students spearheading the forum series has already begun working to plan the next meeting, the topic of which has not been decided yet.
"I'm grateful to the [police departments] from the area that showed up and helped make this possible and even more honored to be surrounded by such amazing student leaders who have taken this duty … on their plates to discuss and hopefully bring about great change on this campus, in regards to community police relations," Watson said.
Carmichael agrees with Watson, saying that there is still real work to be done before the relationship between the community and police department is healed. He hopes that the forum will be a way of addressing those issues.
"These are difficult times and sadly in 2015 still difficult conversations," Carmichael said. "We serve a diverse population and for our department to be effective all [of the] community must trust us and feel represented by our department. Police departments are an integral part of any community as long as the community feels served."