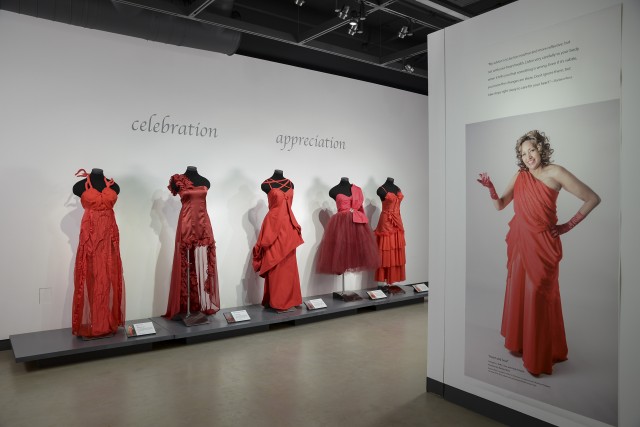 Many design students were surprised to learn that heart disease kills one woman approximately every minute — more than all cancers do combined — through a fashion project, not a biology class.
In the fall of 2009, Amparo Villablanca, cardiovascular medicine professor and director of the Women's Cardiovascular Medicine Program (UCDWCMP) at the University's Medical Center, contacted Design Museum curator and UC Davis professor Adele Zhang about creating a cross-disciplinary project combining fashion design with a campaign for heart health.
For the past five years, UC Davis design students have presented their handmade red dresses every February at the Women's Heart Care Education and Awareness Forum in Sacramento and at a live-model fashion show in the Mondavi Center. The "Red Dress" is a registered trademark of the U.S. Department of Health and Human Services, and serves as the theme of the annual project in honor of February as American Heart Month.
This year, however, brings something new: for the first time, UC Davis students are showcasing 18 accumulated garments in a free exhibit named Red Dress: Design Stories for Heart Health, open from Jan. 15 to March 13 in Cruess Hall on-campus.
"We can finally exhibit these dresses to the public," Zhang said. "People might wonder what science is doing in the humanities. But I think we have done it really well. And finally people will be able to see that."
Typically, Zhang's students have created red dresses on their own time, based on personal and familial experiences or their own research regarding cardiovascular disease and prevention. But beginning this year, two of Zhang's students, third-year design major Betty Chen and fourth-year design major Heaji Richards, collaborated to create a red dress and received the opportunity to interview a cardiovascular disease patient — Barbara Ross of UCDWCMP, as a client.
"It was my first time working with a client, and it was so nerve-wracking because I had never done it before," Chen said. "[Ross] was so nice, excited and open with us. She was so positive even though she had gone through so much, and she came prepared with so many ideas."
Chen and Richards adjusted their preliminary sketches to Ross' needs and desires, and created a one-shoulder dress in order to show Ross' scar on the left side of her chest, where her pacemaker was inserted. Richards was thankful for the opportunity to work with a real client instead of a mannequin.
According to Richards, the learning process of creating a mock dress, doing a fitting with Ross, making a final version of the dress and having a photo shoot with the finished product took about two months. Additionally, Chen created her own second dress, modeled after the symbol of a lotus.
"In Chinese culture, the culture I come from, a lotus represents positivity even though its surrounding is a negative externality," Chen said. "It still blooms beautiful and strives to live. I want heart disease patients to be strong, positive, and fight on, like a lotus."
While the dress both students created is only displayed in the exhibit through the form of a life-size photograph taken by professor Barbara Molloy, the lotus-inspired dress stands among other real red dresses, many of which have also been featured in a book edited by Zhang and Villablanca. But for Chen, seeing all the dresses up front before the exhibit opened, was surreal.
"When I walked into the exhibit, everything looked completely different from making those dresses late at night with my classmates. Everything looked so neat and professional that I almost couldn't believe that I made the dress," Chen said. "I feel so honored and to have my dress in the exhibit when just a year ago I was learning the basics of sewing. To improve so much in two quarters and have my work displayed is so incredible to me. There are so many talented people in my class, I never expected to be chosen."
Zhang said that she believes her students learn a lot through the project — one of her students, for example, was not aware that her family had a history of heart disease until she began the project.
Both Chen and Richards will speak at next month's forum on Feb. 6 about what they have learned.
"Normally people think fashion is just fashion. Clothes that we create end up in Neiman Marcus, Macy's, or other retail stores, and that's it," Zhang said. "But now the people who create for and attend this exhibit can see that fashion can have a bigger impact and can be used for social awareness. I want the nation to recognize that."
Photo courtesy Barbara Molloy