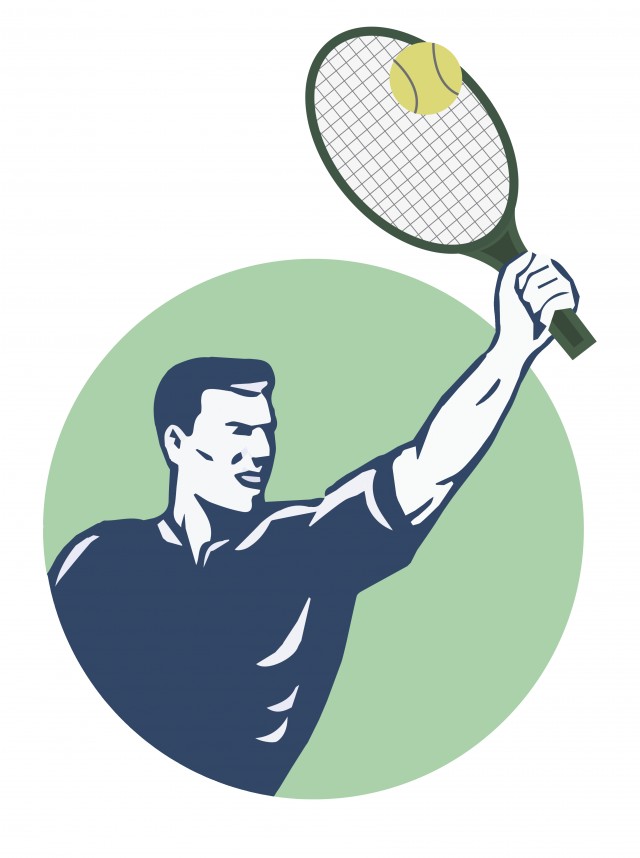 A Team on the Rise
New balls (tennis balls, that is), freshly tightened racquets and warm weather herald the continuation of the men's tennis season.
When Eric Steidlmayer joined as head coach in 2012, he inherited a team that was recovering from a 5-15 record. Under his tutelage, he led them to an 8-13 finish at the end of his first year, and finally to a 14-11 record for the 2013-14 season – the best record UC Davis has earned since joining Division I tennis.
Steidlmayer aims to keep improving on the team's record (currently residing at 3-2 overall), even though they have a particularly difficult schedule this year, facing off against the likes of Cal, Stanford and Hawaii, among others.
Sophomore Alec Adamson wants to beat teams that they have been unable to win against before. Still relatively new to Division I play, the Aggies have lofty, yet attainable, goals for the season.
"We really want to have a great year in the Big West, and also try to beat some ranked teams," said Adamson. "Obviously the main goal is to win the Big West Championship – something we've never done since going to Division I."
The Aggies' determination will prove to be a deciding factor in coming matches.
"Our biggest strength is our ability to to work and improve," said Steidlmayer.  "Each guy wants to get better, [and] each guy is working at that goal – individually and collectively."
A standout pair, junior Adam Leive and sophomore Alec Adamson are 2-3 for the year, though that isn't an adequate picture of their achievements.  This past week against Grand Canyon in Los Angeles, they won both matches.  They also made the finals for the Battle of the Bay – a competitive tournament that features many exceptional teams – and they got to semi-finals of the ITA Regional – a tournament between all of the teams in the northwest.
"So, they can play," commented Steidlmayer. "They have had a lot of success beating high quality teams… [and they] complement each other really well with their skill sets."
Steidlmayer is keeping his eyes open for other players on the team who complement each other in the doubles game like Levie and Adamson.  All of the athletes can play, he says, but doubles play needs a different approach in order to succeed.
A Strong Start to the Season
Seven of the nine players finished the first part of their season with winning records, combined to end Fall season with a record of 64-39 in singles play, and hope to even improve on that as the year goes on.
Sophomore Bryce McKelvie and freshmen Everett Maltby both share a 12-5 record for individual play and sophomore James Wade has a 13-6 record overall.
UC Davis recently lost 6-1 in a valiant fight against Stanford.  Wade was the force behind the sole Aggie point, gained by winning a three-set singles battle against the Cardinals No. 2 player.  Maltby, McKelvie and freshman Lam had good performances that unfortunately did not change the outcome of the match.
Due to his quality of play this early in the season, Wade was honored as Big West Conference Player of the Week along with another athlete from UC Irvine.  Wade is 3-1 so far, with one unfinished match, and this marks the second time he has received this award.
Adamson's highlights for the fall include playing Cal and Stanford for the first time and the results of their most recent matches.
"They're both top 30 national teams, so that was a great experience playing at their stadiums," said Adamson. "And then the LA trip that we just came back from was pretty cool too – winning both matches [has] definitely been exciting.
A Young Team
Four new players have joined the men's team this year: freshmen Tommy Lam and Everett Maltby, and sophomore transfers Jesse Ross and Eli Whittle.
The difference between high school and college tennis is significant, and the new players are improving and adapting to the rigors of being part of a Division I team.
"They're basically going from boys to men – it's kind of a cliché, but it's really true.  They're trying to mature as fast as they can and give themselves a chance to play as well as they can."
As for the returning members, juniors Brett Bacharach and Adam Levie as well as sophomores Alec Adamson, Bryce McKelvie and James Wade, Steidlmayer has high expectations for them. He wants them to be role models for the new players while leading the culture of the team in the right direction.
With no senior athletes on the roster, it provides the players an opportunity to build team chemistry and for the team to improve as a whole. "It's a good group of guys that we have here, so it's going to be cool having them here the next couple of years, said Steidlmayer.
With a long season ahead of them, Adamson looks forward to the Big West Conference and the home matches against UC Santa Barbara and Cal Poly in April, as well as the chance to play abroad. He is also excited about leaving the mainland for a match against Hawai'i. "We go to Hawai'i over spring break, so that's obviously going to be a fun trip," said Adamson.
Though the future is uncertain, the team's impressive records and well-fought matches promise an exciting season for the men's tennis team. They will play on Jan. 31 at Santa Clara, before hosting three consecutive home matches in the following weeks.
Graphic by Sandra Bae & Andrew Li