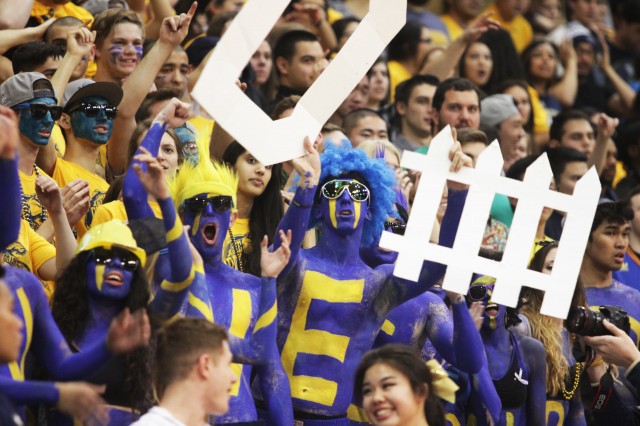 Well over an hour before the game started, a long line had formed at the doors. Some caught a glimpse of players and erupted in cheers. This is not the Aggie team that most UC Davis students are used to. This, it seems, is what winning looks like.
UC Davis men's basketball is benefiting from their newfound winning ways, being selected to be featured on ESPNU for a second time this season after an exhilarating overtime victory against Long Beach State. After 5,089 people showed up in that competition, 5,317 came out to watch the Aggies play Cal Poly. The fans were not disappointed, catching a classic overtime thriller.
The Aggies came into their Saturday game against the Mustangs with a 15-4 record, including a Big West best 5-1 in conference play. Their opponent, trekking five hours north for the matchup, were a middling 3-4 in the conference.
Senior guard Corey Hawkins has led the Aggies in just about every statistic this year and his calming appearance seems to exude vitory. He is the best in the nation in shooting percentage from beyond the arc, is fifth in scoring, and leads the Aggies in rebounding. Without Hawkins on the court, the offense seems to stop, but UC Davis is not afraid to ride him for the entire game. Against UC Santa Barbara on Thursday, Hawkins played 37 out of 40 minutes before playing 42 out of 45 minutes against Cal Poly.
The Mustangs offer no single player to key in on defensively, instead featuring a balanced scoring attack. The team has struggled this season to score efficiently, shooting under 40 percent as a team. This is the opposite of the Aggies, who have consistently been in the top-five nationally in team shooting percentage.
There is, however, a reason they play the games, as the first half flipped the script that had already been written. Hawkins was visibly frustrated, scoring only seven points on 3-8 shooting. Meanwhile, senior forward Josh Ritchart led the Aggies with 14 points and three rebounds. More importantly, the Aggies' defense faltered and allowed Cal Poly to shoot almost 60 percent in the first half. Forward Brian Bennett was virtually unstoppable, scoring 16 points on seven of nine shooting while guard David Nwaba added 11 while making five of six baskets. Likewise, UC Davis was outrebounded 18 to nine, letting every Cal Poly starter grab at least three boards.
Still, the first half ended in a hopeful manner for the Aggies as Hawkins started to regain his offensive mojo, making two of his last three shots. The Aggies also turned the ball over only once in the half.
The Aggies opened up the second half on a hot streak, finishing four straight possessions with three points buoyed by blocks from junior forward J.T. Adenrele on back-to-back possessions. The Aggies roared back to down three, 55-58, but the two sides found their balance. Still down three with just over a minute remaining, Ritchart hit another three to tie the game. The Mustangs were unable to respond, air-balling a shot from beyond the arc to send the game into overtime.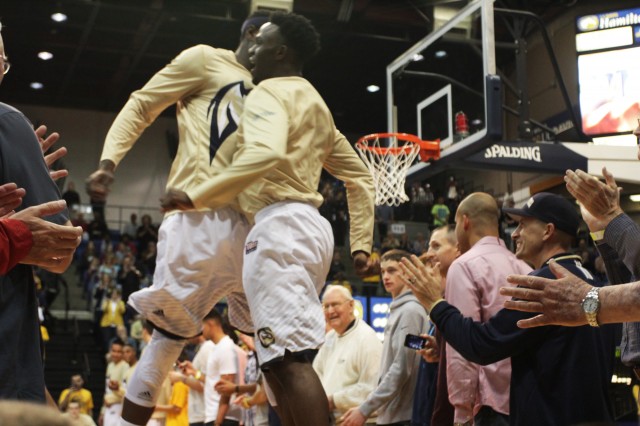 In overtime, Hawkins and junior forward Josh Fox were on the same page, connecting on two passes that led to easy baskets inside. UC Davis found itself up five points, its highest lead of the game, and the standing crowd at the Pavilion seemed to let out a collective sigh of relief. Up three with under 10 seconds left, Ritchart breathed hope into his opponent by fouling on a Cal Poly three-pointer to give the visitors a chance to tie the game. Guard Ridge Shipley missed the first before sinking the last two, giving the Aggies a one-point lead. A foul on senior guard Avery Johnson added two points, but the game was effectively over with Shipley's missed free throw.
After the game, Ritchart discussed the ill-timed foul that he committed on Shipley.
"I just got a little antsy, bit on the pump-fake, but I was just hoping that he would miss one and it would play out. I'm just happy that he did and that it worked out," he said.
Bennett was unstoppable for the Mustangs, finishing with a number of post moves against a variety of defenders. He finished with a career-high 27 points and nine rebounds, well above his season averages. Ritchart praised his opponent: "He's a competitor, he's tough. He was hitting some tough shots and we were kind of just battling with each other. I have the utmost respect for him — he brought it, so next time we are going to have to focus on him a little more."
As a whole the Mustangs shot 49.2 percent from the field while connecting on seven shots from beyond the arc. Cal Poly outrebounded the Aggies 34 to 29, but actually grabbed fewer boards during the second half and overtime.
Meanwhile, UC Davis was led by Ritchart, who finished with 24 points and seven rebounds on nine of 13 shooting. Hawkins shook off his slow start to finish with 22 points while adding six assists and five rebounds. The team shot 50 percent from the field and 55 percent from beyond the arc after shooting just 42.9 percent in the first half.
The team also got strong play off the bench from sophomore forward Neal Monson, who finished with eight points and five rebounds in just 13 minutes of play.
After the game, head coach Jim Les was ecstatic about the win and its meaning.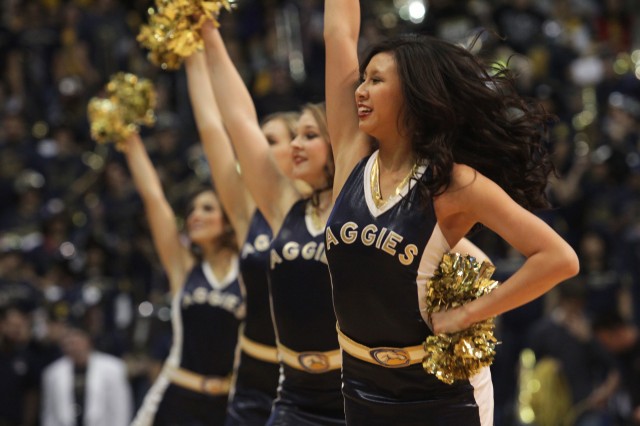 "If you want to be a top-tier team in this league, you have to win your home games. To hold serve here at home is huge. We still have a lot of work to do, but we are going to enjoy this for 24 hours, [and] after that we know we have a heck of a challenge coming up on Thursday (Feb. 5) at Irvine," he said.
The team squeaked out their second overtime victory of the season, bringing them to a 10-0 record at home. The Aggies will take a two-game road trip to visit UC Irvine and CSU Northridge before returning home to face Cal State Fullerton on Feb. 12.
Photos by Katie Lin