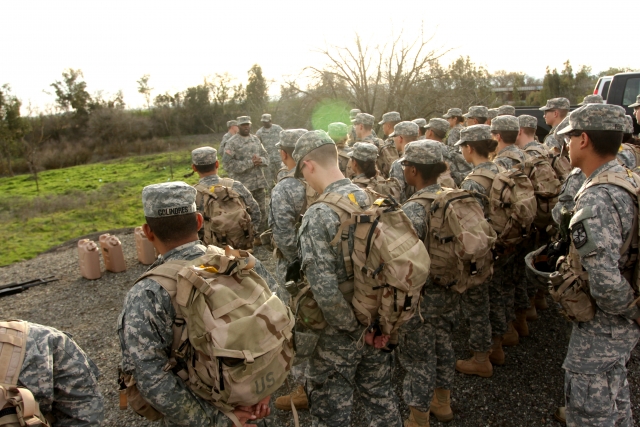 Scattered in the tall grass, cadets squat around a fallen comrade, assessing his injuries. Others meticulously plan the group's next mission. For UC Davis' Reserve Officers Training Corps (ROTC) cadets, this is a typical Wednesday.
Dating back to 1923, the UC Davis ROTC prepares cadets to lead other soldiers as future Army officers. The program currently serves about 50 students, representing a wide variety of ages and majors.
"I think it's a great program," said third-year ROTC cadet and political science major Bryan Valladeres. "If you put a lot of time into it, if you do what you have to get done, the results are worth it.
The first two years of the program allow cadets to try out the military without any obligation to join. After participating in the third and fourth years, cadets have a four-year Army obligation and can serve as second lieutenant officers.
"The program is led by the cadets," said Gary Suen, ROTC Recruiting Operations Officer. "We have instructors here that guide them along the way, but out in the lab, it's the cadets that are leading. The seniors lead the juniors, the juniors will mentor the sophomores, and the sophomores will mentor the freshmen."
The program requires an average of six hours per week for first and second years, and an average of eight to 12 hours for third and fourth years. Cadets participate in Physical Training (PT), Field Training Excercises (FTX) and military science classes (MSC).
PT classes, held three times a week, involve running, push-ups, pull-ups and other training activities. FTX, a weekly lab, alternates between planning and executing missions. Exercises involve land navigation, practicing raids and ambushes, tactics maneuvering, reacting to contact, clearing out bunkers and carrying out planned and rehearsed missions. During MSC, cadets learn tactics which they are able to apply during the next FTX. Squad classes also take place over the weekend, in which cadets instruct younger cadets and prepare them for the following week.
"Sometimes it's hard balancing out ROTC [and] academic life, because you're still in college, and still on top of that trying to keep a social life," Valladeres said. "You definitely have to make sure you have really good time management. But, I feel like everything in life kind of combines, so if you're excelling in ROTC, you're going to excel in your academic career."
All cadets are expected to meet the program requirements in addition to academics and extracurricular activities.
"It's really hard now because of my job at ROTC, I have to balance this, I'm also on the equestrian team and I'm obviously a full-time student," said second-year ROTC cadet and history major Paulina Montgomery. "I'm just trying to balance everything, and still be good at everything."
While the program is challenging, cadets say they enjoy the bonds they build through participating in it.
"I'm not going to say the program's easy, because it's not. Getting up at five in the morning is not really ideal, but it definitely has its perks," Valladeres said. "In this program, you go through a lot, but while you're going through a lot of this, you meet people who are going through the same thing and you really develop a bond. There's also a feeling you get, of self-service, that you're doing this not just for you, but eventually you'll have the opportunity of serving your country and being a part of something bigger than just yourself."
Montgomery agreed with Valladeres, saying that the program has allowed her community of friends to grow significantly.
"The best part is definitely the family and the camaraderie we build," Montgomery said. "I feel like I can rely on anyone. And they also push you outside your comfort zone to achieve things you'd never think you'd be capable of doing. I've definitely become more confident in myself, in what I'm doing."
Both Valladeres and Montgomery joined the ROTC with a four-year scholarship. The scholarship is available to prospective cadets coming straight out of high school and covers either tuition or room and board. Textbooks are covered by a monthly check, and recipients of the merit-based scholarship are paid in stipends of $300 to $500 per month, based off their year in school. At the end of the program, Cadets typically take one of two routes.
According to Suen, they can serve in the active duty army, with an obligation of four years of service, or many cadets opt to enter the US Army reserves and the Army National Guard.
"They serve one weekend [per] month and two weeks [per] year [and] two weeks in the summer. It's almost like a part-time job for the Army, and they'll continue on, either doing their education, or they'll find a job in the normal civilian world," Suen said.
After graduation, Valladeres plans to spend a couple of years in the infantry before going to law school and becoming a judge advocate general. Montgomery said she would like to commission as an Army second lieutenant, and complete at least 10-15 years in the Army before deciding whether she'd like to spend the rest of her career in the military or not. Both agreed the program has given them skills essential for any career choice.
"This program teaches cadets how to lead in very stressful simulated combat environments, doing challenges they haven't done before," Suen said. "Whether they go into infantry or a normal job, they're going to evaluate leadership potential, and if they can handle this, then they can handle simple things like deadlines."
Photos by CA Aggie Photo Team