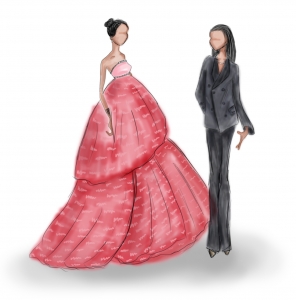 Can we please discuss what Rihanna wore to the Grammys? To me, bad-gal Riri's huge, poofy, strawberry sherbet-colored ball gown was the absolute epitome of American pageantry and entertainment industry extravagance.
Love it or hate it, the 26-year-old popstar caught the attention of many critics. Some fashion-experts referred to her as "the belle of the ball" (Fashion Bomb Daily) while others made internet memes comparing her to a loofah.
Whether you think she was pretty in pink or resembled a shower accessory, you cannot deny that her dress made a statement.
All clothing makes some sort of statement; people interpret and make sense of what others are wearing within a given social context.
Let's examine some other statements that were made on Feb. 8, the night of the 2015 Grammy awards.
Taylor Swift's shimmery aqua gown was the perfect way to communicate her transition from a country artist to a pop artist. In past years, Swift has walked the red carpet in understated palettes of silver, cream and gold gowns. After the release of her first pure pop album, 1989 we see Swift in a louder, more show-stopping Grammy dress.
Aloe Blacc looked extremely dapper in a royal blue suit and powder-blue suede loafers which were noticeably non-traditional and full of personality.
Charli XCX challenged gender roles by sporting an all-white tux with a pink bowtie and mink shawl.
Beyoncé looked elegant in a black long-sleeved gown, though her ensemble was less daring than her usual get-ups. In my opinion, Queen Bey did not walk the red carpet dressed with as much fire and diva attitude as her music suggests she should have.
Lastly, Kanye showed up to the awards show in an all-velvet suit, which exposed his naked chest. To me, this suggests a desperate effort to regain his sex appeal and his single bad-boy persona, now that he has settled down into domestic family-life.
ALLISON REISS can be reached at arts@theaggie.org.
Graphic by Jennifer Wu