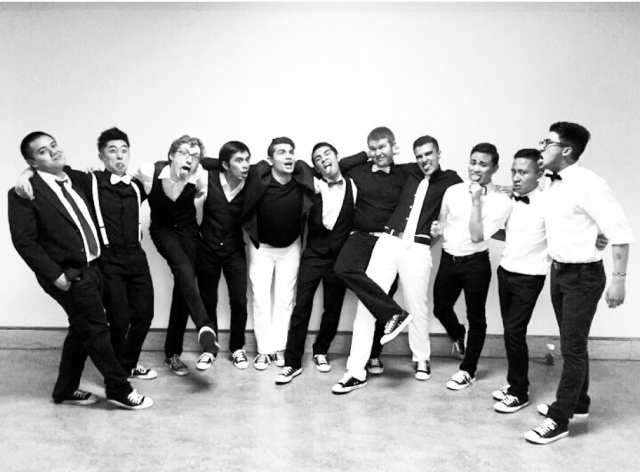 If you've ever dreamed of being serenaded by 13 dapper vocalists in front of all your friends, your chance has arrived. UC Davis' all-male a cappella group, The Afterglow, will be hosting their annual Lights Low with the Afterglow (Lights Low) concert this Fri., Feb. 20.
If you've never been to a real-life a cappella performance before, your idea of a cappella is probably based off of the musical-stylings of the film Pitch Perfect. Third-year genetics major and president of The Afterglow, Alex Manela, said that he feels the film misses an important component of being in an a cappella ensemble.
"[Pitch Perfect] may capture the spirit and the energy of a cappella, [but it certainly does not do justice] to amount of work that goes into each performance," Manela said.
Ian Nool, third-year psychology major and co-music director of The Afterglow, says the show this year will be musically exceptional because of all the extra practice they have put into their songs this quarter to prepare for International Championship of Collegiate A Cappella (ICCA) sectionals. In order to become ICCA-ready, the group averaged five hours a week of practice and Nool said he is confident in the outcome of their sound.
"We worked so hard for [ICCAs] and [now for Lights Low]," Nool said. "We've definitely bettered ourselves as musicians and performers."
Along with their main setlist, this concert will feature intricate small group performances that will showcase individual talents in the group. According to Manela and Nool, the ensemble will also make a point to engage personally with the audience during the show.
"What's unique about [The Afterglow] is that we really try to get to know our audience," Nool said. "We interact with them to try to give them a really intimate experience."
Though the Afterglow are headlining the concert, Lights Low will also feature multiple other collegiate a cappella groups from all over California. The Afterglow will welcome the California Golden Overtones, an all-female group from UC Berkeley, The Hightones from UC Santa Cruz and UC Davis' all-female group, The Spokes.
Anya Stewart, third-year political science major and co-president of The Spokes, said that her group is always excited to perform at Lights Low.
"It's going to be so much fun," Stewart said. "The Afterglow really knows how to put on a show. Every year, the [entire audience] falls in love with them; all you hear by the end of the night is high-pitched [screaming] noises from the crowd."
This year's showcase will offer a raffle drawing in which one randomly-selected winner will be invited onstage to be serenaded by the all-male a cappella group in front of the whole audience. Raffle tickets are $1 presale and attendees are allowed to purchase as many as they want; they are also allowed to write anyone's name on the tickets, not just their own.
"You can potentially get your friend onstage [to be serenaded] if you desire," Nool said.
Lights Low is the first a cappella concert of Winter Quarter here at UC Davis, and Nool said he is certain anyone who attends will have an awesome time. As The Afterglow's Facebook event page suggests, "Good music, good environment and good-looking people, what else do you need?"
Lights Low will be located in 123 Science Lecture Hall. Doors open at 8 p.m. and the show will start at 8:30 p.m. Presale tickets are $5 and are available online or at The Afterglow table in front of the MU from 10 a.m. to 2 p.m. this Tuesday thru Friday. Tickets at the door will be $10. For more information on Lights Low, you can visit their Facebook event page.
Photos courtesy by William Cook