Author Garth Stein to hold book signing at the Avid Reader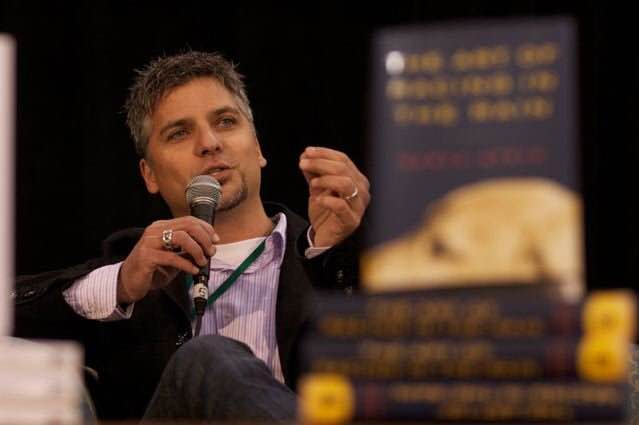 Garth Stein has had an illustrious career; he's produced an Academy Award-winning documentary and his last book, The Art of Racing in the Rain, sold over four million copies. Now he's back with a new novel, A Sudden Light, which is about a family confronting its long buried secrets as it struggles for redemption and forgiveness.
On March 7 at 7:30 p.m., Stein will give a presentation on his latest book at the Avid Reader, located at 617 2nd Street, which will be followed by a book signing. MUSE had a chance to speak with Stein this past week.
MUSE: It's been six years since you published your last novel. When writing A Sudden Light, did you ever feel pressure when thinking about the success of your last one and if so, how did you handle that?
Stein: I think there's always pressure. The Art of Racing in the Rain did very well for itself and following that up, there's always going to be expectations. But I have to trust that the reader is going to trust me. A Sudden Light took me a long time to write, not because I was nervous of following up [my last book], but because it was such an extensive family history I had to realize. I wasn't allowed to cheat on what I knew about the Riddell family [the family A Sudden Light is about], so I really had to explore it up to the 1890s. I have 100,000 words of pre-writing that I've written about the Riddell family that's not included in the book that had to be done so I knew the family and understand the trajectory of all the characters.
MUSE: Do you believe that knowing little details about your characters is a crucial part of the writing process?
Stein: I think you have to [know]. When I was doing the play, I went down to LA to see what was going. One time I was at rehearsal and one of the actresses came over to me and she asked me, "What did my character have for breakfast?" It sounds like a funny question but what the character had for breakfast is going to inform how they're coming into the scene. If she had a lumberjack special for breakfast she's going to feel different than if she had a bowl of strawberries and yogurt. As writers, we have to know [metaphorically] what every character had for breakfast. How they're walking into the scene, what their baggage is, what happened a year ago. If we don't, we're just pushing around little paper figures and it's going to be false and readers are going to pick up on it.
MUSE: Your new book is based on a play that you did back in 2005, Brother Jones. Did you encounter any difficulties/challenges in using that play as inspiration for a much longer piece? What did you enjoy about taking your own play and making it into a novel?
Stein: There were definitely difficulties and things that needed to be worked out. Theatre is about the immediacy of the drama as it plays out on stage before our very eyes and a book has more time to go into the history of how we got to the now. The play couldn't have all the backstory that the novel has so I was allowed to really explore the family to much greater detail. That involves quite a bit of work. I had to do a lot of learning about the Riddell family during the writing of the book.
MUSE: You worked as a documentary filmmaker before becoming an author. How does your documentary experience inform your writing and the way you go about writing or doing research for a piece?
Stein: I went to college and I was an English major and I always thought I would do something with writing but I thought going out and announcing that I was a novelist was kind of irresponsible considering the starting salary for a novelist is zero. But I got caught up with documentary filmmaking because I just loved the idea of telling a story using found objects and still making a compelling story. My documentary background was really useful because it gave me ballast and I met a lot of people and travelled around the world making films.
I like doing field research. I did do some tree climbing. I like to go out and experience certain aspects but for me, it's about the integrity of the drama. If the drama is not true, it doesn't matter how much research you've done.
MUSE: A Sudden Light is written from the perspective of an older man looking back at his 14-year-old self. What was interesting or enjoyable for you about writing from this perspective and playing with a narrator's memory? Why did you decide to make the narrator an older Trevor looking back instead of a 14-year-old Trevor?
Stein: For a number of different reasons. I wanted a little bit of wisdom and perspective on this story. Old Trevor knows certain things that young Trevor doesn't know. I also liked the idea of the lens of storytelling. The fact that we never tell the same story twice. We always embellish, change and modify. He's embellishing certain conversations to make himself seem sharper and to dramatize certain moments and to skip ahead to other moments. He can tell the story more dramatically than if it happened in real time.
MUSE: You're also involved in Seattle7Writers, a nonprofit collective of Pacific Northwest authors who support reading, writing and literacy. Why do you think it's important to give back to the community?
Stein: The great thing about Seattle7 is that it's not just getting young people involved in reading and writing. We work with people transitioning out of homeless[ness], people who have stories to tell and want to get those stories down on paper. It's important for writers to remember that the literary ecosystem is very fragile. And there's four components: readers, writers, librarians and booksellers. And if we lose any one of those arms, the whole system will go down. So we can't stick our hands in the sand and say who cares. We need to take care of our bookstores, we need to support our libraries and we need to energize the reading public so they're exciting about reading.
Stein will be at the Avid Reader at 7:30 p.m. on March 7 for A Sudden Light presentation and book signing. The event is free of charge.
Photo by Amanda Ong