Members of the production Vagina: Our Stories express the importance of using the word vagina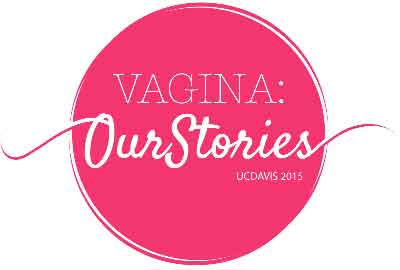 Vagina. According to the cast and crew of this year's Vagina: Our Stories, it's a word that is tabooed. But with the annual upcoming production, the members want to break that stereotype.
"There is such a huge stigma around [vagina]," said co-director of Vagina: Our Stories, fourth-year animal biology and Chicano/a Studies double major Edy Campos. "Some people can't relate with that word, but to have that word is very empowering."
Vagina: Our Stories will be held on Feb. 28 and March 1 at the Veterans Memorial Center Theatre, and all proceeds will go to local non-profit organization Empower Yolo. Third-year women and gender studies major and stage manager Gylnis Kinciad said members of the production wanted to donate to a more local organization this year.
"Empower Yolo does amazing things and has such a great support system," Kinciad said. "This organization helps women [who have experienced] domestic violence and assault. We always want to support local organizations."
Formerly known as The Sexual Assault and Domestic Violence Center, Empower Yolo houses women and children from domestic violence environments, providing them with housing supplies, legal services, education, counseling, childcare and daycare. Locals can volunteer and become peer educators as well.
"The [Women's Resources and Research Center (WRRC)] has a lot of connections to Empower Yolo," Campos said. "They fit in our theme of raising awareness of gender violence."
Vagina: Our Stories first started as Vagina Monologues on campus in 2011, with a complete women of color cast. The following year, the theme and name changed to Vagina: Her Stories, in order to reiterate the word vagina, while also having a specific focus on the Davis community. The name was changed once again to Vagina: Our Stories in 2013 to incorporate gender related issues, such as gender violence and rebranding the word vagina.
"It's really about breaking the silence around gendered violence and gender norms," said second-year community and regional development, and women and gender studies double major and co-director Sarah Priano. "Each production is completely unique and tackles these issues."
The production is sponsored by the WRRC and is based off of Eve Ensler's 1996 Vagina Monologues. However, the cast and crew say the stories are different from the Vagina Monologues because the stories are written by most of the cast members themselves.
"You can't google any of these stories, it's all on stage, it's all them," Campos said. "[Vagina: Our Stories] is completely community written, cast and produced. People get the idea that it is like the Vagina Monologues, but it's not. These people tell their own stories."
Each member of the cast and crew had to apply and audition in order to be in the production. The application process required each person to tell their own personal story. For third-year international relations and women and gender studies double major and cast member Bernadette Fox, the show marks the first time she will be sharing her story.
"What I have wrote about isn't something I have really talked about with anybody," Fox said. "I have definitely been really nervous about it, I have friends and family coming to the show. It's like a huge step, like a baby step, like a huge baby step. I am doing it in such a metaphorical way that I don't have to address anything specifically so it feels safer."
Fox also expressed that the cast had a story to tell and to share it with everyone in the Davis community. Pasha Silva, cast member and writer of Vagina: Our Stories, second-year women and gender studies major, shares Fox's view, and said that the stories represent them and those who can relate in the Davis community.
"I really want to be able to finally vocalize it," Silva said. "One of the really cool things is that there will be other people hearing it, people that really want to hear it, not just my friends but also strangers, people to some extent will relate to what I am saying."
Cast members go through a writing workshop to help write their stories. Silva hopes these stories will invoke positive emotions in others.
"My hope is that it will be received in a way that's positive, even though what I am saying may be sassy at times, sad at times and maybe even triggering." Silva said. "It's important to say what you have to say."
The crew of Vagina: Our Stories emphasized that the rehearsals and productions are a support system for the Davis community.
"There is definitely a heavy emphasis around survivors because that is what this show is really about, bringing light to these issues that are often stigmatized or silenced because a lot of people can't tell their stories outside of [the stories]," Priano said. "We often hear 'I don't want to hear your story because it is a burden to me.' I want to make this a safe space and good experience for people. "
For more info on Empower Yolo, please visit to empoweryolo.org. Tickets for Vagina: Our Stories are currently being sold in the WRRC for $7 until Feb. 20, and will be $10 until the box office date.
Photos by Anna de Benedictis. 
Courtesy graphic by Vagina Stories.