12 local restaurants to go head-to-head for annual charity soup competition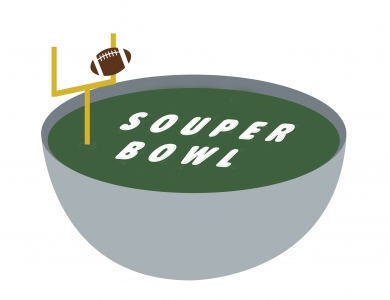 Warm your hearts and stomachs, and head on over to Davis Odd Fellows Lodge on Sunday for 2015's Souper Bowl. Hosted by Davis Food Co-op, the ninth annual charity competition pits 12 local restaurants against one another for who has the best soup in Davis.
The Souper Bowl, which benefits a different charity every year, will donate this year's proceeds toward the Yolo County District Attorney Victim Services Courthouse Dog — an animal service that helps those who have been victims of crime rehabilitate.
Participating restaurants range from the Asian-infused Open Rice Kitchen to Tex-Mex inspired Dos Coyotes Border Cafe to the Davis Food Co-op's very own Teaching Kitchen, which is currently the reigning champion after taking the title home last year for its vegan Thai sweet potato soup.
Other competing locations include Fat Face, G Street Grill, Jack's Urban Eats, Osteria Fasulo, Stone Soup and Catering, Tommy J's, We Cater To You at The Lodge and de Vere's.
Calvin Liu, chef at Open Rice Kitchen, will be serving a traditional Asian noodle soup with slow cooked beef and a variety of oriental spices such as ginger and five spice.
"It was a favorite of mine growing up, so I wanted to share it with everyone," Liu said.
Bobby Coyote, owner of Dos Coyotes, will be serving his restaurant's hatch chile cheddar cheese bisque for the first time at the event. The soup, which is thickened with masa corn flour and topped with sharp aged cheddar cheese, is a twist on a traditional poblano chile soup. The poblano chiles are replaced with hatch chiles, a milder pepper found only in New Mexico. Although Dos Coyotes has been competing in the Souper Bowl for years, Coyote sees the event more as a way for restaurants and the community to give back to local charities.
"We don't really look at it as a competition," Coyote said. "It's always been a really great charity event. We're all about community. We always do whatever we can to give back to the communities that our business serves."
Tom Jobst, chef at Tommy J's, plans on competing for the first time with his Oktoberfest Stew, which brings together a combination of hearty ingredients such as German sausage, potatoes, onions, carrots and celery. Although Jobst echoes Coyote on the Souper Bowl's philanthropic cause, he also sees the event as a way to enter into some friendly rivalry with his peers.
"It's all for charity and it's to have a good time, but of course every cook wants to win just to have bragging rights around town," Jobst said.
In addition to soups, guests can also enjoy rolls, cookies, soft drinks, alcoholic beverages at the lodge's bar and live music performed by classical guitarist Matthew Grasso and local jazz band Jonny Gold Trio.
Julie Cross, marketing director at Davis Food Co-op, came up with the idea for this event in a dream and thought it would be a good way for the community to celebrate local businesses in Davis.
"[This event] is great for Davis because it illustrates what great local restaurants we have," Cross said. "We don't invite chain restaurants to participate, so it's a good opportunity to try all these local small [eateries]. It's nice to get to hang out with your community."
Doors open for Souper Bowl 2015 at 4 p.m. on Sunday at the Davis Odd Fellows Lodge. The event costs $12 for adults and $4 children 12 and under. Guests can register online before Saturday at davisfood.coop/events/item/758.
Graphic by CA Aggie Graphic Design Team