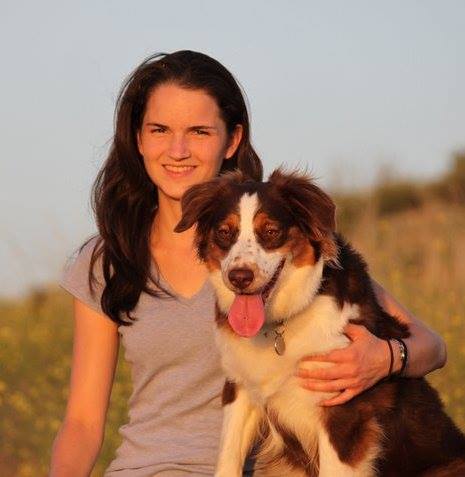 For Whitney Joy Engler, the ability to see silver linings in all of life's trials came with elegance and ease. Her friends and colleagues overwhelmingly remember her for her fiery passion and optimism in light of almost any situation. She was just that friend that was always there for everyone.
Engler, a fourth-year student in the UC Davis School of Veterinary Medicine (DVM) was killed in her Davis home in a murder-suicide incident March 26 at the age of 27.
Friends and family remember Engler for her selfless giving nature, her unwavering compassion and her profound commitment to making a positive influence on the lives of animals and people. Her hobbies included biking, surfing, horseback riding, gardening and dog agility.
"She was always aware of how ridiculous life can be and reveled in it, but she was also able to make the best of things when life got hard," said Engler's friend Michael Ishida, a second-year veterinary student in the UC Davis School of Veterinary Medicine who had been Engler's roommate August 2013-December 2014. "Most of all, though, Whitney was an incredible friend who wasn't afraid to give it to you straight and was always there for anyone, in both the good times and the bad."
Friends and colleagues have rallied in the last week in light of this senseless tragedy to remember Engler for the wonderful person she was. Last Saturday a candlelight vigil was held at Gladys Valley Hall at the veterinary school with hundreds of people in attendance.
"She was one of those people that nobody disliked," said Engler's good friend Anjali Daryani, a fourth-year veterinary student in the UC Davis School of Veterinary Medicine. "She was one of those people that no one ever had anything bad to say about her."
Engler was a member of the DVM Class of 2015 at UC Davis. She specialized in small animals. According to Daryani, she had done research under mentor Dr. Melissa Bain in animal behavior on the effect of music on pet and owner anxiety.
"She especially excelled in animal behavior, training, and shelter animals. She would have been an amazing veterinarian," Ishida said.
Engler grew up in San Diego and completed her undergraduate degree at the University of Michigan with a degree in brain behavior and cognitive science. She has received several awards and scholarships in her time at UC Davis and had committed herself to a career that deeply improved the well being of animals and people. In her time as a veterinary student, she worked for underserved animal populations at the Mercer Veterinary Clinic.
Daryani stressed how helpful the larger Davis community and police department were in ensuring the safety of Engler's pets whom she loved dearly.
"[We] lost a really amazing person, someone who was giving back, [who] dedicated her whole life to helping animals," Daryani said. "Finding a person like that is not easy. She loved, loved animals. She always wanted to help people. She was just a lovely person."
Engler is survived by her brother Wes, her father Dennis, her mother Virginia, and her pets, including her beloved Australian Shepherd Rosie, her cats Zayne, Indiana, and Chique, and Eos, a red-crowned amazon parrot.
Her celebration of life ceremony will take place Friday at the UC Davis School of Veterinary Medicine Gladys Valley Hall patio from 5:30-7 p.m. A memorial scholarship fund in honor of Whitney J. Engler has been established at the UC Davis School of Veterinary Medicine.
Photo courtesy of Remembering Whitney Engler Facebook memorial page.