Student-run radio station KDVS to hold their annual fundraiser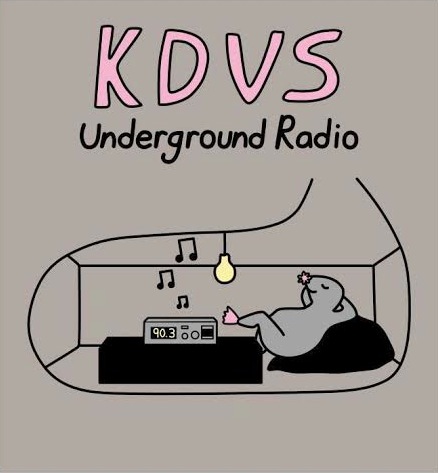 If you've ever tuned in to 90.3 FM, now's your chance to make a (tax deductible!) donation to the independent student radio station that broadcasts 24/7, seven days a week. KDVS will be having its annual fundraiser from April 20 to 26. Supporters of KDVS will be able to donate by visiting the fundraiser website and donations will also be accepted by phone via the number (530) 754-KDVS. The KDVS directors and DJs have worked hard to incentivize donations by offering fun premiums, such as T-shirts and compilation albums, for those who donate.
"DJs have different genres like blues or rock, so their premium consists of albums from that genre of music. Sometimes, as a DJ, you have a listener fanbase, and if they really like your show, there's a high chance they're going to pay for your premium," said Nicole Nelson, a KDVS DJ and third-year economics and community and regional development double major.
Since KDVS prides itself on being a student-driven organization, Nikki Schneider, a third-year design major and publicity director for KDVS, said that she wanted to make sure the premiums were curated by the KDVS community.
"With KDVS we're educating the community with our business and it's entirely student-operated so it's really rare and unusual," Schneider said. "It's really special we have KDVS, which has the biggest college music library in California behind Stanford. Fundraisers are the way we add to that library and keep it maintained."
Along with buying new records to help grow and maintain the extensive KDVS library of music, proceeds from the fundraiser will also help fund the KDVS core staff and to help maintain important equipment, like the broadcasting tower. Schneider said that even though KDVS is subsidized by ASUCD, the fundraiser is absolutely essential to KDVS because it is where they get the funds to operate for the rest of the year.
"We get subsidies from ASUCD, but the majority of the money we get goes right back to [ASUCD]. All the other student-run ASUCD subunits are getting their budgets cut so the fundraiser is the way [we hold on to] all the things we need," Schneider said.
Ashley Hanson, general manager of KDVS and a fourth-year clinical nutrition major, said that making sure KDVS stays funded is important, considering the unique free-form aspect of its programming.
"We're very unique when it comes to college radio because we're one of the few remaining free-form radio stations in the country and that means we give our DJs autonomy over what they play. We don't tell them what they can and can't play. You're hearing music that's wildly different from what you hear on commercial radio," Hanson said.
Last year, KDVS was able to raise $50,000 during its fundraiser and Schneider hopes that this year it can surpass that amount through publicity and outreach so people can hear about KDVS and the benefits that it provides to the campus.
"What we do is we try to go to a lot of UC Davis student events," said Schneider. "This quarter we're going to be tabling on the Quad at the Farmers Market, and having live music or a DJ from [noon] to 1 p.m. … We also have volunteer events where people can learn about KDVS and learn about us,"
Nelson, who first heard about KDVS through a volunteer meeting she attended her freshman year, said that DJs often go to extreme lengths to publicize the fundraiser and to try to get listeners to donate.
"I've heard of DJs dyeing or shaving their hair [for the fundraiser], and I love KDVS so I would be ready to rock a half-shaven head," Nelson said. "KDVS is a station with a lot of character and it's one of the best places on campus."
To donate to KDVS, visit their fundraiser website or call (530) 754-KDVS. The fundraiser will take place from April 20 to 26.
Graphic by Haley Belenis.