HellaCappella to feature Spokes and other NorCal a cappella groups to raise money for charity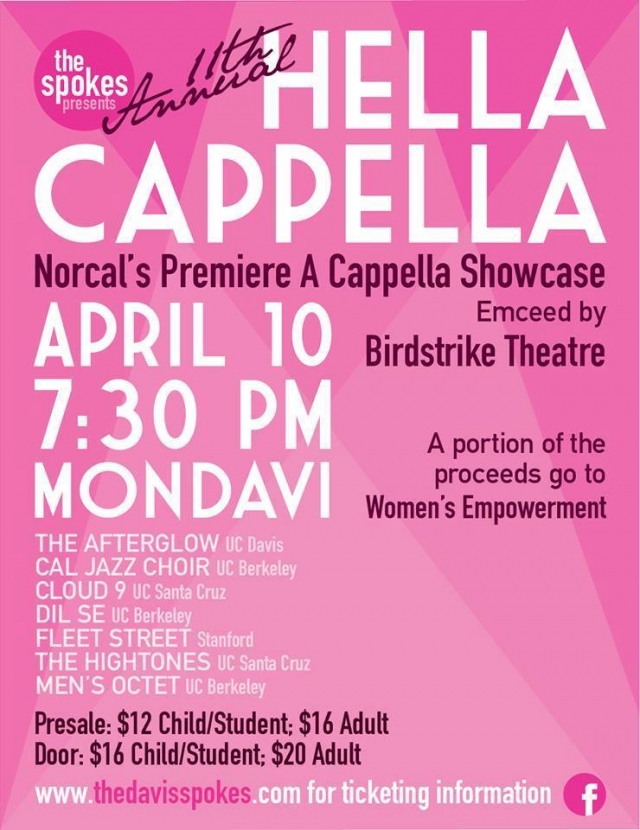 If you're into great music and kick-butt (lady) singers, then you're in for a treat! The 11th annual Spokes-produced showcase extravaganza, HellaCappella, is set to take place at the Mondavi Center for the Performing Arts this Friday. The Spokes is UC Davis' own all-female student-run a cappella group and they are known for their smooth vocals and on-point performances. Joining The Spokes is a myriad of other a cappella groups from around the northern part of California, including UC Davis's all-male a cappella group, The Afterglow.
Something that makes HellaCappella unique in comparison to other Mondavi shows is the fact that a percentage of the proceeds will go to a local Sacramento charity organization. The organization is called Women's Empowerment and it sets out to educate women, often homeless women, who lack the necessary skills to obtain a job. The people at Women's Empowerment aim to teach women in need how to build up their resumes and act professionally in order to get a job and, hopefully, financial stability and a peace of mind.
Anya Stewart, a third-year political science major and co-president of the Spokes, was touched by Women's Empowerment after visiting the organization.
"[The women there are] so hard-working and so inspiring, [especially as they] transition [into] a better life," Stewart said.
Third-year animal science major and musical director/social media chair of The Spokes Lynsie Mason also expressed excitement over the opportunity to work with the organization.
"[I find it] cool that they're called Women's Empowerment," Mason said. "[As] an all-female group, that's what we [also want] to do: inspire people through music as well as physically [inspire women by donating to] Women's Empowerment".
Another exciting aspect of HellaCappella is the the fact that the show will take place in the Mondavi Center. The state-of-the-art facility has impeccable acoustics and seats over 1,800 people, making the event significantly larger than most shows put on by the Davis a cappella groups. In 2013, following the popularity of the Pitch Perfect, the show sold out and The Spokes hope to reach this big of an audience again.
Molly Huff, a first-year international relations and French double major, is one of The Spokes' newest members, and is excited for her first big Spokes-hosted concert.
"This is really just a great opportunity to perform in the beautiful Mondavi for family and friends," Huff said.
Stewart expressed that she is looking forward to once again performing in a venue of such high quality.
"I am always excited about the professionalism that the Mondavi brings to a cappella," Stewart said.
In addition to The Spokes and The Afterglow, HellaCappella will also feature an array of musical genres including the Cal Jazz Choir, UC Berkeley's a cappella vocal jazz ensemble, and Dil Se, a south Asian fusion a cappella group.
The Afterglow has been involved in HellaCappella in the past, including last year's stint as HellaCappella's emcees. This year, the group will return to the stage to perform a full set, while Birdstrike comedy group emcees.
Third-year psychology major and co-music director of The Afterglow Ian Nool said he is looking forward to the Mondavi stage yet again.
"We are honored to participate in HellaCappella because it is such a big show," Nool said. "We want to expand our audience by showcasing [our] passion for music and performing."
Stewart said she hopes to show a fun side of the Spokes through their musical set list.
"In the past years, the Spokes, being all-female, have had trouble being goofy like the guys, but this year we're going to kill it because we had so much fun with our set list," Stewart said.
If you are looking for an awesome musical experience, make sure to buy your ticket for HellaCappella because seats are going fast. Tickets can be purchased online or on the Quad in front of Memorial Union every day from 10 a.m. to 2 p.m. at The Spokes' table. More information can be found at thedavisspokes.com/#!hellacappella/c12nn.
Photos courtesy by The Spokes.